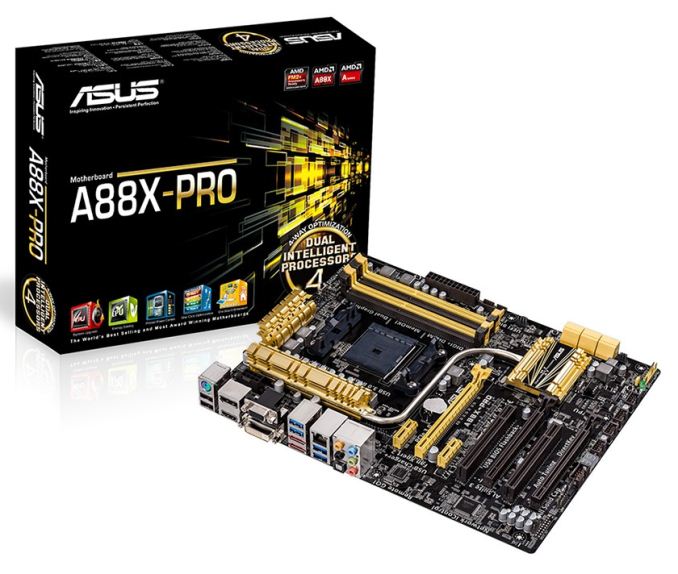 Pricing for motherboards varies wildly. While the performance platforms command a premium, those based on significant integrated graphics performance are considerably cheaper. In fact in 2014 it seems relatively odd to find a mainstream AMD motherboard for more than $150. For example the ASUS A88X-Pro sits at the top of ASUS' AMD product stack and is only $124. Read on for the full review.
ASUS A88X-Pro Overview
As mentioned in our recent FM2+ coverage, innovation on AMD platforms has somewhat stagnated. The performance from Team Blue means that they get the initial attempts at something awesome from the motherboard manufacturers, and the AMD side of the equation only gets something if the extra R&D cost is minimal. This is what makes an AMD build into a power-play in terms of price/performance rather than feature set. Unless AMD makes a future performance platform, we might never see the likes of the ROG series' OC features on an AMD motherboard again.
ASUS has brought over some hardware component choice and software optimizations from their Intel lines. For the A88X-Pro we get a digital power delivery implementation, followed by Dual Intelligent Processors IV (DIP4) for power saving and turbo implementations. Features like USB BIOS Flashback, MemOK, DirectKey and enhanced audio also copy over.
The main issue with Kaveri from our motherboard reviews so far is the inability for a system to remain stable at stock frequencies while under certain prosumer workloads (video editing, 3D mapping). The A88X-Pro has some extra money spent on the power delivery and heatsink orientation, using R68 chokes and connecting the CPU area with the chipset for extra temperature dissipation.
Unfortunately the forced reboot issue we have seen on other A88X motherboards appeared on the A88X-Pro during our Photoscan benchmark, solved only by an extra fan being placed over the power delivery. I relayed this information back to ASUS, with the benchmark itself, and they have been unable to perform this error that I can consistently show. ASUS has suggested that my review CPU from AMD is from an initial batch of A10-7850K which may have higher-than-retail leakage issues. We are currently investigating this further.
Putting this to one side (as we have done in other reviews), the A88X-Pro is designed to be at the pinnacle of FM2+ motherboard implementations. The performance is better than most of the other FM2+ motherboards we have tested. Alongside the features brought over from the enthusiast platforms mentioned above, we also get a Realtek ALC1150 audio codec, five fan headers, a two-digit debug readout, two eSATA 6 Gbps ports, six USB 3.0 ports, a quartet of IGP video outputs and support for up to 64GB of DRAM (when those 16GB modules are released).
Performance wise, the ASUS A88X-Pro seems to do something a little differently than the other A88X motherboards we have tested – turbo modes seem to last longer and have a direct effect on benchmarks. As a result the A88X-Pro hits the top notes when paired with the A10-7850K in almost all our tests when compared to other A88X reviews. The audio solution also gets some of the best combination Dynamic Range and Noise results out of any previous motherboard tested.
ASUS' new graphical BIOS from Z87 is used, implementing features such as Last Modified and My Favorites. The software stack revolves around AI Suite 3 with the Dual Intelligent Processors 4 option flanked with USB 3.0 boost, USB BIOS Flashbook, quick charging options, fan controls and power saving modes.
Compared to the $63 MSI motherboard we tested previously at AnandTech, the ASUS comes in at almost double price with good performance numbers, extra features (DIP4, four DIMM slots, Realtek ALC1150) and a more robust BIOS and software package. Whether the A88X-Pro is worth double is more up to the reader, but ASUS is aiming the motherboard at the high end.
Visual Inspection
Speaking of all things golden, ASUS has implemented the same color scheme on the A88X-Pro to that of their 8-series main motherboard line – a dash of mustard yellow and gold on a black PCB: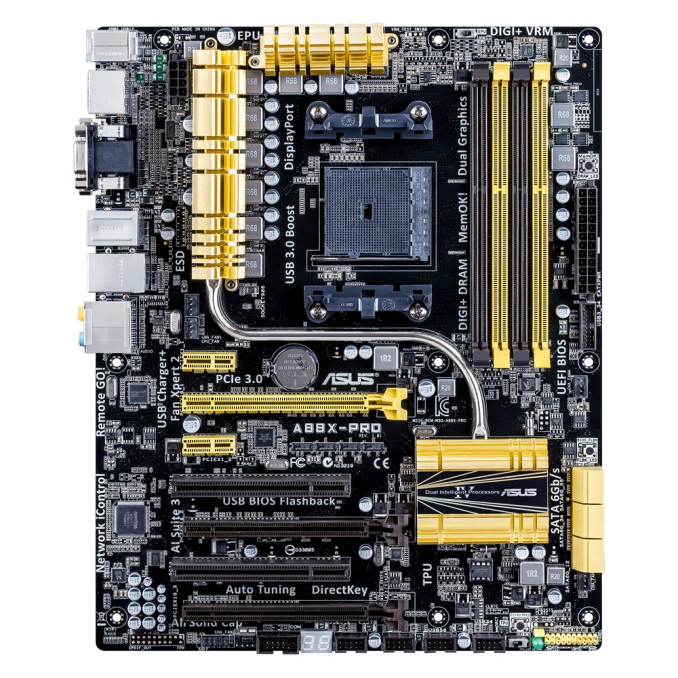 The socket area gives plenty of room in all directions for air coolers. Although the heatpipe to the bottom of the socket is close, it is also flush against the PCB to not get in the way. The socket area has three fan headers within immediate reach – two four pin to the bottom left of the power delivery heatsink and a four pin below the USB 3.0 connector on the right hand side. There are two other fan headers on board, one four-pin below the SATA ports and another next to the COM header at the bottom of the motherboard.
The top of the motherboard does look very busy in terms of components, and it is worth noting that the DRAM slots are slightly (a couple of mm) lower than usual. This does not interfere with the PCIe lane allocation unless a super large PCIe x1 card is used. The DRAM slots use a double sided-latch mechanism.
At the top of the motherboard is an EPU switch to activate energy saving enhancements automatically at boot. This is the sibling to the TPU switch on the bottom of the motherboard which enables an overclock in a similar fashion. To complement these two switches, ASUS also offers several buttons on board. The one at the top right is the MemOK button which allows memory overclocks to recover the system if the memory settings are too high. Below this next to the SATA ports is the BIOS Flashback button that allows users to update the BIOS via a USB stick without a CPU, DRAM or GPU present. The final button is above the TPU switch and is called DirectKey. When this is pressed when the machine is off, the system will restart straight into the BIOS.
On the right hand side of the motherboard is the USB 3.0 header, powered by the chipset. Below this is a fan header, one of the aforementioned buttons, and the six SATA 6 Gbps ports in the gold/mustard yellow color. The A88X chipset allows for eight SATA 6 Gbps ports, and ASUS put six here with two more on the back panel as eSATA ports. They are all powered by the chipset, which uses a heatsink that is connected to the power delivery to help with keeping the system cool.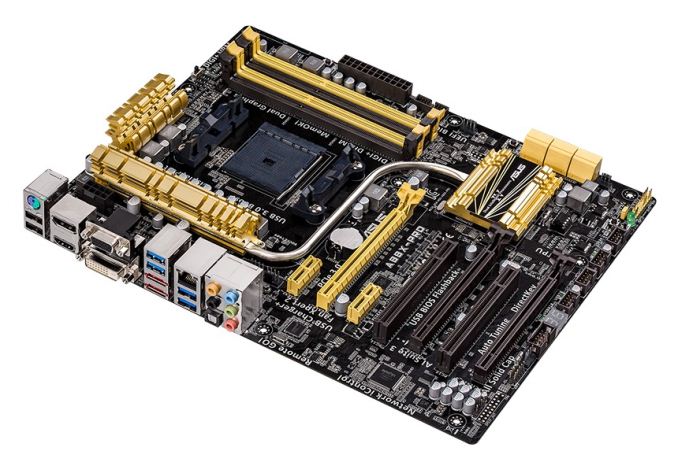 Along the bottom of the motherboard we have our front panel headers, four USB 2.0 headers, two digit debug, COM port, fan header and front panel audio header. Note that despite being the high end motherboard in the A88X range, we have not any power or reset buttons, but there is a two digit debug. The DirectKey button on the bottom row almost acts like both, as it also forces the system to shut down when the in the OS.
The PCIe layout is somewhat oddly color coded. ASUS support full sized PCIe devices in an x16 and x8/x8 configuration using the first two x16 sized slots, but they are of different colors. The final slot is a PCIe 2.0 x4 from the chipset, but is colored the same as the PCIe 3.0 x8 slot. Normally the main GPU capable slots are colored the same. The only reason I can deduce from this layout is for NVIDIA GPUs which cannot be in SLI on the A88X platform.

The rear panel features a combination PS/2 port, two USB 2.0 ports, DisplayPort, HDMI, VGA, DVI-D, two eSATA 6 Gbps ports, two USB 3.0 from the chipset, two USB 3.0 from an ASMedia controller, a gigabit Ethernet port from a Realtek controller, and finally audio jacks from a Realtek ALC1150 audio codec.
Board Features
ASUS A88X-Pro
Price
Link
Size
ATX
CPU Interface
FM2+
Chipset
AMD A88X (Bolton D4)
Memory Slots
Four DDR3 DIMM slots supporting up to 64 GB
Up to Dual Channel, 1333-2400 MHz
Video Outputs
D-Sub, 1920x1600 @ 60 Hz
DVI-D, 2560x1600 @ 60 Hz
DisplayPort, 4096x2160 @ 60 Hz
HDMI, 4960x2160 @ 24 Hz or 1920x1200 @ 60 Hz
Onboard LAN
Realtek 8111GR
Onboard Audio
Realtek ALC1150
Expansion Slots
2 x PCIe 3.0 x16 (x16 or x8/x8)
1 x PCIe 2.0 x4
2 x PCIe 2.0 x1
2 x PCI
Onboard SATA/RAID
6 x SATA 6 Gbps, RAID 0,1,5,10 2 x eSATA 6 Gbps
USB 3.0
4 x USB 3.0 (Chipset) [2 back panel, 2 via header]
2 x USB 3.0 (ASMedia ASM1042) [2 back panel]
Onboard
6 x SATA 6 Gbps
1 x USB 3.0 Header
4 x USB 2.0 Headers
5 x Fan Headers
1 x COM Header
Front Panel Header
Front Audio Header
DirectKey Button
MemOK! Button
USB BIOS Flashback Button
TPU Switch
EPU Switch
Power Connectors
1 x 24-pin ATX
1 x 8-pin CPU
Fan Headers
1 x CPU (4-pin)
4 x CHA (4-pin)
IO Panel
1 x PS/2 Combination Port
D-Sub
DVI-D
HDMI
DisplayPort
2 x eSATA 6 Gbps
4 x USB 3.0
2 x USB 2.0
1 x Realtek NIC
1 x Optical SPDIF Output
Audio Jacks
Warranty Period
3 Years
Product Page
Link
ASUS' extra features (DirectKey, MemOK, BIOS Flashback, TPU, EPU) are all substantial investments in design which may be part of the reason why the A88X-Pro sits up the stack. ASUS is trying to provide enough features and video support (DisplayPort + HDMI) as well as 4-pin headers (five in total), an extra two USB 3.0 ports (ASMedia ASM1042) and the top end Realtek ALC1150 audio codec.