Introducing the Logic Supply LGX AG150
Every so often we have a vendor come to us with a unique product, something that may or may not have an immediately evident purpose, or may not be suited strictly to end consumers. Such is the case with the LGX AG150 system we received for review from Logic Supply, a totally enclosed and fanless system geared almost exclusively for commercial and industrial applications. The LGX AG150 is also our first serious hands on experience with Intel's Cedar Trail Atom refresh.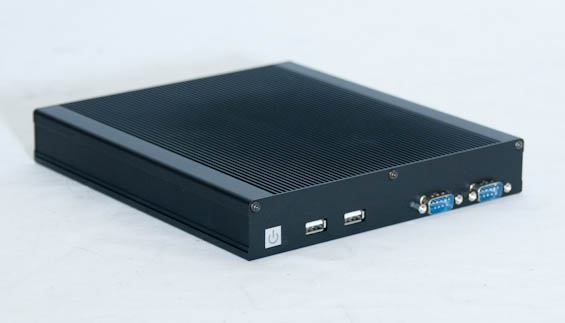 This system is for all intents and purposes a fairly complete PC capable of running Windows 7, featuring both wireless and wired connectivity, an HDMI port that supports 1080p video, and even high current USB ports...all in a sleek aluminum casing. Logic Supply has given us an opportunity to review two products together: the Cedar Trail-based dual core Atom N2800, and the LGX AG150 system itself. One of these has a future, but the other seems to be stuck squarely in the past.
While you could reasonably argue that the netbook bubble has essentially popped with casual content consumption being handled more ably by tablets, while ultrabooks and ultraportables become both more prevalent and less expensive for actual computing needs (to say nothing of AMD's very capable Zacate platform), Atom still fundamentally has a future. Medfield proved Intel was both serious about breaking into the smartphone market and capable of doing so, as we observed in our review of the Lava Xolo X900. There are other applications for relatively higher wattage Atom parts, though, and the fanless Logic Supply LGX AG150 handily demonstrates that.
Just so we're absolutely clear before we move on, though, the LGX AG150 is not intended for the end consumer. A system like this is designed for industrial applications as well as commercial applications, like powering kiosks. It's for situations where an x86 platform is needed, but power consumption and heat have to be kept to a minimum. Specialized? Certainly, but let's see what it offers for the target market.
Logic Supply LGX AG150 Specifications
Chassis
Logic Supply Custom
Processor
Intel Atom N2800
(2x1.86GHz + HTT, 32nm, 1MB L2, 6.5W)
Motherboard
Intel DN2800MT with NM10 Chipset
Memory
2x2GB Samsung DDR3-1333
Graphics
Intel GMA 3650 (640MHz, based on PowerVR SGX 545)
Hard Drive(s)
Intel 320 40GB SATA 3Gbps SSD
Optical Drive(s)
-
Power Supply
Seasonic 60W External PSU
Networking
Intel 82574L Gigabit Ethernet
Intel Centrino 6230-N 802.11a/b/g/n
Bluetooth 2.1
Audio
Realtek ALC888
Speaker and mic/line-in jacks
Front Side
2x USB 2.0
2x Serial
Top
-
Back Side
AC adaptor
4x USB 2.0 (2x High Current)
Ethernet jack
VGA
HDMI
Speaker and mic/line-in jacks
Operating System
Windows 7 Home Premium 32-bit SP1
Extras
Mounting rails
Completely fanless operation
Warranty
1-year
Pricing
Starting at $434
Price as configured: $678
Anand has already done a fairly detailed breakdown of the new Cedar Trail Atom N2800 (and corresponding Cedarview platform) here. Despite being the third generation of Atom processor from Intel, performance per core and per clock has essentially stood still since the very first Atom was introduced, and it continues to do so. Other than the single-core and dual-core models, Atom is about making a very small, inexpensive, low power x86 chip. The 32nm shrink that the N2800 represents is all about reducing power consumption further still, which is how we can get two x86-based cores with a combined TDP of just 6.5 watts.
While there are no real performance improvements under the CPU's hood, the GPU has been essentially gutted and replaced. Gone is the GMA 950-based GMA 3150 that "powered" the last generation of Atom graphics, replaced instead with an SGX 545 core licensed from PowerVR under the heading "GMA 3650". DirectX support remains at 9.0, but the GPU has been clocked all the way up to 640MHz and theoretically H.264 can now be decoded in hardware.
Unfortunately, there's a rub. The rumor mill was running rampant around the beginning of the new year that Intel was having problems getting the GMA 3650 working properly in Windows. Indeed, current drivers only support 32-bit Windows despite the N2800 itself being able to handle 64-bit. That's not a tremendous loss since Atom was never more than barely adequate in the first place, but with that said, there's apparently more than a grain of truth to those rumors.