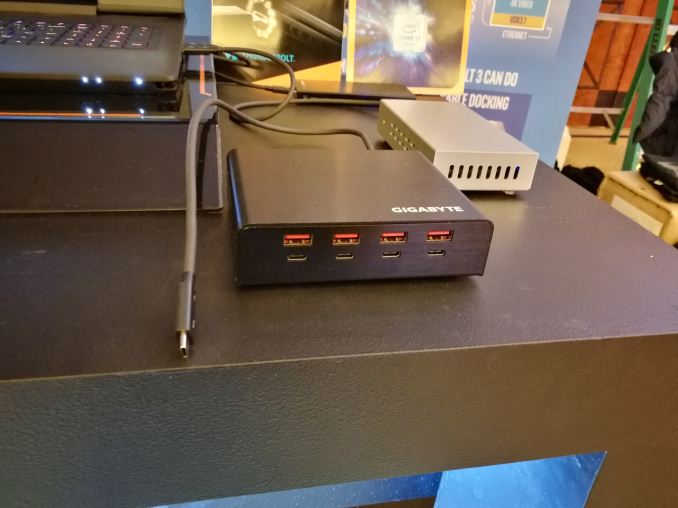 In some ways, Thunderbolt 3 is opening up a new world of connectivity. Having 40 Gbps of bandwidth to play with, along with a number of key mobile devices turning to it as their only source of connectivity, will in some form or another drive the hub and peripheral market beyond what TB1 and TB2 did. That being said, the market is still a bit slow: products are announced, but are region limited or produced in small quantities while the rest of the market develops the functionality to use it. So when we see a good trinket, it can be exciting if it reaches retail.
So enter a GIGABYTE dock that takes Thunderbolt 3 and splits the PCIe lanes between eight USB 3 ports, four using Type-A and four using Type-C. I must confess that I didn't confirm if these were USB 3.0 ports at 5 Gbps or USB 3.1 at 10 Gbps, which if it was using the latter I would suspect employs a PLX switch and a set of ASMedia ASM1142 controllers to provide the functionality, but would also mean that a user could not pummel the maximum data rate of each port when all were in use. If I were to be cynical, this could just be a single controller and a hub, which would make the unit very disappointing.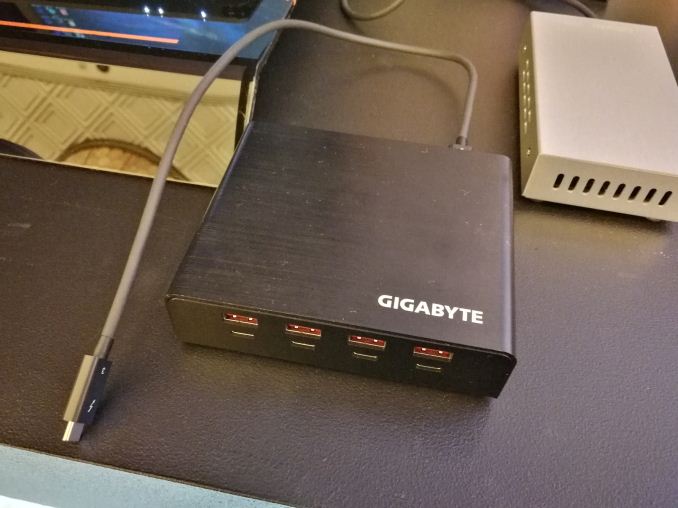 At present this unit did not support power passthrough or daisy chaining, however we did suggest both to GIGABYTE as a feature, especially the latter with the ability to daisy chain storage devices. Given that this unit doesn't require external power, it is at least taking the power required from the TB3 connector. Something like this would go a long way to helping users that rely on a single port out of their device at least. Now admittedly there are a variety of TB3 docks coming to the market offering all sorts of port sets, and these docks typically start at around $150 to get anything more than a couple of USB ports, an Ethernet port and a card reader. We'll wait and see how GIGABYTE decides to play in this space.