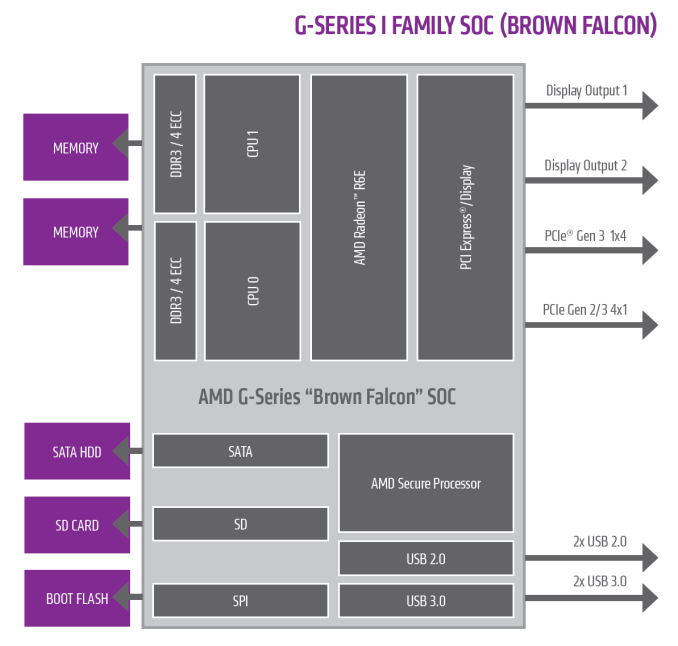 Back in October 2015, AMD's embedded business unit announced the first SoCs from AMD using DDR4, combining AMD's Excavator cores found in the Carrizo notebook platform but fully integrated solutions focused at digital signage, medical, military, and other verticals. These were essentially Carrizo laptop parts validated slightly differently, in a variety of configurations using DDR4, and high performance by the R-series moniker. Today's announcement is that the G-Series SoCs, the lower performance members of the stack, will also be transitioning to Excavator.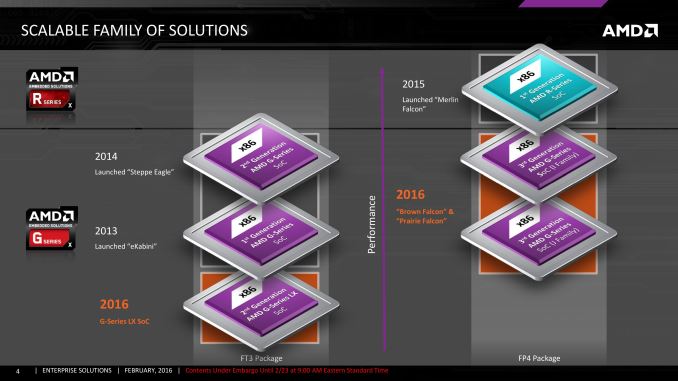 Both the FT3 and FP4 platforms will have new pin-compatible parts with 10-year life cycles: for the FT3 package this is the lower-power G-Series LX, based on Jaguar, and in FP4 this is 'Brown Falcon' and 'Prairie Falcon', being the I-Family and the J-Family of the G-Series respectively using Excavator.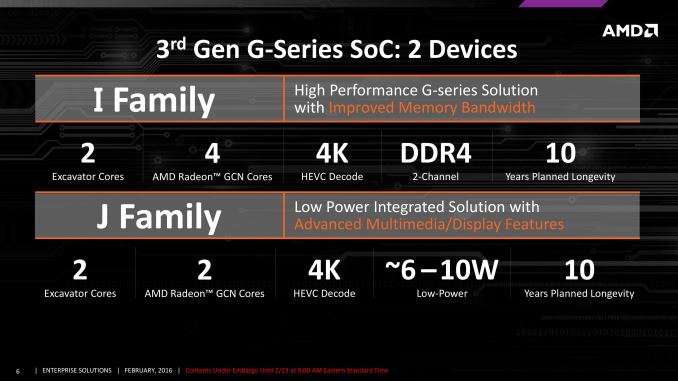 The two families of G-Series are split in more ways than just performance. The I-Family use two Excavator cores (one module) and 4 GCN compute units (256 SPs) with dual channel DDR3/4 memory and 12-15W using a configurable TDP. The J-Family in contrast are lower power, using half as many GCN compute units (128 SPs), with single channel DDR3/4 but with the capacity to enable 10-bit h.265 decode. For integration into existing platforms, the R-Series and I-Family use a similar firmware arrangement but the J-Family has a different BIOS and microcode.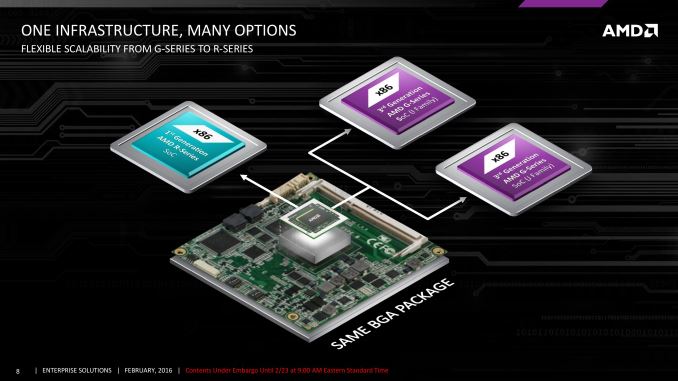 On the memory front, the differentiator of dual channel DDR3/4-1600 on the I-Family with ECC support is above the single channel DDR3/4-1866 on the J-Family which does not have ECC support. Both SoC families will have a root complex with a single PCIe 3.0 x4 and four PCIe x1, along with two USB 3.0 and a USB 2.0, but the J-Family will only support one SATA port rather than two on the I-Family.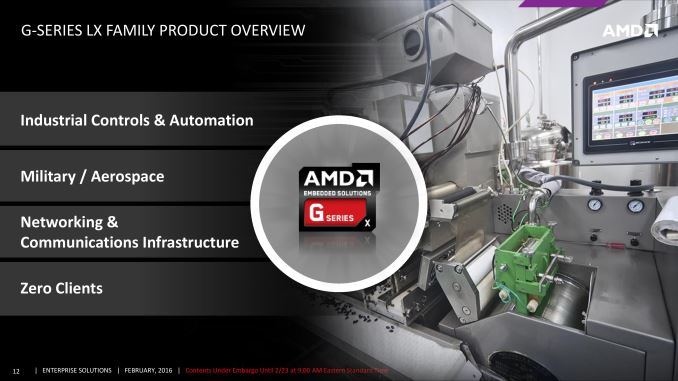 The new G-Series LX model by contrast is a dual core Jaguar part with one compute unit (64 SPs) and aimed at a 6-15W TDP window, supporting AMD Secure and a single channel of DDR3. AMD's aim here is to provide competitive parts to ARM's and ARM's partners' offerings at a roughly similar price but are x86 compatible for software and a wider support program with that 10-year longevity. It was commented that AMD has a history of long-term support, given that Geode processors are still being manufactured and sold with no real EOL in sight, but these new LX models offer an upgrade path.
Alongside the base specifications for the new embedded parts, AMD has plans down the line to introduce iTemp variants of at least the I-Family that have a wider validated temperature window.