Board Features
The main element that sticks out is the use of the Realtek ALC892 audio codec over the ALC898 or ALC1150, despite the use of an enhanced audio area with EMI shields and other features. In some situations a user might not worry about onboard audio (under the guise of 'nothing really changes' or use their own external DACs), but the ALC898 at least offers a slight SNR improvement for not a lot extra.
It should be pointed out that unlike previous Intel chipsets, a number of motherboard manufacturers will be using x8/x8 on their PCIe 3.0 layouts from the CPU with another PCIe 3.0 x4 from the chipset. This configuration allows for a PCIe device in the final slot without disrupting 2-way SLI, or a full x8/x8/x4 with 3-way SLI.
ASUS Z170-A
Warranty Period
3 Years
Product Page
Link
Price
Amazon US
Newegg
Size
ATX
CPU Interface
LGA1151
Chipset
Intel Z170
Memory Slots (DDR4)
Four DDR4, Supporting 64GB,
Dual Channel, Up to 3466 MHz
Memory Slots (DDR3L)
None
Video Outputs
HDMI
DisplayPort
DVI-D
D-Sub
Network Connectivity
Intel I219-V
Onboard Audio
Realtek ALC892
PCIe Slots for Graphics (from CPU)
2 x PCIe 3.0 (x16, x8/x8)
PCIe Slots for Other (from PCH)
1 x PCIe 3.0 x4
3 x PCIe 3.0 x1
1 x PCI
Onboard SATA
6 x SATA 6 Gbps, RAID 0/1/5/10
Onboard SATA Express
One
Onboard M.2
One, 2242 to 22110,
SATA and PCIe 3.0 x4 modes,
AHCI and NVMe
Onboard U.2
None
USB 3.1
1 x Type-A
1 x Type-C
ASMedia ASM1142 Controller
USB 3.0
2 x Rear Panel
4 via headers
USB 2.0
2 x Rear Panel
4 via headers
Power Connectors
1 x 24-pin ATX
1 x 8-pin CPU
Fan Headers
1 x CPU (4-pin)
1 x CPU_OPT (4-pin)
4 x CHA/SYS (4-pin)
IO Panel
1 x Combination PS/2
2 x USB 2.0
2 x USB 3.0
1 x USB 3.1 Type-A
1 x USB 3.1 Type-C
1 x Network RJ-45 (Intel I219-V)
HDMI
DVI-D
DisplayPort
D-Sub
Audio Jacks
Other Features
COM Header
Thunderbolt Header
EZ XMP Switch
DirectKey Header
MemOK! Button
TPU Switch
5-pin FAN_EXT Header
TPM Connector
Power Button
Front Audio Header
Front Panel Header
USB BIOS Flashback Header
In The Box
We get the following:
Driver CD
User Manual
Rear IO Shield
Three SATA Cables
Q-Connector
Flexi-SLI Bridge
CPU Installation Tool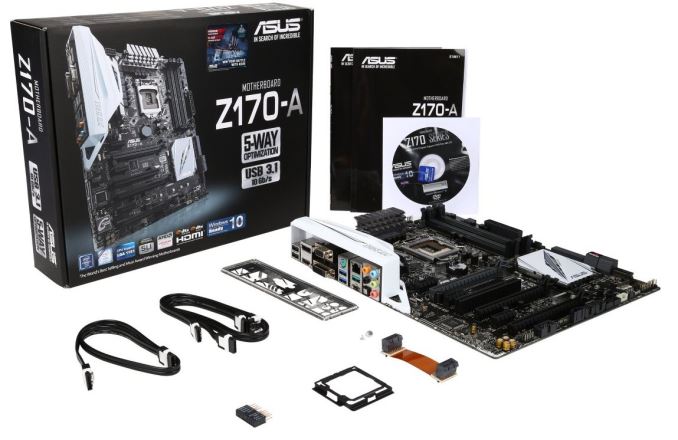 The Z170-A is a channel product, so it is not expected to contain much more than the bare essentials to get the system up and running, which is what we get here. For users who are not familiar with the CPU Installation tool, this is ASUS' method to help new builders place their processor without bending pins inside the socket.
Visual Inspection
Fresh out of the box, the first thing I certainly noticed was the feel of finesse for a $165 product. The aesthetics are color coordinated with the PCB colors and the heatsink colors complimenting each other. The motherboard is slightly heavy as well, unlike some that we get which can feel deceptively flimsy. One of the features that carries over from X99 is the rear IO cover, featuring ASUS' white faux-metal (it is plastic) with angled lines to accentuate the design. Despite this, there's no getting away from the fact that ASUS PCBs are certainly busy, with lots of components each requiring SMT mounting line-up points that gives the PCB a lot of 'white'. Luckily, one could suggest that the color scheme of the board can take the users mind off of this.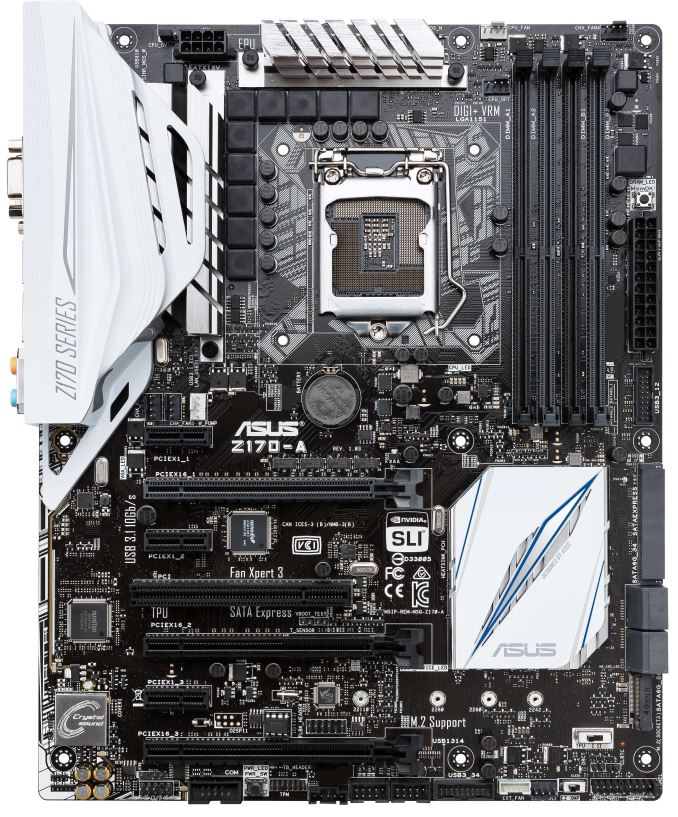 The socket area gets a small change as well, with ASUS going for an angled white design on the PCB that makes zero difference to the operation of the product but aims to catch the eye. One of the secrets to ASUS' design is the lack of vertical and horizontal lines, which would disturb the flow (insert some interior design metaphor about style that I don't understand). The 10-phase power delivery shows an array of chokes and heatsinks over the VRMs with that rear shield moving over to cover the USB 3.1 and network ICs near the rear. The socket has quick access to three fan headers to the top right and three fan headers to the bottom left. Some of these are derived from the same control, so will perform the same function, but there are in total five controllable fan header sets in the system. Another fan header is on the bottom of the board, with the fan extension header next to it.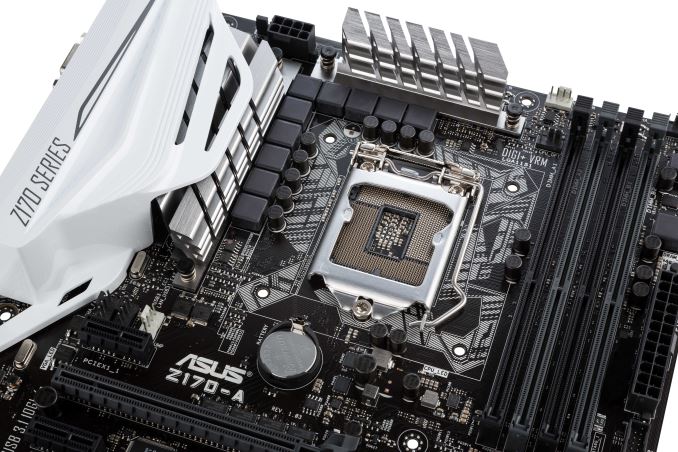 The four DDR4 slots are alternately color coded, with priority going to the black slots. They use single side latches such that users can replace the memory with large PCIe devices installed – this does mean however that the user should take care to make sure they are firmly in place.
On the right hand side of the motherboard there is a MemOK! button to save the system from bad memory overclocks, then the 24-pin power and a USB 3.0 header. Storage connectivity then comes through a SATA Express port which also houses two SATA 6 Gbps ports, then four more SATA 6 Gbps ports, and finally an M.2 port. This M.2 allows for devices from 2242 to 22110 in both SATA and PCIe mode, with the latter supporting PCIe 3.0 x4 drives in AHCI or NVMe modes. When in SATA mode, the M.2 is switched with the two SATA ports that are part of the SATA Express sub-system, so they cannot be used together.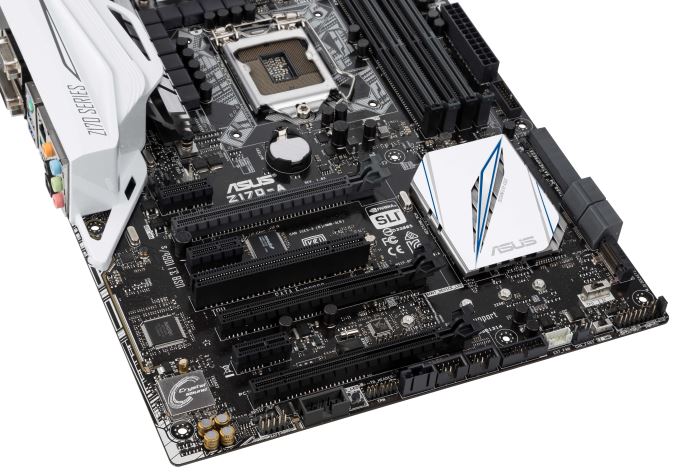 Directly below the M.2 slot is a TPU header, offering two stages of overclocking which we reported on the previous page. Then for the bottom motherboard features we get the front panel header, an EZ XMP button to enable extreme memory profiles, a fan header, a 5-pin fan extension header, another USB 3.0 header, two USB 2.0 headers, a Thunderbolt PCIe device header, a TPM header, the power button, a COM header and the front panel audio header.
The PCIe slots are a smörgåsbord of standards and bandwidths. The first two main PCIe x16 slots are from the CPU, offering x16 if the top is populated or x8/x8 if both are populated which for GPUs means 2-way SLI or Crossfire. The third PCIe x16 slot is an x4 variant from the chipset, which allows for tri-Crossfire. Along with these we get three PCIe 3.0 x1 slots for other devices, and a PCI slot for legacy hardware which is generated through a PCIe to PCI bridge.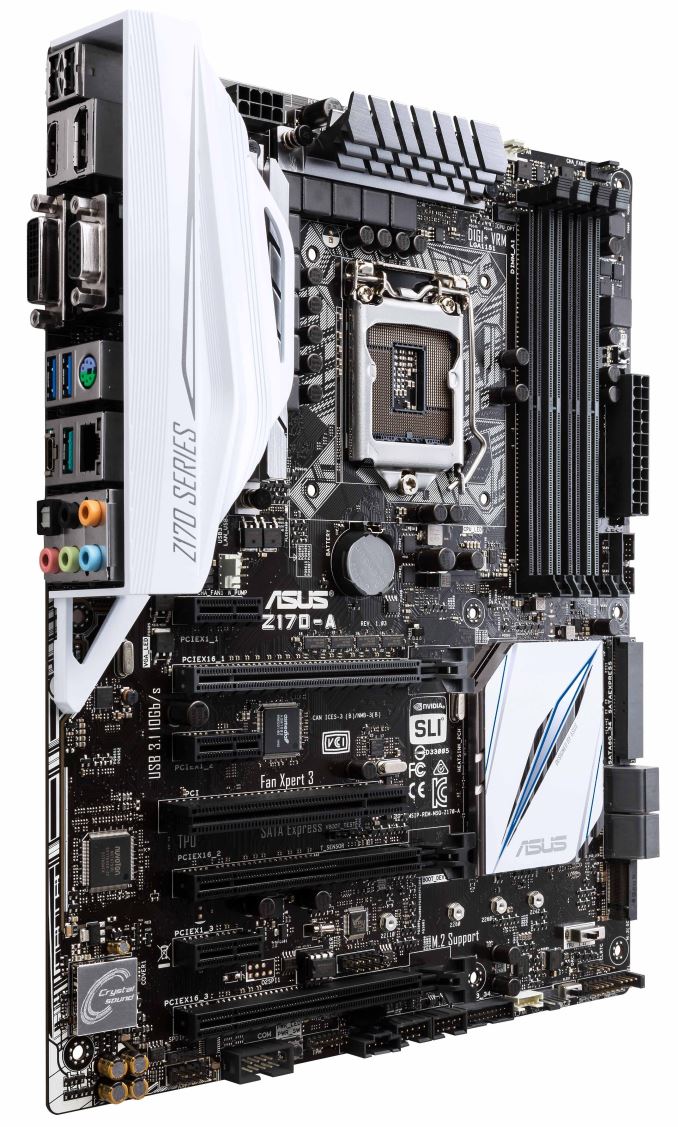 On the left hand side of the board is our audio solution, which ASUS has equipped with boosted features such as PCB separation, an EMI shield and additional filter caps. What makes this interesting is that the audio codec underneath is the Realtek ALC892, whereas we normally see the ALC1150 when extra effort has been made on the audio side. There is a slight price difference for the manufacturer between the two, and one could argue that most users might not be able to tell the difference, but in our tests this means a difference in signal-to-noise for sure.

Like the PCIe slot arrangement, there is a lot to choose on the rear panel. USB is provided by two USB 2.0 ports in black, two USB 3.0 ports in blue, a USB 3.1-A (at 10 Gbps) in teal and a USB 3.1-C (at 10 Gbps) using the new Type-C connector. Video outputs from the integrated graphics are supplied by the standard digital trio of DisplayPort, HDMI and DVI-D, but ASUS also includes a bridge chip for analog VGA as well. A combination PS/2 port is above the USB 3.0 ports, Intel's I219-V network controller powers the network port above the USB 3.1 ports, and the aforementioned Realtek audio codec provides the rear audio outputs.
Test Setup
Readers of our motherboard review section will have noted the trend in modern motherboards to implement a form of MultiCore Enhancement / Acceleration / Turbo (read our report here) on their motherboards. This does several things, including better benchmark results at stock settings (not entirely needed if overclocking is an end-user goal) at the expense of heat and temperature. It also gives in essence an automatic overclock which may be against what the user wants. Our testing methodology is 'out-of-the-box', with the latest public BIOS installed and XMP enabled, and thus subject to the whims of this feature. It is ultimately up to the motherboard manufacturer to take this risk – and manufacturers taking risks in the setup is something they do on every product (think C-state settings, USB priority, DPC Latency / monitoring priority, overriding memory sub-timings at JEDEC). Processor speed change is part of that risk, and ultimately if no overclocking is planned, some motherboards will affect how fast that shiny new processor goes and can be an important factor in the system build.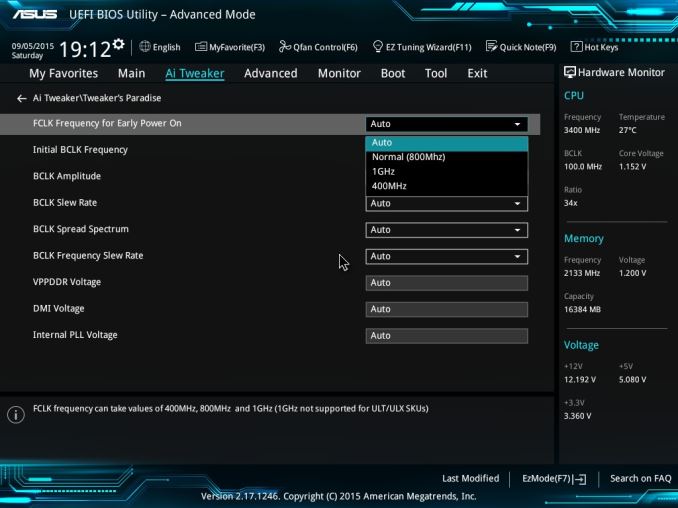 For reference, the ASUS Z170-A, on our testing with BIOSes 0603 to 0901, MCT was enabled by default. Also, the FCLK 10x ratio was present from the 0901 BIOS at the time of testing.
Many thanks to...
We must thank the following companies for kindly providing hardware for our test bed:
Thank you to AMD for providing us with the R9 290X 4GB GPUs.
Thank you to ASUS for providing us with GTX 980 Strix GPUs and the R7 240 DDR3 GPU.
Thank you to ASRock and ASUS for providing us with some IO testing kit.
Thank you to Cooler Master for providing us with Nepton 140XL CLCs.
Thank you to Corsair for providing us with an AX1200i PSU.
Thank you to Crucial for providing us with MX200 SSDs.
Thank you to G.Skill and Corsair for providing us with memory.
Thank you to MSI for providing us with the GTX 770 Lightning GPUs.
Thank you to OCZ for providing us with PSUs.
Thank you to Rosewill for providing us with PSUs and RK-9100 keyboards.