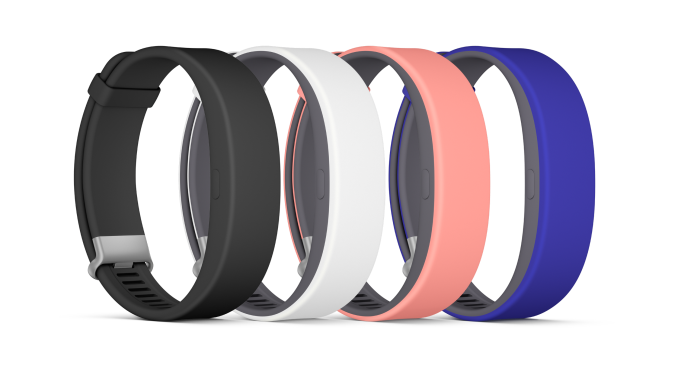 Today Sony announced their second generation SmartBand wearable, the SmartBand 2. Like its predecessor, the SmartBand 2 is a fitness wristband that incorporates an accelerometer to track your movement. The SmartBand 2 also incorporates a heart rate sensor to monitor your heart rate throughout the day, which was not present in the original model. Information relating to workouts is automatically tracked, and can be viewed in the Sony Lifelog application. Since the SmartBand 2 has a battery life of around 48 hours it can also be used for tracking health information during sleep, and can automatically trigger a vibration alarm to wake you up based on its understanding of your sleep cycle.
In addition to fitness and health tracking, the SmartBand 2 can notify you about calls, messages, and other notifications by pairing it with your Android or iOS device. The SmartBand 2 features both a vibrating motor and an RGB notification LED to ensure that you don't miss notifications. There's also support for controlling music playback on your paired smartphone, and if you have a Sony Xperia device the SmartBand 2 can warn you when you travel more than 10m from it.
As for its construction, the SmartBand 2 is made of silicone. It will come in black and white versions at launch, with pink and indigo options to follow. It has IP68 resistance to water and dust, and it will still be compatible with straps made for the previous Sony SmartBand. The Sony SmartBand 2 will be launching in 60 countries this September for a price of approximately 119 EUR.