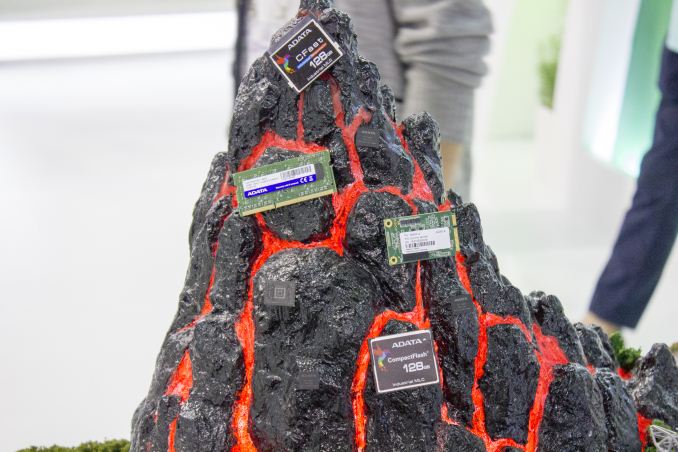 After a long week of meetings and over a day worth of traveling, I'm finally back from Taipei. Given our hectic schedule (it was just me and Ian at Computex this year), we didn't have time to report most of the things we saw last week, so it's now time to start going through all the new products we saw. First up is ADATA who had numerous new, interesting SSD products to show, including TLC, PCIe and USB 3.1 solutions.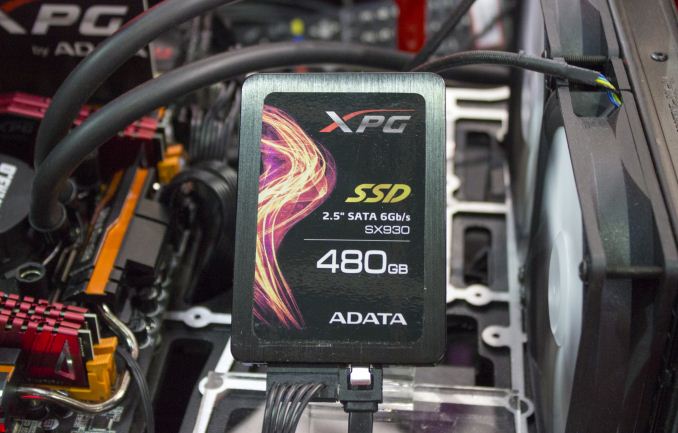 The first product ADATA had on display was the XPG SX930, which is ADATA's new high-end SATA SSD based on JMicron's latest JMF670H controller. If you remember our ADATA booth tour from last year's Computex, the SX930 was originally supposed to utilize SandForce's SF-3000 series controller in SATA 6Gbps mode, but as the SF-3000 keeps getting delayed (I heard it's scheduled for Q4'15 now) ADATA had to look for an alternative controller. JMicron actually sent me JMF670H reference design samples right before I left for Computex and based on my early benchmarking it seems to be a very potent controller. It's not a Samsung challenger, but it appears to offer a healthy upgrade over the JMF667H and be competitive against other controller on the market. We will have a review of the reference designs up in the next few weeks, so stay tuned for deeper performance analysis.
In terms of NAND ADATA is using something the company refers to as MLC+. Basically it's just higher binned MLC NAND because ADATA does NAND binning in-house (which is in fact quite rare for a module house) and it enables the five-year warranty ADATA is offering for the SX930. I can't remember on top of my head whether ADATA is using Micron's 16nm or 20nm NAND, but I'll provide an update as soon as I know more. The SX930 will be available in the next couple of months in capacities of 120GB, 240GB and 480GB.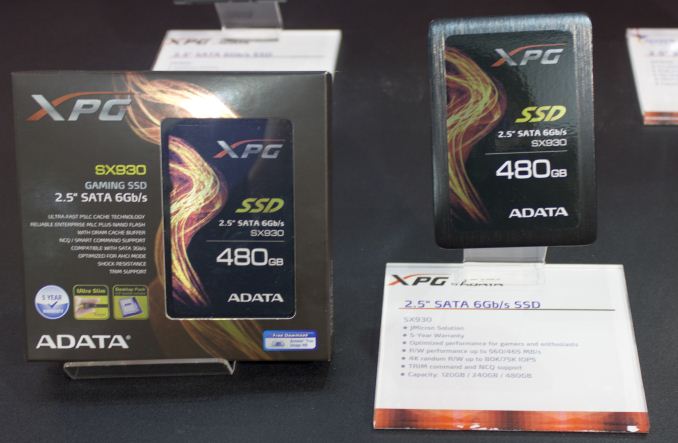 Aside from the technical aspects, ADATA is trying to revamp its XPG branding to be more appealing to gamers. The SX930 features a new flame logo that extends to the package design and the whole XPG branding now has a new 'Born to Battle' slogan. While I think most of our readers buy a drive based on its performance aspects rather than the design, I still think the new branding is a good move because gamers and other PC enthusiasts certainly care about the looks when building a desktop and ADATA's bird logo perhaps isn't the number one choice.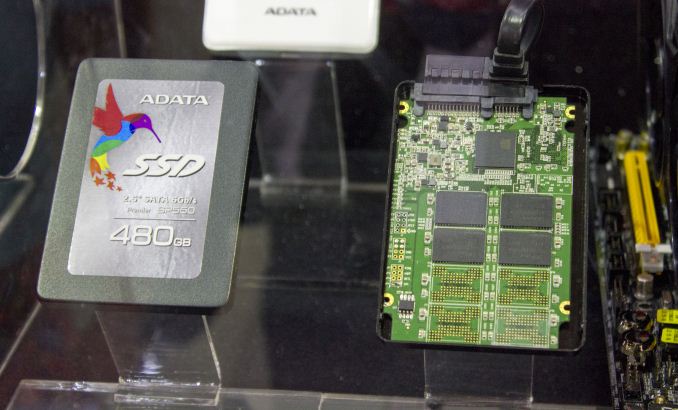 Moving on to TLC SSDs, ADATA didn't have just one, but two TLC SSDs on display. The first one is SP550, which uses Silicon Motion's SM2256 controller. The SM2256 is the successor to Silicon Motion's popular SM2246EN controller and it's the first commercially available controller platform with TLC NAND support. As a matter of fact Silicon Motion sent me reference design samples a while back and you can find some preliminary benchmarks in our Bench section, but I wanted to wait for shipping drives before doing a full review and drawing the final verdict.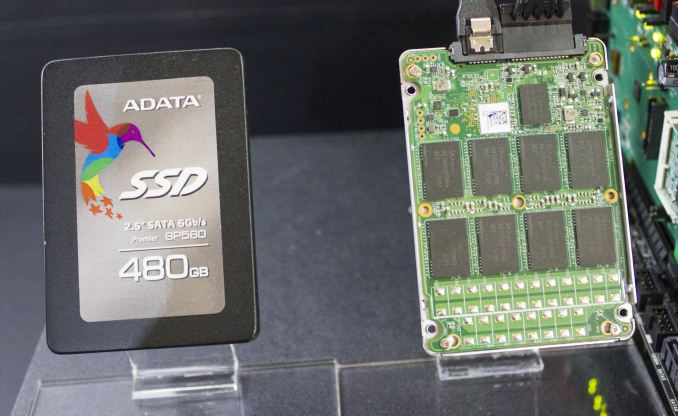 ADATA's other TLC SSD is called SP560 and utilizes Marvell's 88SS1074 controller that is codenamed "Dean". Similar to the SM2256, the "Dean" also features LDPC error correction, which increases the endurance of TLC NAND by being able to fix a higher number of bit errors, although there is a slight negative impact on performance especially when the controller has to rely on software based LDPC for error correction.
ADATA hasn't fully finalized the product specifications yet, but the company will be using 16nm TLC NAND from both Micron and SK Hynix. Micron just announced its 16nm TLC NAND last week and is already shipping to its partners, whereas SK Hynix hasn't made much noise about its 16nm NAND that is now available. The SP550 and SP560 will both be available in capacities of 240GB, 480GB and 960GB with shipping starting in the next few months. Pricing is TBA, but should be below ADATA's MLC drives, although I was told not to expect dramatic price cuts.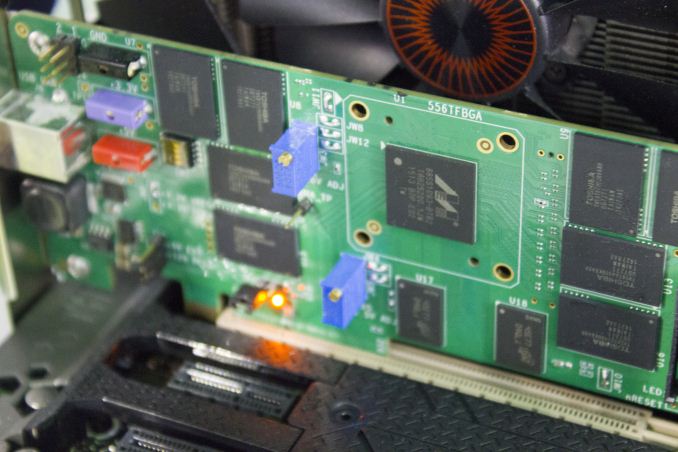 In addition to SATA 6Gbps drives, ADATA obviously had some upcoming PCIe SSDs to show. To be more specific, ADATA had two drives, of which both were based on Marvell silicon. The SR1020 will be aimed towards the enterprise and features Marvell's "Eldora" PCIe 3.0 x4 controller. Eldora's aim is to compete against the SF-3000 platform as it supports both AHCI and NVMe as well as LDPC error correction, similar to the SF-3000, but it's biggest advantage is the newer PCIe 3.0 interface with twice the available bandwidth. Again, the readers who read our ADATA booth tour a year ago might remember that the SR1020 was supposed to be based on SandForce SF-3739 controller, so it's starting to look like ADATA has switched solely to Marvell for high-end because of the constant delays of the SF-3000 platform.

Live demo showing SR1020 at 3040MB/s sequential read
The SR1020 will come in 2.5" form factor and use the SFF-8639 connector, which was actually officially renamed to U.2 by the Small Form Factor Working Group (SFFWG) last week. Given that SFF-8639 is gaining a lot of popularity due to it being the interface for 2.5" PCIe SSDs, it makes perfect sense to get rid of the number monster and move to U.2, which is more marketable and goes well with the existing M.2 spec.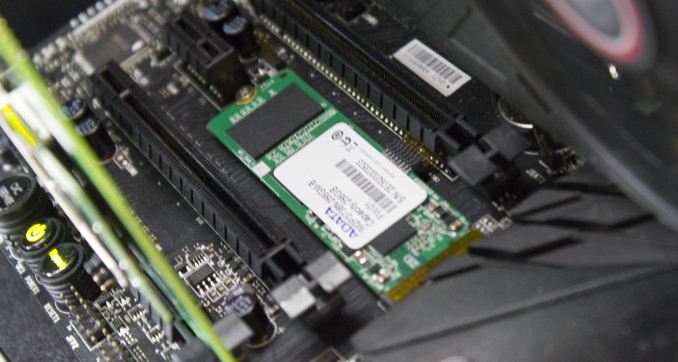 As a more consumer-oriented drive, ADATA is offering a PCIe 3.0 x1 NVMe M.2 drive with Marvell's "Artemis 2" controller. The drive is so new that ADATA doesn't have a proper marketing name for it yet, but it's a DRAM-less design for improved cost efficiency. ADATA will specifically target the drive for mainstream users as a SATA replacement. In a live demo the drive reached 641.7MB/s sequential read, so it should still provide a decent upgrade over SATA 6Gbps and most importantly it will be price competitive. Exact availability is still a bit open, but ADATA will be launching full-scale PCIe SSD production in the second half of this year, so we will likely see the PCIe drives enter the market either in the fourth quarter or early next year.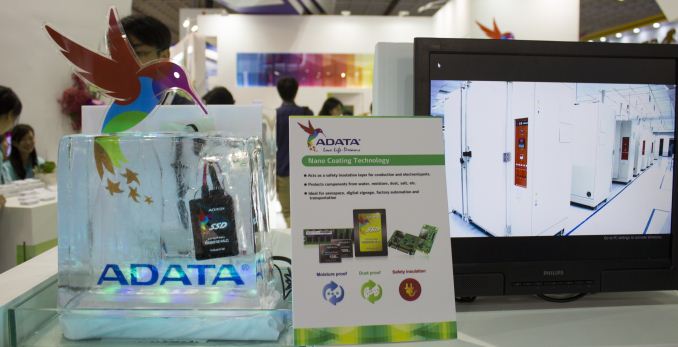 For industrial applications ADATA demonstrated its nano coating technology by operating one of its industrial SSDs inside a block of ice (I even confirmed that it is real ice, not plastic).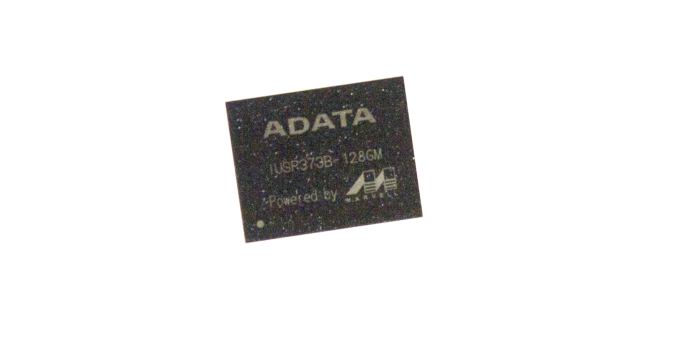 ADATA also had a PCIe 3.0 x1 BGA SSD with a Marvell controller on display. It's obviously an industrial/OEM SSD, but it's pretty interesting that so much performance can be fit inside such a small package. I certainly hope high-end tablets will start adopting PCIe designs in the near future given that storage performance is still relatively poor in most devices, which is something that PCIe would fix.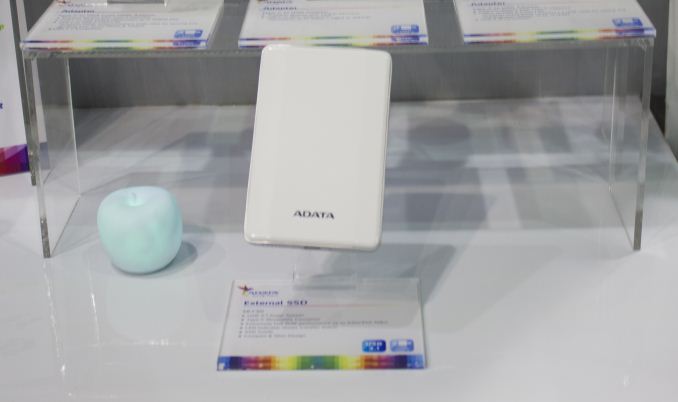 Last but not least, ADATA had a whole lineup of USB Type-C products. The SE730 is ADATA's external SSD for USB 3.1 interface and Ganesh already has a sample, but we've been having some compatibility issues that have delayed the review.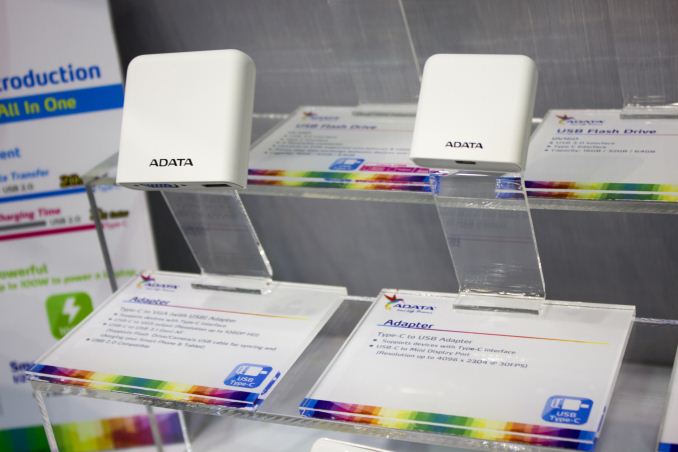 ADATA also had a bunch of USB Type-C adapters, which I'm sure the MacBook owners will appreciate given Apple's pricing, although ADATA didn't reveal the prices yet.
All in all, ADATA had a lot to show and I'm eagerly looking forward to getting my hands on some TLC and PCIe SSD samples. I also had a chance to sit down with Kevin Chen, ADATA's Vice President of SSD Marketing, so stay tuned for a more in-depth article of ADATA's SSD strategy in the coming weeks!