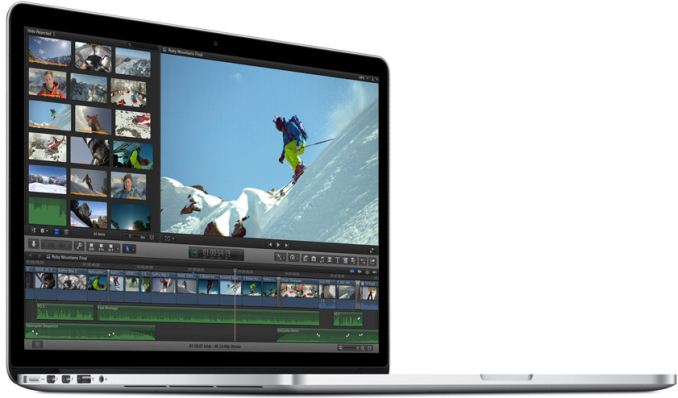 This morning Apple announced the release of the 2015 refresh of their 15" Retina MacBook Pro lineup. With the 13" rMBP having been updated with an Intel Broadwell processor back in March, we were expecting a similar update for the 15" model around this timeframe, however as it turns out Apple will be sticking with Haswell just a bit longer. Let's jump into the specs.
15" Retina MacBook Pro Lineup
Model
2014 (base)
2014 (high-end)
2015 (base)
2015 (high-end)
Dimensions
0.71 inch (1.8 cm) x 14.13 inches (35.89 cm) x 9.73 inches (24.71 cm)
Weight
4.46 lbs (2.02 kg)
4.49 lbs (2.04 kg)
CPU
2.2GHz Core i7-4770HQ
(Haswell)
2.5GHz Core i7-4870HQ
(Haswell)
2.2GHz Core i7-4770HQ
(Haswell)
2.5GHz Core i7-4870HQ
(Haswell)
GPU
Intel Iris Pro
Intel Iris Pro + GeForce GT 750M (2GB)
Intel Iris Pro
Intel Iris Pro + Radeon R9 M370X (2GB)
Display
15" 2880 x 1800 IPS LCD
Memory
16GB DDR3L
SSD
256GB PCIe SSD (PCIe x2)
512GB PCIe SSD (PCIe x2)
256GB PCIe SSD (PCIe x4)
512GB PCIe SSD (PCIe x4)
Battery Capacity
95 Wh
99.5 Wh
Battery Life
8 Hours
9 Hours
Price
$1999
$2499
$1999
$2499
As far as the overall design goes, based on Apple's specifications it does not look like the chassis has been updated in any way. The 15 rMBP's dimensions are identical - it's still 0.71" (18mm) thick – though the weight has gone up very slightly from 4.46lbs (2.02kg) to 4.49lbs (2.04kg). Nor have the ports changed, with a combination of USB 3.0, Thunderbolt, MagSafe 2, and not a Type-C port in sight.
However on the input side of matters the Force Touch trackpad, first introduced on the MacBook and 2015 13" rMBP, has finally made its way over to the 15" model. In the case of the MacBook Pro Apple isn't looking to save space in the same manner as they were the MacBook, but rather the Force Touch trackpad represents the next generation of trackpads for the company thanks to its pressure-sensitive touch and the additional input options that unlocks.

Meanwhile on the inside, much to our surprise the processor situation remains unchanged. Apple has confirmed that the 15" rMBP continues to use Intel's Haswell processors and not their newer Broadwell processors, and as a result the processors available for the 2015 15" rMBP are identical to the 2014 processor options.
Since the processors have not changed, this also means that the 2015 models offer the same Iris Pro-equipped CPUs across the entire 15" lineup, with all models including the 40EU Iris Pro 5200 GPU. On the other hand the optional discrete GPU for the rMBP has changed; it is now AMD's just-introduced Radeon R9 M370X, which ships with 2GB of VRAM. Unfortunately we know very little about M370X at this time – AMD's closest part we do have specs for is the Cape Verde based M375 – so at the moment we're unsure if this is another Verde part or if it's something else entirely.
Elsewere, on the storage side of matters the SSDs have seen a slight upgrade. Just like the 13" rMBP earlier this year, the new 15" rMBP is now using a wider, PCIe x4 SSD. This will double theoretical maximum through, though the actual performance impact remains to be seen.
The final notable change here is that both battery capacity and battery time have gone up. Battery capacity is now up to 99.5 Wh, up from 95 Wh in 2014. It will be interesting to see the first rMBP tear-down, to see if this comes from different battery chemistry or improved space utilization to allow a physically larger battery. In either case, battery life is now speced for 9 hours for both web browsing and video playback, up from 8 hours on the 2014 model. A whole additional hour on just a slightly larger battery may be a bit optimistic, especially if Apple hasn't made any other power savings changes.
Retina iMac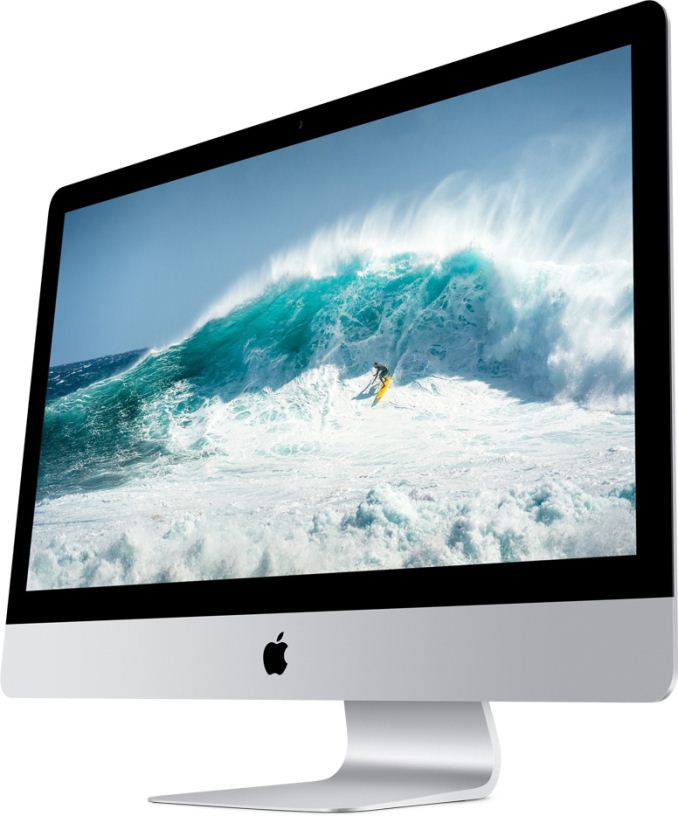 Meanwhile the Retina iMac has also received a partial upgrade, with Apple realigning their SKUs. The big news here is that Apple has shoved the non-Retina 27" iMac into a corner, and now offers 2 27" configurations with Retina.
27" Retina iMac
Model
2015 (base)
2015 (high-end)
CPU
3.3GHz Core i5-4590
(Haswell)
3.5GHz Core i5-4690
(Haswell)
GPU
AMD Radeon R9 M290 (2GB)
AMD Radeon R9 M290X (2GB)
Display
27" 5120 x 2880 IPS LCD
Memory
8GB DDR3
Storage
1TB 7200RPM HDD
1TB Fusion Drive
Price
$1999
$2299
The new $1999 base model is essentially a slightly cut down version of the original model launched late last year, and comes equipped with a 3.3GHz Intel Core i5-4590 processor, 8GB of RAM, a 1TB hard drive (no Fusion Drive on the base model), and a Radeon R9 M290 for graphics. Meanwhile the original Retina iMac is unchanged in configuration and is now the high-end option for the iMac. At the same time its price has been brought down $200, from $2499 to $2299.