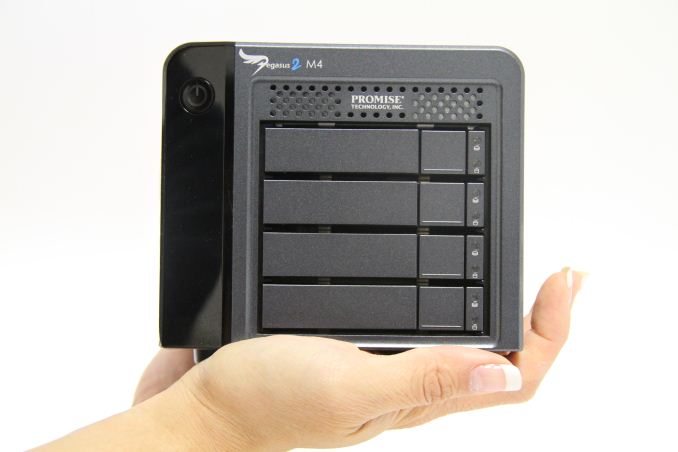 Typically multi-bay external storage devices tend to utilize 3.5" drives due to the lower cost and higher capacities. The downside, however, is that 3.5" drives are physically larger and heavier, which makes a multi-bay enclosure rather difficult to move around on a regular basis. To fix this, Promise is offering a 4-bay 2.5" RAID solution called the M4.
Promise Pegasus2 Lineup
M4
R4
R6
R8
Form Factor
4 x 2.5"
4 x 3.5"
6 x 3.5"
8 x 3.5"
Supported RAID Levels
0, 1, 5, 6, 10
0, 1, 5, 6, 10
0, 1, 5, 6, 10, 50
0, 1, 5, 6, 10, 50, 60
Connectivity
2x Thunderbolt 2 (20Gbps each)
Available Capacities
4TB
8TB
12TB & 18TB
24TB & 32TB
DImensions (HxWxL)
4.2" x 5.0" x 6.6"
7.5" x 9.6" x 7.3"
9.8" x 9.6" x 7.3"
12.2" x 9.6" x 7.3"
Weight
5.5lb / 2.9kg
15lb / 6.8kg
20.1lb / 9.1kg
24.2lb / 11kg
Aside from capacity, the M4 offers everything that the R4 does as you get hardware RAID 5 and two Thunderbolt 2 ports for daisy-chaining. The weight comes in at almost one third of the R4's weight and the dimensions are considerably smaller too, which makes the M4 a lot more portable than the rest of the Pegasus2 lineup. Sadly Thunderbolt 2's ten watts of power is not capable of powering the M4, so it is not a fully portable solution like regular external hard drives are.
The M4 is available for $999 in the Apple Online Store and the target market for the M4 and the whole Pegasus2 family is video professionals. Promise markets the M4 as a solution that offers portability for over an hour of uncompressed 4K footage. While there are arguably cheaper and larger external 3.5" hard drives around, the M4 provides redundancy via RAID 5, 6 and 10, which is more or less a must for professional video editing because data loss could end up being very expensive.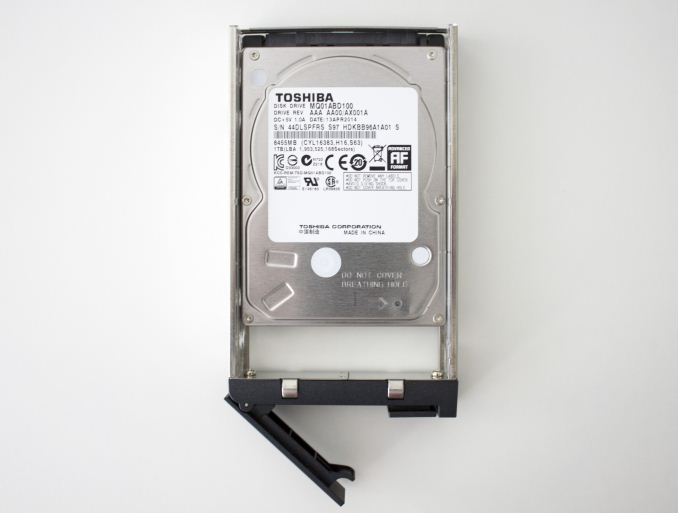 Our review unit shipped with four 1TB 5,400rpm Toshiba hard drives. These are 9.5mm i.e. two-platter drives, so we are not dealing with super high density here. Promise told us that they are not offering 4x1.5TB or 4x2TB configurations due to price sensitivity as $999 is quite expensive to begin with, although I am not sure if I agree because I could see video professionals paying more for increased capacity. In the end, 4TB is not that much if you deal with 4K video.
Fortunately Promise has made hard drive swaps convenient as pressing the button on the bay will free the lever, which you simply pull to get the drive out. The drives are attached to the bays by four standard hard drive screws, so any 2.5" drive will work. Officially Promise only guarantees compatibility with the Toshiba drive, although the user manual suggests that the drive does not have to be the same make and model.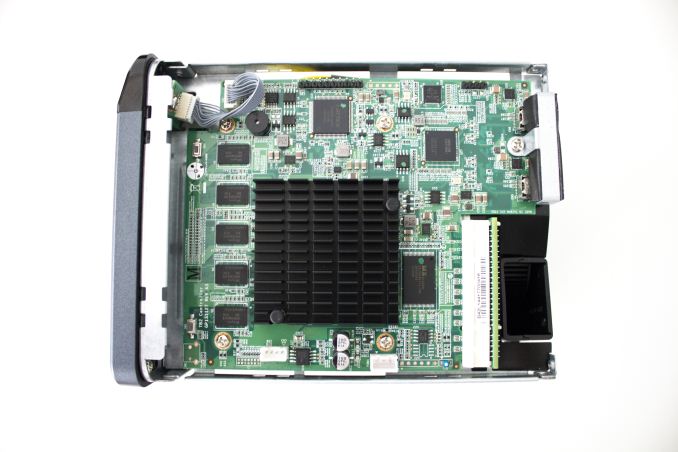 Getting inside the M4 is fairly easy. There are a few screws that need to be removed until the top comes off and you end up having access to the PCB along with the rest of the components (PSU, fan, etc.). The RAID controller is covered by the heat sink, so I do not have a photo of it, but I was told that the silicon itself is from PMC with custom Promise firmware. A quick look at PMC's RAID controller lineup suggests that the silicon is the PM8011 SRC 8x6G, which is an 8-port SATA/SAS 6Gbps controller with a PCIe 2.0 x8 interface.
Like many Thunderbolt devices, the M4 has two Thunderbolt 2 ports for daisy-chaining. The Thunderbolt controller is Intel's DSL5520 with two Thunderbolt 2 ports (i.e. four channels) and it connects to the RAID controller through a PCIe 2.0 x4 interface. Intel lists the bulk price as $9.95 on their ARK site and the TDP is 2.8W.
Test Setup
Unfortunately I do not have a Mac with Thunderbolt, so the results and analysis are limited to a Windows based system. Based on what we have talked with manufacturers, there is some difference in performance between Thunderbolt in Windows and OS X. A part of that comes from the fact that in PCs, the Thunderbolt controller is connected to the PCIe lanes from the PCH, whereas in Macs they come directly from the CPU. The Windows drivers are also not as good as the native OS X drivers, which I guess is not a surprise given that Apple has always been the biggest supporter of Thunderbolt. Either way, the results should represent performance under both OSs as long as we are not close to saturating the interface.
| | |
| --- | --- |
| CPU | Intel Core i7-4770K running at 3.3GHz (Turbo & EIST enabled, C-states disabled) |
| Motherboard | ASUS Z87 Deluxe (BIOS 1707) |
| Chipset | Intel Z87 |
| Chipset Drivers | Intel 9.4.0.1026 + Intel RST 12.9 |
| Thunderbolt Adapter | ASUS ThunderboltEX II/DUAL |
| Thunderbolt Drivers | 1.5.1.1 |
| Memory | Corsair Vengeance DDR3-1866 2x8GB (9-10-9-27 2T) |
| Graphics | Intel HD Graphics 4600 |
| Graphics Drivers | 15.33.8.64.3345 |
| Desktop Resolution | 1920 x 1080 |
| OS | Windows 7 x64 |