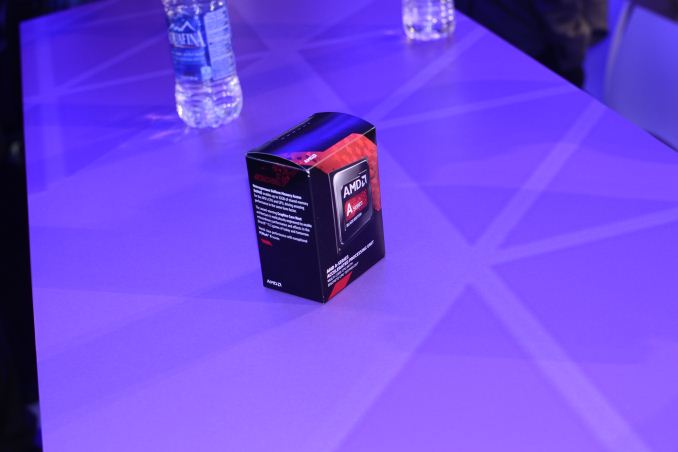 Ian has already written up most of the information AMD covered in their press conference tonight, so if you haven't already I suggest you start there. Kaveri is the big topic, but they also had plenty more to say about HSA and some of their other platforms, as well as demos of several systems and the current state of their "holodeck initiative" – complete with LaVar Burton (aka Geordi Leforge from Star Trek: TNG). I was without internet during the presentation so instead of a Live Blog I'm just going to post some comments on the highlights, as well as a bunch of images for the interested.
The success of APUs was another point AMD stressed yet again, and they moved from there into a focus on their HSA initiative. TrueAudio was also mentioned along with Mantle, and AMD notes that there are currently three game engines in development with support for Mantle (Frostbite 3, Nitrous, and Asura), with five developers using Mantle in over twenty upcoming games. Battlefield 4 is the closest to release, and AMD demonstrated the Mantle version running on AMD hardware tonight, noting that the Mantle version is running 45% faster than the non-Mantle version on the same system. Other demonstrations included HSA/TrueAudio being used by Nuance to clean up audio streams to the point where they could do speech/voice recognition even in noisy environments. Libre Office noted a speedup of up to 8X with HSA acceleration enabled on a Kaveri A10-7850K vs. the same APU without HSA acceleration, though this was apparently with a huge spreadsheet.
Kaveri is coming out on desktops next week with laptop versions to follow in Q2/Q3, as Ian discussed already. Beyond Kaveri AMD also has Beema and Mullins coming out in this year, with significant improvements in both CPU and GPU performance relative to Kabini and Temash; more importantly than the improvements relative to Kabini/Mullins, AMD had comparisons with Intel's Bay Trail-T and Bay Trail-M. AMD is claiming Mullins performance 20% faster than Bay Trail-T in PCMark 8 Home and over 250% faster graphics performance in 3DMark11. Similarly, Beema performance is over 25% faster than Bay Trail-M in PDMark 8 Home and over 350% faster in GPU performance in 3DMark11. Even if we take those numbers with a healthy dose of skepticism, AMD is not surprisingly much faster than Intel on the GPU side, and they're certainly competitive on the CPU side. AMD also announced a few design wins for Beema/Mullins tablets and laptops, with some desktop concepts shown as well.