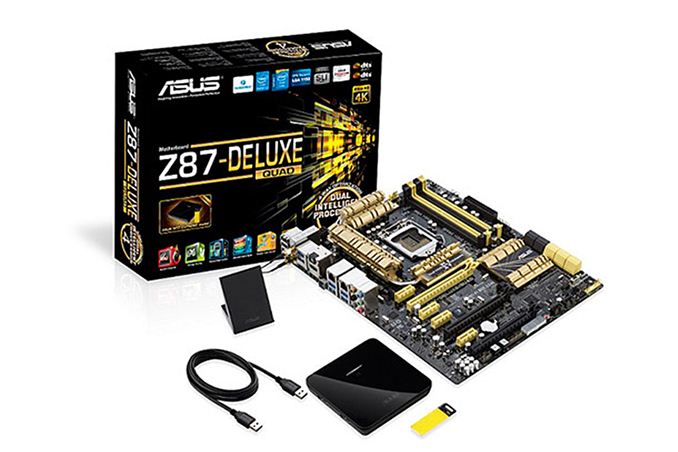 For those that might not be too familiar with the standard, Thunderbolt is Intel's high-bandwidth, do-everything connector, designed as a potential future path for all things external to a system—displays, USB devices, external storage, PCI Express, and even graphics cards. Thunderbolt supports up to 10Gb/s bandwidth (uni-directional) for each port, which is double what USB 3.0 offers, but the cost to implement Thunderbolt tends to be quite a bit higher than USB. For that reason, not to mention the ubiquity and backwards compatibility of USB 3.0 ports, we haven't seen all that many Thunderbolt-equipped Windows laptops and motherboards; mostly the ports are found on higher-end motherboards.
For those that need high bandwidth access to external devices, however, even 10Gb/s may not be enough—specifically, 4K/60 video resolutions can require around 15Gb/s. As we've previously discussed, with Thunderbolt 2 Intel is doubling the bandwidth with Thunderbolt 2 up to 20Gb/s per port (bi-directional) by combining the four 10Gb/s channels into two 20Gb/s channels, thus enabling support for 4K/60 support. The ASUS Z87-Deluxe/Quad motherboard is the first motherboard to support the standard, and as expected you get two 20Gb/s ports courtesy of the single Falcon Ridge controller. Combined with the HDMI port, that gives the board the potential to drive three 4K displays at once. And if Thunderbolt 2 support isn't enough for your enthusiast heart, ASUS is also including their NFC Express accessory for Near-Field Communication.
Here's the short specifications summary for the Z87-Deluxe/Quad; we're awaiting further details on expected availability and pricing, but given the Z87-Deluxe/Dual runs $350 we'd expect the new board to come in above that price point.
2 x Intel Thunderbolt 2 ports
1 x HDMI port
4 x DIMM slots
3 x PCIe 3.0/2.0 x16 slots
10 x SATA 6Gbit/s ports
8 x USB 3.0 ports with USB 3.0 Boost
8 x USB 2.0 ports
ATX form factor
Source: ASUS Press Release