Using mobile broadband in Windows 8 will no longer require specific drivers and third-party software, says Microsoft's Billy Anders in a Building Windows 8 blog post today. This is thanks to the new Mobile Broadband Interface Model (MBIM) standard, which hardware makers are reportedly already beginning to adopt, and a generic driver in Windows 8 that can interface with any chip supporting that standard.
We've known for awhile now that mobile broadband chips would be treated as first-class devices in Windows 8 - the same as wi-fi, ethernet, Bluetooth, and USB 3.0, among others - but as usual Microsoft's blog post discusses the subject in exhaustive detail: because of their new first-class status, broadband antennas can be turned on and off in the same way that wi-fi and Bluetooth now are, and Airplane Mode can turn all of it off in one swoop, just like on a smartphone (see above). As on phones, Windows will automatically prioritize wi-fi networks when both wi-fi and cellular are available.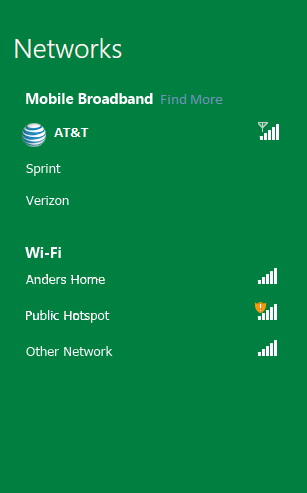 If your laptop or tablet has a SIM card installed, Windows will automatically detect which carrier it's associated with and download any available mobile broadband app from the Windows store, and carrier-unlocked laptops and tablets can choose between multiple cellular carriers if the hardware supports it (see above). As Brian noted in our first Windows 8 overview, the operating system also offers estimated data usage figures when connected to cellular networks, and the OS will adjust its default behaviors to save on data (for example, deferring automatic downloading and installing of Windows updates until wi-fi is available).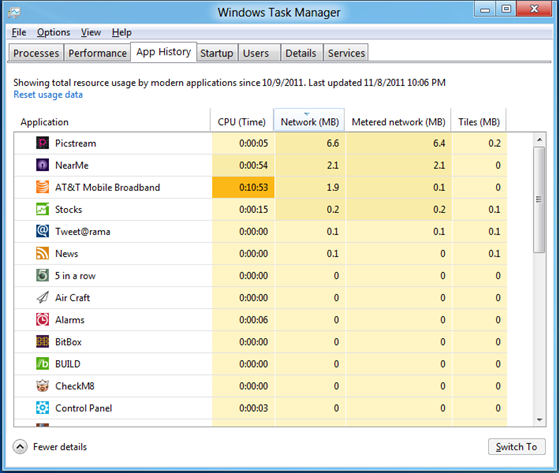 For people using wired or wi-fi connections that are also metered, Microsoft also gives you the option to see data usage figures for these networks. By selecting a "reduce data usage" option, Windows will use new built-in APIs to force network-aware Metro apps to use less data when possible (another example: using a low-bandwidth movie stream rather than a high bandwidth one). Network-aware Metro apps are required to use these APIs, and users can check how much bandwidth apps are using (both on metered and non-metered networks) in the Task Manager (above).
Lastly, Microsoft has made changes to the networking stack in Windows to allow for faster wi-fi connections when devices wake from sleep - information such as your preferred network list and other "hints" provided to your wi-fi adapter mean that wi-fi connections will be available "about a second" after the device wakes up.
That about covers all of the good stuff, but as always you can check the source post for more information. The Windows 8 beta is expected in February, with a final release targeted for sometime before the end of 2012.
Source: Building Windows 8 blog