Introducing the CyberPowerPC Gamer Xtreme 4000
We last checked in with CyberPowerPC's gaming desktop division when we reviewed the Gamer Xtreme 8500, which packed a beefy Intel Core i7-875K overclocked to 3.8GHz alongside two NVIDIA GeForce GTS 450s in SLI. Our feelings were decidedly mixed: while it was certainly fast enough, the gulf between the quoted price tag and the actual price along with the hack overclocking job made us question the system's value. Now CyberPowerPC has sent us a gaming desktop with the reasonably new NVIDIA GeForce GTX 570 and a brand spanking new Intel Core i7-2600K that features the highest clock speed of any processor we've ever tested in a system.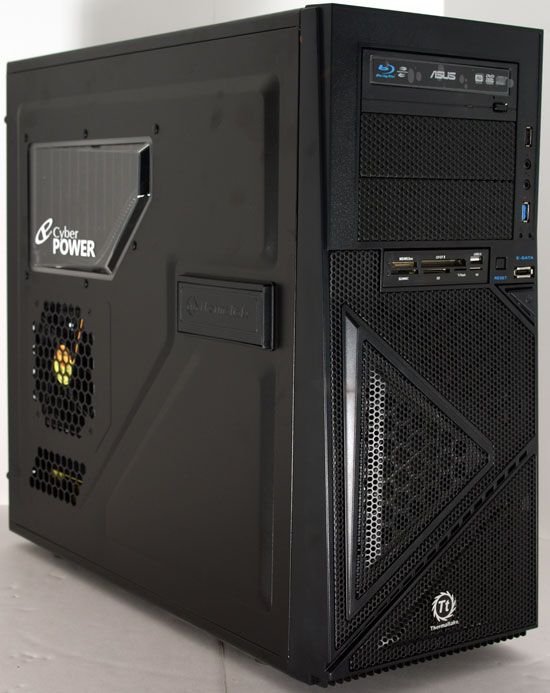 Knowing the new Intel Core i7 based on the Sandy Bridge microarchitecture is one of the fastest processors you can buy, what happens when we take the best clock-for-clock performance on the market and crank it up to 4.4GHz?
CyberPowerPC Gamer Xtreme 4000 Specifications
Processor
Intel Core i7-2600K @ 4.4GHz (100MHz Bclk with x44 multiplier)
(spec: 4x3.4GHz, 32nm, 8MB L3, 95W)
Motherboard
ASUS P8P67 Motherboard with P67 chipset
Memory
2x2GB Kingston HyperX DDR3-1600 @ 1600MHz (expandable to 16GB)
Graphics
eVGA SuperClocked NVIDIA GeForce GTX 570 1280MB GDDR5
(480 CUDA Cores, 797/1594MHz Core/Shader, 3.9GHz RAM, 320-bit memory bus)
Hard Drive(s)
Western Digital Caviar Black 1TB 7200RPM SATA 6Gbps
Optical Drive(s)
ASUS BD-ROM/DVD+/-RW Combo Drive
Networking
Intel Gigabit Ethernet
Bluetooth 2.1+EDR
Audio
Realtek ALC892 HD Audio
Speaker, mic, line-in, and surround jacks for 7.1 sound
Digital and optical out
Front Side
Optical Drive
2x USB 2.0
Headphone and mic jacks
USB 3.0
eSATA
MMC/SD/CF/MS reader
Top
-
Back Side
2x PS/2
Digital and optical out
2x eSATA
6x USB 2.0
6-pin FireWire
2x USB 3.0
Speaker, mic, line-in, and surround jacks for 7.1 sound
Operating System
Windows 7 Home Premium 64-bit
Dimensions
19.7" x 18.9" x 8.3" (WxDxH)
Weight
15.7 lbs (case only)
Extras
Corsair 650TX Power Supply
Asetek 510LC Liquid Cooling
Thermaltake Armor A60 Case
Flash reader (MMC/MS/CF/SD)
Overclocked from warehouse
Warranty
3-year limited warranty and lifetime phone support
Pricing
Quoted Price: $1,399
The elephant in the room is the overclocked Intel Core i7-2600K. Built on a 32nm fabrication process, it's Intel's new top of the line mainstream processor using the Sandy Bridge microarchitecture and features 8MB of L3 cache and a nominal turbo speed of 3.8GHz. Given the changes in how Sandy Bridge chips are overclocked, the unlocked multiplier is necessary to get the most out of these new processors. CyberPower has accordingly ramped the turbo multiplier to 44x, yielding a final turbo speed of a staggering 4.4GHz. The new i7 is cooled using CyberPower's standard Asetek 510LC liquid cooling which keeps idle temperatures extremely low.
Supporting the i7-2600K is Intel's new P67 chipset, which features both SATA 6Gbps and 3Gbps connectivity, the former of which is connected to the bog standard Western Digital Caviar Black 1TB drive. The chipset and processor only support dual channel memory, resulting in a board maximum of 16GB of DDR3; the 4GB of Kingston HyperX installed runs at a very healthy 1600MHz. The rest of the motherboard offers all of the modern connectivity you could ask for, including an interesting surprise in the form of integrated bluetooth.
Finally we also have the SuperClocked model of eVGA's NVIDIA GeForce GTX 570. In our review of the GTX 570 we found it to be about as fast as the former king of the hill GeForce GTX 480. Not too shabby, and now with eVGA's SuperClocked model we see a 60MHz bump in core clock (resulting in an effective 120MHz boost on the shader clock); memory speed is unchanged. Nonetheless, the 570 also sports a healthy 480 of NVIDIA's CUDA cores along with improved thermals and power consumption over the previous generation.
Rounding things out are a blu-ray reader/DVD writer combo drive and a respectable if unexciting Thermaltake Armor A60 case. A nice surprise comes in the form of the Corsair 650TX power supply, generally regarded as one of the best brands on the market.