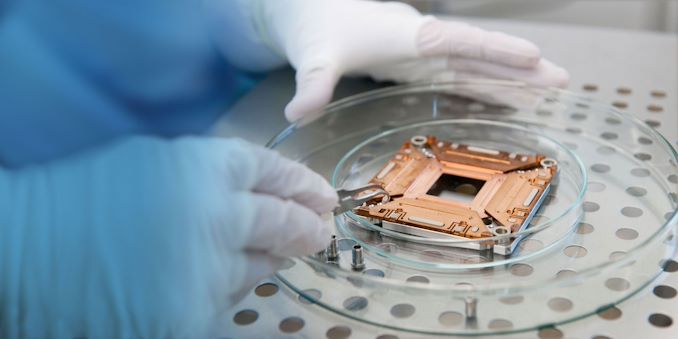 Intel on Wednesday announced that it had agreed to sell a 20% stake in IMS Nanofabrication, a company the develops and builds multi e-beam photomask writing tools, for $860 million. The move provides Intel much needed cash and allows IMS to engage into deeper cross-industry collaboration.
IMS Nanofabrication develops and builds multi e-beam tools that synthesize photomasks (reticles). Using multiple e-beams to print a photomask greatly speeds up the process, which is important as photomasks tend to wear out when extreme ultraviolet (EUV) lithography is used. In addition, using multi e-beam tools allows Intel to quickly introduce small changes to pellicles to enhance performance and/or yields. Finally, using multi e-beam tools could be crucial for production of photomasks for next generation nodes that rely on EUV and eventually on High-NA EUV lithography.
Intel first invested in IMS back in 2009 and then acquired the company in 2015. Following the takeover, IMS quadrupled its employee base and manufacturing capabilities and also released three generations of e-beam mask writing products.
This week Intel agree to sell roughly 20% of IMS Nanofabrication to Bain Capital in a deal that values IMS at roughly $4.3 billion. The transaction is expected to close in Q3 and after that IMS will function independently with Dr. Elmar Platzgummer continuing in his role as CEO.
"The advancement of lithography is critical to driving continued progress in the semiconductor industry, and mask writing plays a central role in the industry's transition to new patterning technologies, such as high-NA EUV," said Matt Poirier, senior vice president of Corporate Development at Intel. "Bain Capital's investment and partnership will provide IMS with increased independence and bring strategic perspective to help accelerate the next phase of lithography technology innovation, ultimately benefitting the ecosystem as a whole."
Selling a 20% stake in fab tool company provides Intel some $860 million, which is not bad for a company that has been bleeding money for some time now. Meanwhile, selling ownership in fab tool makers fits into Intel's general strategy. For example, back in the day the company bought stock of ASML in a bid to help the company finance development of EUV wafer fab equipment and then sold it stake in ASML.
While controlling an important EUV vendor could give a competitive edge, it slowdowns creation of industry standards that are crucial for high-volume chip production.
Thriving semiconductor production industry is more important than making short-term profits, which is why Intel is not afraid of selling off its shares of companies like ASML or IMS and provide some benefits to its rivals.
"[Bain Capital] sharse our conviction in the meaningful opportunity ahead for IMS as EUV becomes more pervasive and high-NA EUV moves from development into high-volume manufacturing in the second half of the decade,"Platzgummer said. "We look forward to expanding our ability to support the world's largest chip producers, who rely on our technology to produce current and next generations of semiconductor products."
Source: Intel