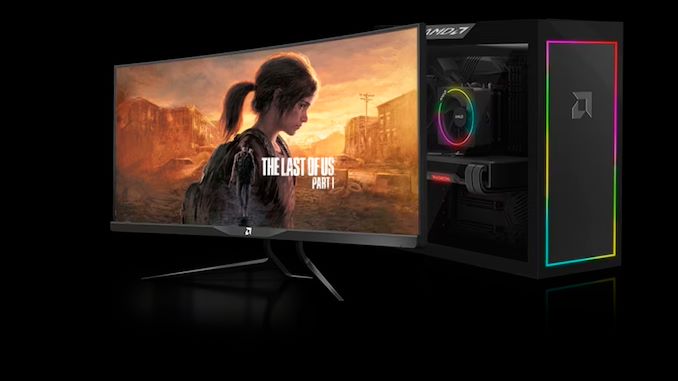 The Last of Us Part 1, a remaster of the original Playstation-hit, is making its way to the PC on March 28. To celebrate the feat or to let gamers relive the TV series, AMD has kicked off a new game bundle offer for Radeon RX 6000 and RX 7000 video card purchases. The promotion also applies to pre-built gaming desktops that leverage one of the eligible Radeon cards. AMD's The Last of Us Part 1 bundle, which starts today and runs until April 15, 2023, arrives just in time now that the previous Radeon bundle with The Callisto Protocol and Dead Island 2 has ended.
The new bundle applies to AMD's entire lineup of Radeon RX 6000 and Radeon RX 7000 desktop video cards, unlike the previous bundle that only focused on AMD's last-generation 6000 series graphics cards. This means everything from the top of the stack Radeon RX 7900 XTX down to the $140 entry-level RX 6400 all qualify for a free copy of the game.
AMD Current Game Bundles
(March 2023)
Video Card
(incl. systems and OEMs)
Game
Radeon RX 7000 Desktop (All)
The Last of Us, Part 1
Radeon RX 6000 Desktop (All)
The Last of Us, Part 1
Unfortunately, Naughty Dog, the developer behind the title, hasn't revealed the system specifications for The Last of Us Part 1. So we don't know how much graphics firepower gamers will need to run the game. The Radeon RX 6400 can conceivably handle the game, but it'll likely require image fidelity or resolution compromises. In any event, the game is launching with solid technical underpinnings for the AMD crowd, with support for AMD's latest FidelityFX Super Resolution (FSR) 2.2 upscaling technology.
The latest game bundle comes as we're seeing some movement in video card pricing. While the flagship Radeon RX 7900 XTX's price tag has remained stagnant, street prices on the Radeon RX 7900 XT have fallen a bit from its $899 MSRP. For example, ASRock's Phantom Gaming Radeon RX 7900 XT currently retails for $799 on Newegg, so the Radeon RX 7000 series is getting cheaper – at its own creeping pace. As is almost always the case, bundles such as these are offered as an alternative to cutting prices, with AMD using the add-in game to instead add value to the product.
AMD's The Last of Us Part 1 gaming bundle is available in different parts of the world. The participating retailers in the U.S. include Amazon, AVADirect Custom Computers, Best Buy, Cybertron PC (CLX), iBuypower, Maingear, Memory Express, Meta PCs, Micro Center, Newegg, Origin PC, and Xidax.
Source: AMD