System Performance
Whilst the controlled performance tests are heavily favouring the Dimensity 1000L powered Reno3 5G, what also matters in user experience in daily usage is the overall system performance, including the device's software stack and the SoC's scheduler settings. In that regard, we've haven't really tested a MediaTek device in several years now.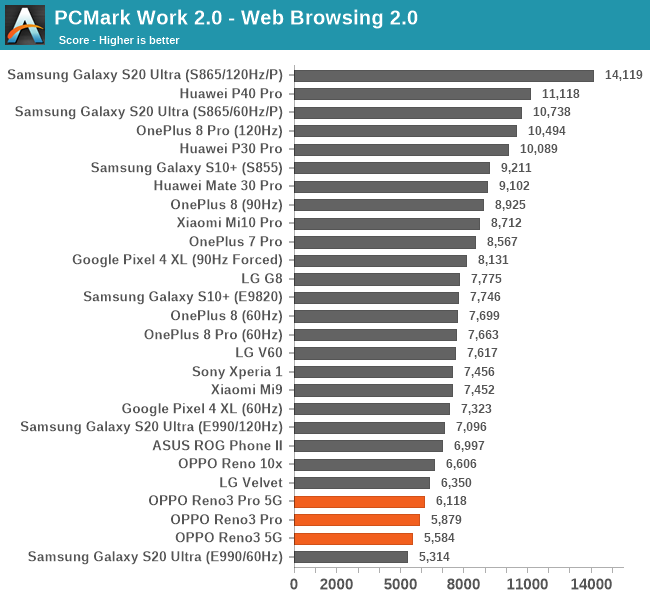 In PCMark's web browsing test, none of the Reno3 phones showcase very convincing results as we're seeing scores well below the average flagship device today – but that's to be expected given these phones are targeted at the mid-range.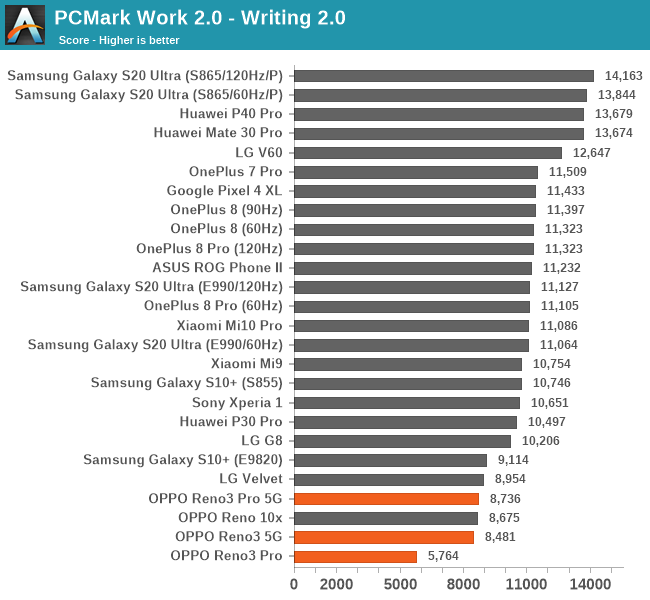 The writing test is a more representative workload for daily user experiences. Here both the D1000L and S765 Reno3 phones performs in line with their mid-range nature and perform extremely close to each other. The Helio P90 based global Reno3 Pro doesn't fare well at all here as it's a clear tier below other phones.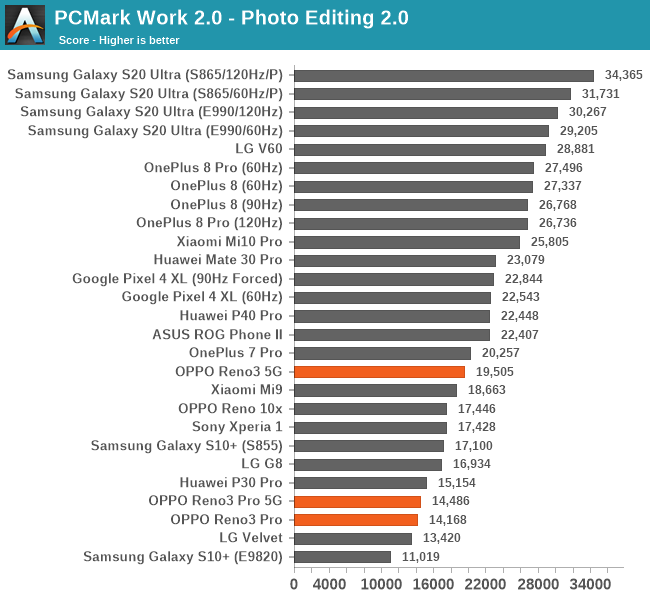 In the photo editing test which makes use of Renderscript and loads the GPU, the MediaTek Reno3 5G is ahead of its P95 sibling as well as the Snapdragon 765 counterpart.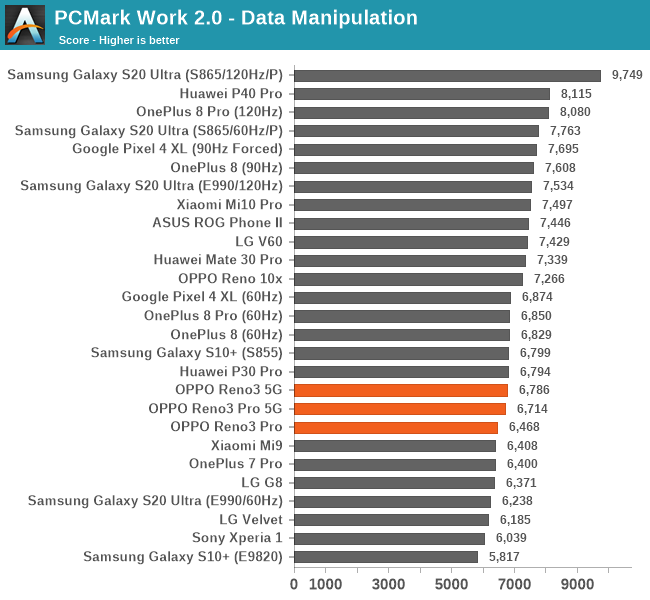 In the data-manipulation score, the Reno3 phones are all performing close to each other.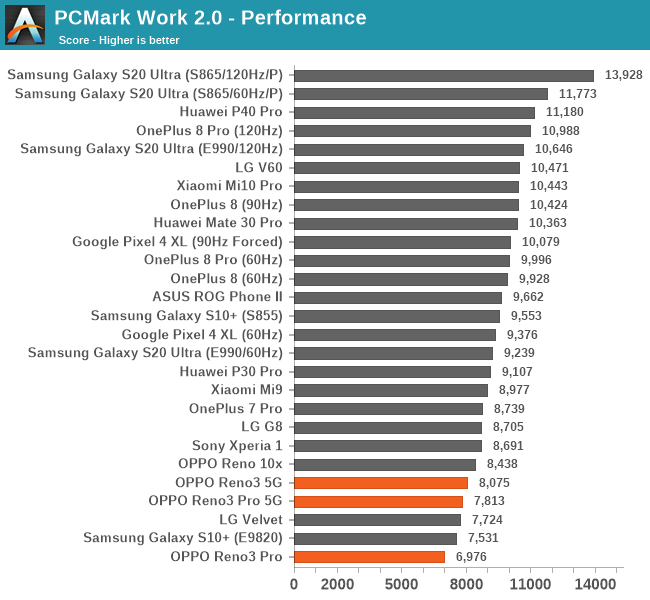 In the overall PCMark scores, we achieve the expected hierarchy between the devices, although the absolute score differences are quite smaller than we would have imagined.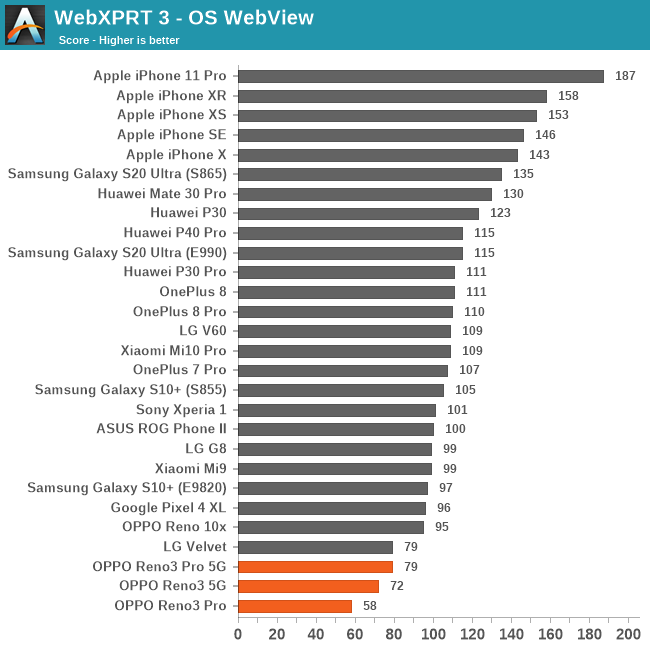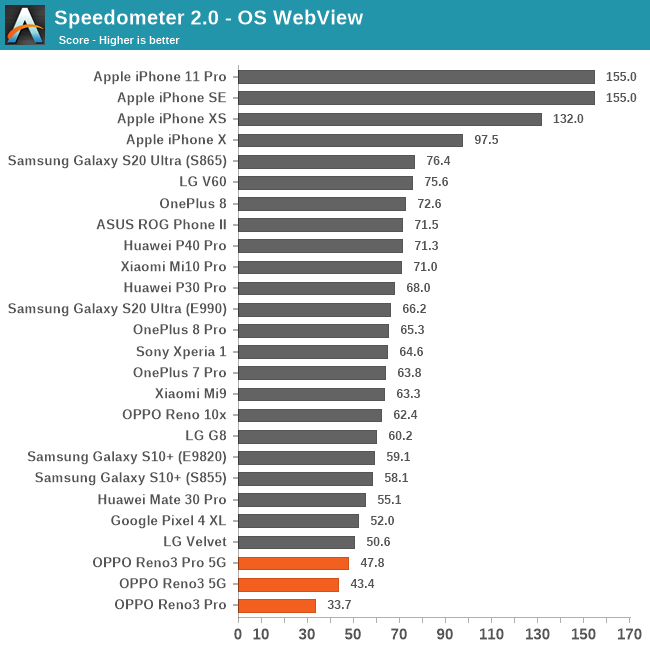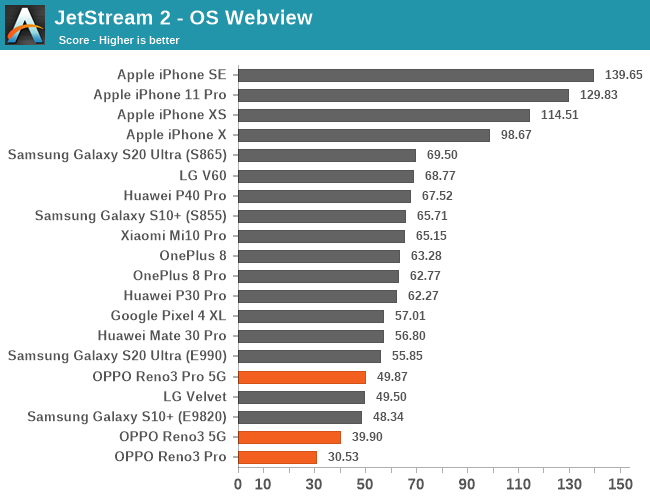 In the web-browser based JavaScript benchmarks, we're seeing the Snapdragon 765 notably outperform the Dimensity 1000L chipset which oddly enough falls behind by quite a bit. I'm not too sure of why this would be, but it's possible that these heavier workloads are more memory-bound and thus Qualcomm's superior memory latency performance is helping it pull ahead of the MediaTek chipsets.
As we hadn't measured a MediaTek chipset in quite a few years, I was curious as to how their scheduler performs in relation to what we know of other SoCs such as from Qualcomm, HiSilicon, Samsung or even Apple. We're using our internal workload performance ramp test for this task: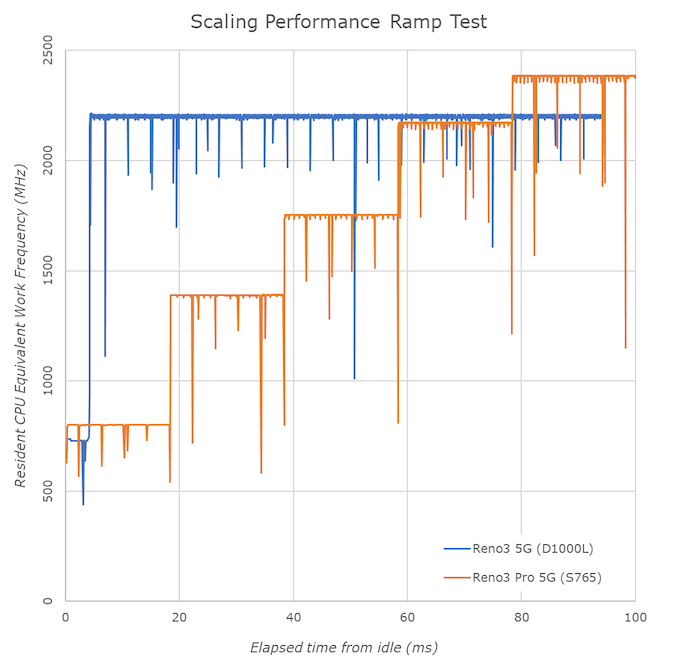 Surprisingly, MediaTek's Dimensity 1000L performed massively better than any other SoC on the market, scaling up from idle to maximum frequency on the performance cores in just 4.2ms. The Snapdragon 765 Reno3 Pro 5G here took a more conventional stepped ramp-up approach, reaching the maximum performance state in 78ms.
I was quite astounded to see such an aggressive scheduler behaviour on the MediaTek chipset – it seems their scheduler will wake up tasks at maximum frequency very quickly and ramp down from there, instead of ramping up performance gradually. It's a big difference, and it's seemingly a lot more aggressive than any other SoC on the market.
I'm still not sure how this translates into more natural workloads with intermediate load behaviours – both the Reno3 5G and Reno3 Pro 5G both performed quite similarly in subjective device usages, with the MediaTek variant only pulling ahead under more notable workloads such as installing applications.