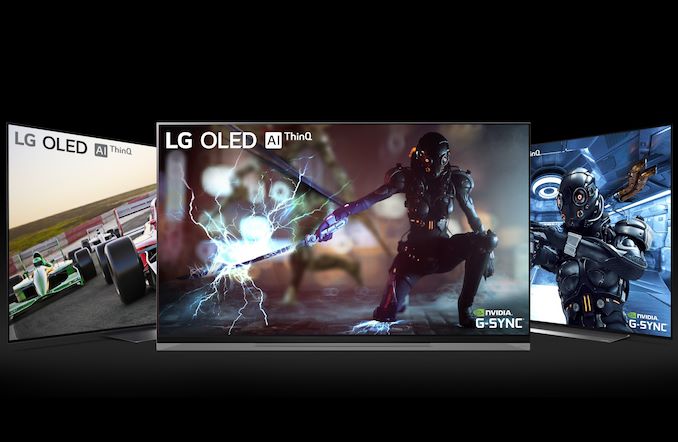 Back in September, LG and NVIDIA teamed up to enable G-Sync variable refresh rate support on select OLED televisions. Starting this week and before the end of the year LG will issue firmware updates that add support for the capability on the company's latest premium OLED TVs.
LG's 2019 OLED TVs have been making waves throughout the gaming community since their launch earlier this year. The TVs are among the first to support HDMI 2.1's standardized variable refresh rate technology, adding a highly demanded gaming feature to LG's already popular lineup of TVs. This has put LG's latest generation of TVs on the cutting edge, and, along with Microsoft's Xbox One X (the only HDMI-VRR source device up until now), the duo of devices has been serving as a pathfinder for HDMI-VRR in general.
Now, NVIDIA is getting into the game by enabling support for HDMI-VRR on recent video cards, as well as working with LG to get the TVs rolled into the company's G-Sync Compatible program. The two companies have begun rolling out the final pieces needed for variable refresh support this week, with LG releasing a firmware update for their televisions, while NVIDIA has started shipping a new driver with support for the LG TVs.
On the television side of matters, LG and NVIDIA have added support for the 2019 E9 (65 and 55 inches), C9 (77, 65 and 55 inches), and B9 (65 and 55 inches) families of TVs, all of which have been shipping with variable refresh support for some time now.
The more interesting piece of the puzzle is arguably on the video card side of matters, where NVIDIA is enabling support for the TVs on their Turing generation of video cards, which covers the GeForce RTX 20 series as well as the GeForce GTX 16 series of cards. At a high level, NVIDIA and LG are branding this project as adding G-Sync Compatible support for the new TVs. But, as NVIDIA has confirmed, under the hood this is all built on top of HDMI-VRR functionality. Meaning that as of this week, NVIDIA has just added support for HDMI's variable refresh standard to their Turing video cards.
While HDMI-VRR was introduced as part of HDMI 2.1, the feature is an optional extension to HDMI and is not contingent on the latest standard's bandwidth upgrades. This has allowed manufacturers to add support for the tech to HDMI 2.0 devices, which is exactly what has happened with the Xbox One X and now NVIDIA's Turing video cards. Which in the case of NVIDIA's cards came as a bit of a surprise, since prior to the LG announcement NVIDIA never revealed that they could do HDMI-VRR on Turing.
At any rate, the release of this new functionality gives TV gamers another option for smooth gaming on big-screen TVs. Officially, the TVs are part of the G-Sync Compatible program, meaning that on top of the dev work NVIDIA has done to enable HDMI-VRR, they are certifying that the TVs meet the program's standards for image stability (e.g. no artifacting or flickering). Furthermore, as these are HDR-capable OLED TVs, NVIDIA is also supporting HDR gaming as well, covering the full gamut of features available in LG's high-end TVs.
Ultimately, LG is the first TV manufacturer work with NVIDIA to get the G-Sync Compatible certification, which going into the holiday shopping season will almost certainly be a boon for both companies. So it will be interesting to see whether other TV makers will end up following suit.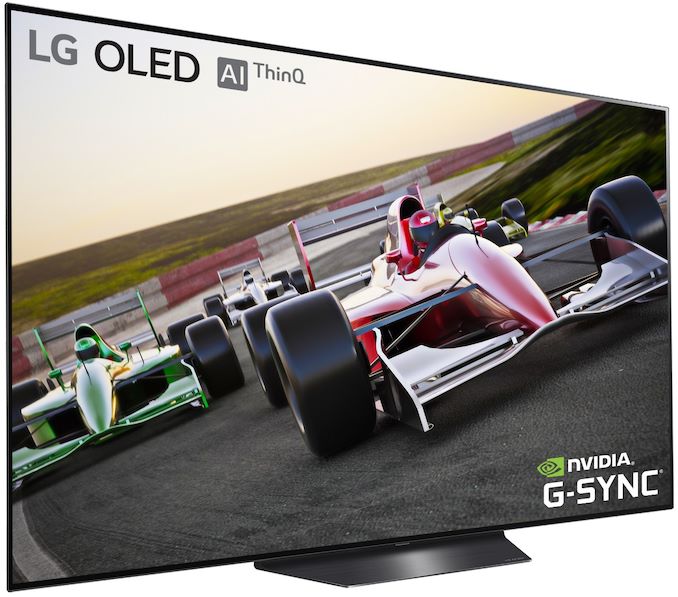 Related Reading: