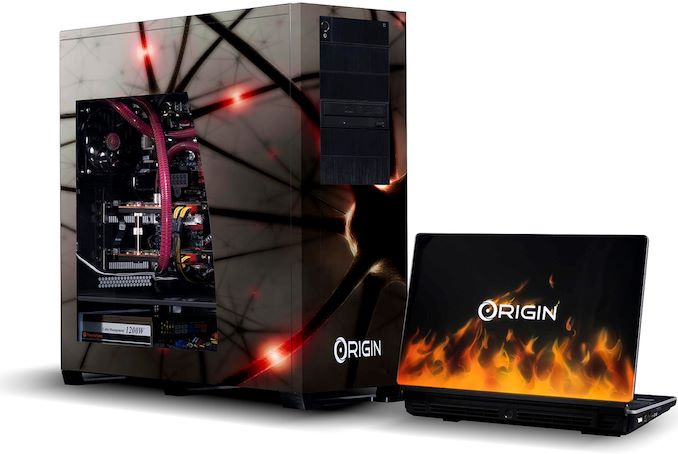 Earlier this week Corsair took over Origin PC for an undisclosed sum, entering the league of boutique computer makers and significantly transforming itself as a company. As it usually happens in such cases, the acquisition brought a lot of questions about the future of both brands and today we have answers courtesy of Corsair's reps.
The acquisition of Origin PC substantially amplifies Corsair's system business beyond its Vengeance and Corsair One systems, both in terms of new models as well as in terms of dollar sales. Being a private company, Corsair does not disclose its PC revenue, but the company confirmed in the past that its system business was a success in general. In a bid to increase sales of Origin PCs, Corsair intends to explore ways to sell Origin PC-branded products through its retail and online partners in North America. Unfortunately for those in Asia and Europe, there are currently no plans to sell or market Origin PC products outside of North America. Obviously, one can still buy them in the USA and have them delivered elsewhere, but this is going to be more expensive.
The boutique PC business is different from making standard PCs (although Corsair's machines are not exactly standard) in many ways, so Origin PC will remain a separate brand within Corsair. An important thing here is that the Origin PC management team (headed by Kevin Wasielewski, CEO) will be remain in their roles, reporting to the Corsair C-level executive team.
When it comes to product lineups, Origin PC's product family will remain. However the internal components will start to shift to include more Corsair's components, including memory, coolers, PSUs, and so on. Already today, many of Origin PC's builds come with peripherals from Corair and in the near future these machines will start using Corsair's Hydro X-series custom liquid cooling hardware and will integrate Corsair's iCue software for lighting synchronization and performance monitoring.
The combined system business of Corsair and Origin PC will require a higher volume of components, which would justify development of more hardware in-house. However, Corsair at this point has no plans to design its own graphics cards or motherboards, with Corsair's representative saying the following:
"While Origin PC certainly needs large quantities of graphics cards and motherboards, we have no plans to expand into those product categories at this time and both Corsair and Origin are well served by our current motherboard and GPU partners."
Overall, Corsair certainly has a strategy for itself and Origin PC going forward. But there certainly seems to a bit of playing things by ear for Corsair, as they are going to need to continually tweak their approach to stay in tune with market demands.
Related Reading:
Sources: Corsair