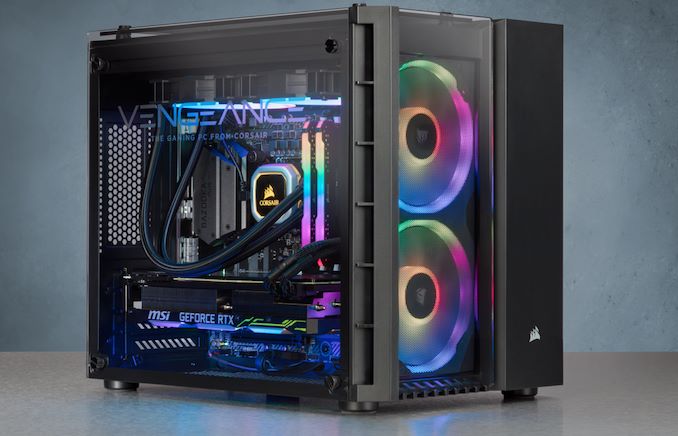 Having launched their Corsair One small form-factor PCs, as well as Bulldog PCs for the living room, Corsair is now entering the market of mainstream gaming machines with its Vengeance series of computers. The new systems are Micro-ATX PCs designed for gamers looking for performance and style, but not necessarily looking to build a machine themselves.
The Corsair Vengeance family of PCs currently includes two models — the Vengeance 5180 and the Vengeance 5185 — which use a Micro-ATX version the company's Crystal Series 280X RGB case. The 680X offers two chambers, three tempered glass windows, and supports multiple RGB LEDs. The latter are clearly intended to be a defining feature of the new line of systems, so Corsair had equipped its Vengeance systems with 125 individually addressable RGB LEDs throughout these PCs, and which can be controlled using the company's iCue software.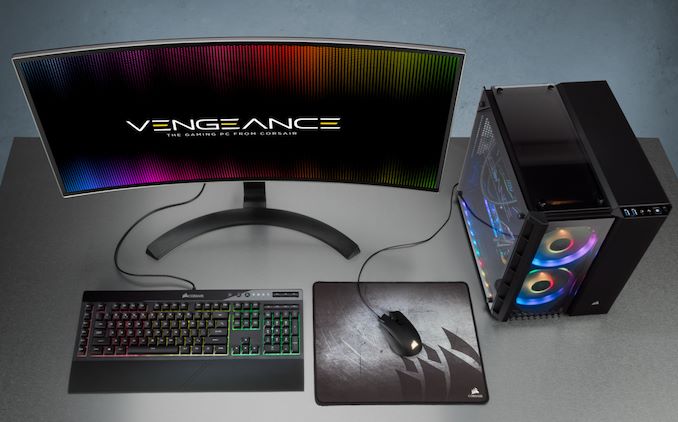 The more affordable Vengeance 5180 is based on Intel's Core i7-8700, which is paired with MSI's B360 motherboard, 16 GB of DDR4 memory, a 480 GB SSD, and a 2 TB hard drive. The more advanced Vengeance 5185 is powered by Intel's Core i7-9700K and is accompanied by MSI's Z390 motherboard, 16 GB of DDR4, a 480 GB SSD, and a 2 TB HDD. Both machines include MSI's GeForce RTX 2080 graphics card, so performance of the two systems should be rather close in today's largely GPU-bound games.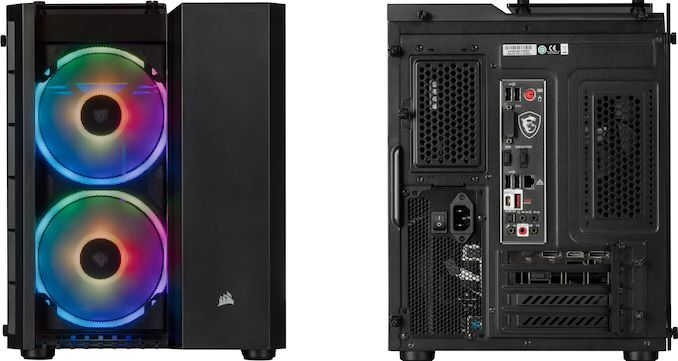 Just like other gaming PCs from Corsair, the Vengeance family uses off-the-shelf components, yet comes in a custom chassis. And, since it is cheaper to build a Micro-ATX (both in terms of components and labor), Corsair's Vengeance PCs are less costly than the company's Corsair One SFF machines.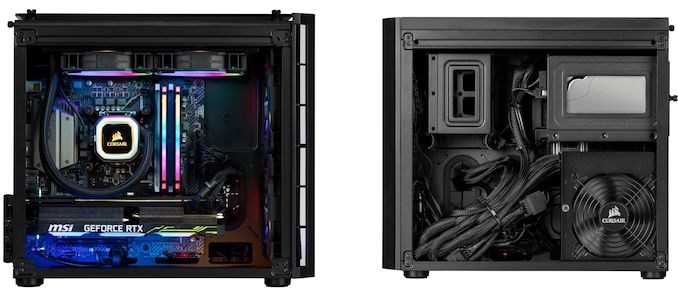 Specifications of Corsair Vengeance 5180-Series Gaming PCs
Model
Vengeance 5180
Vengeance 5185
Product ID
CS-9030001-NA
CS-9030002-NA
CPU
Core i7-8700
6C/12T
3.2 GHz Base
4.6 GHz Turbo
65 W
Core i7-9700K
8C/8T
3.6 GHz Base
4.9 GHz Turbo
95 W
GPU
MSI GeForce RTX 2080 8 GB GDDR6
Cooling
CPU
Corsair's closed-loop air+liquid cooling system
GPU
MSI's air cooling system
DRAM
Corsair Vengeance RGB 16 GB DDR4-2667
dual-channel
Motherboard
MSI Intel B360
Micro-ATX
MSI Intel Z390
Micro-ATX
Storage
SSD
Corsair Force MP300 480 GB
HDD

2 TB

Wireless
none
802.11ac Wi-Fi + Bluetooth 4.2
PSU
Corsair CX750 750 W
80 Plus Bronze
Corsair TX650M 650 W
80 Plus Gold
Connectors
Front
2 × USB 3.1 Gen 1
Headphone Jack
Mic Jack
Back
?
2 × USB 3.1 Gen 2 (Type-A and Type-C)
4 × USB 3.1 Gen 1
Audio
Ethernet
PS/2
3 × DisplayPort
1 × HDMI
1 × VirtualLink
Dimensions
398mm (L) × 276mm (W) × 351mm (H)
Warranty
2 years
OS
Windows 10 Home
MSRP
$2,399
$2,499
Corsair's Vengeance PCs are available now directly from the company in the US. The Vengeance 5180 costs $2,399, whereas the more powerful Vengeance 5185 runs for $2,499.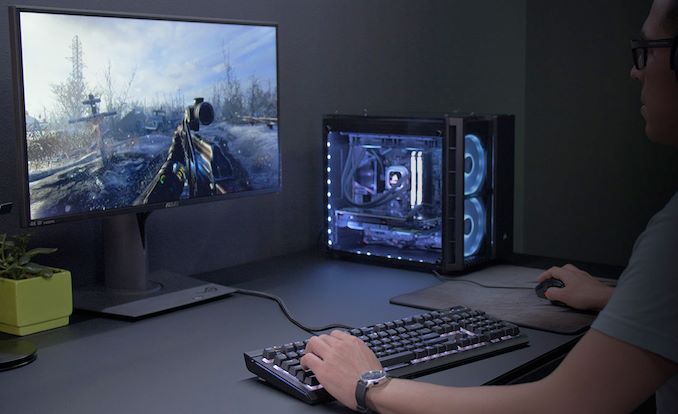 Related Reading:
Source: Corsair