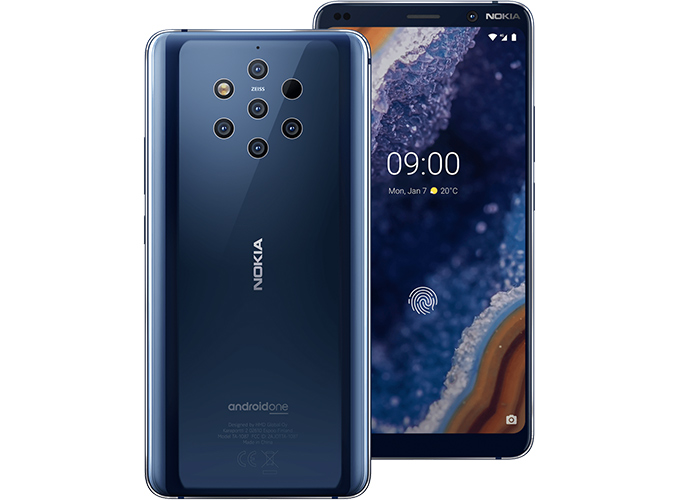 HMD Global has introduced its new Nokia flagship smartphone at MWC 2019. The key feature of the Nokia 9 PureView is its six-module camera (five lens + Time-of-Flight) co-designed with Zeiss and Light that promises to deliver quality of photos never-before-seen on smartphones. The handset is powered by Qualcomm's Snapdragon 845, comes with a large pOLED display, and has an eye-catching design.
When it comes to smartphones, the Nokia brand is renowned for two key qualities: high-clarity displays, and advanced imaging capabilities. Being the 2019 flagship offering from HMD, the Nokia 9 PureView features both.
A Custom ASIC for Dissecting Image Data
The Nokia 9 is the world's first handset to use a camera featuring six sensors/modules: two 12 MP RGB sensors featuring Zeiss optics, three 12 MP monochrome sensors using Zeiss lenses, and a time-of-light (ToF) depth sensor. The camera is controlled by a tiny 14 mm2 ASIC developed by a company called Light that specializes on imaging solutions using 6, 12, or 18-camera arrays.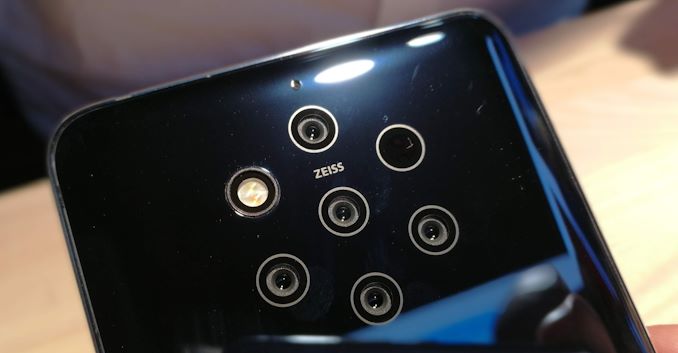 The Light ASIC independently controls all camera modules in order to focus them, adjust exposure levels per aperture, calculate white balance, etc. Once the cameras capture their images, the ASIC fuses them together into a single 'RAW' image (as Nokia puts it, 'HDR image') containing both color and lighting/shadows information. Then the chip transfers the 'RAW' data using two MIPI transmitters to a host for further processing. Since contemporary Qualcomm Snapdragon SoCs do not natively support six camera modules, Nokia needed the ASIC from Light not only because it controls the sensors, but also because it packs the data into a format that a mobile SoC can consume and process.
Once the data gets to Qualcomm's Snapdragon, the magic from Nokia kicks in. The company developed algorithms that use Qualcomm's general purpose, ISP, and DSP hardware to process the image data from the sensors. According to Nokia, use of the ASIC as well as various hardware capabilities provided by the Snapdragon enable the Nokia 9 PureView to do some serious image processing without dramatically harming battery life.
Combining data from five 12 MP sensors, according to the company, enable the Nokia 9 PureView to capture a gargantuan amount of color and light details. Obviously, using the data available, the phone itself can apply various effects to photos on-the-fly using the Pro Camera UI, including the popular depth-of-field (bokeh effect), various kinds of blur, tilt, shift, etc. What is, perhaps, more important is that RAW (DNG to be more precise) images that the Nokia 9 PureView produces can be later edited in all ways possible, focal points may be changed and so on using pre-installed Adobe Lightroom app (or Google Photos depth editor). With its six-module camera, Nokia essentially unlocks possibilities previously only available to photographers with high end cameras practically to everyone.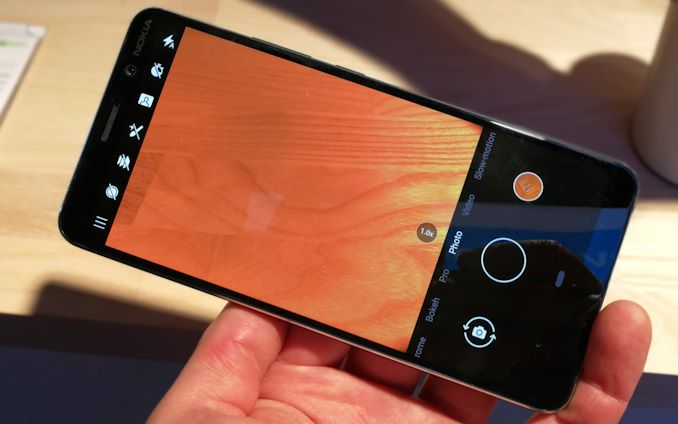 Powerful imaging capabilities of the Nokia 9 PureView do not end with the highly-custom camera on the rear. The smartphone has a 20 MP sensor on the front to make selfies. The imaging software also works with this camera as well.
The 5.99-Inch PureDisplay
The handset is equipped with a custom 5.99-inch pOLED display that covers almost the entire surface of the phone's front side, but still has a small notch. The screen features a 2880x1440 resolution (537 PPI), as well as a very high contrast ratio common to OLED-type displays. In a bid to make the screen standout from the crowd, Nokia did a number of PureDisplay enhancements to further improve quality of the display it uses on its top-of-the-line offering.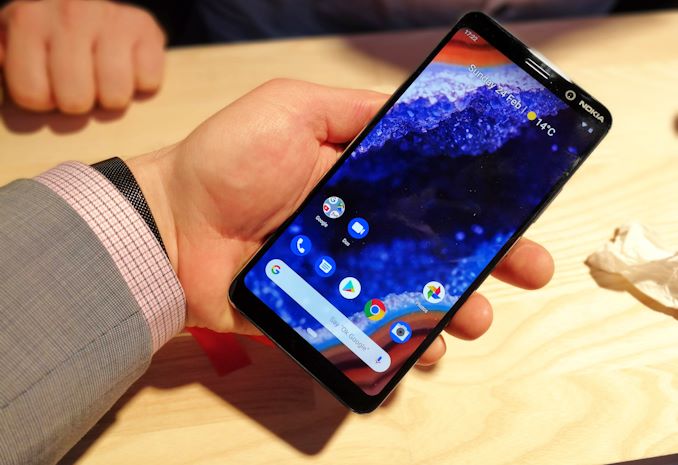 For biometric security, Nokia installed an in-screen fingerprint scanner. Meanwhile, the display is protected using Corning Gorilla Glass 5.
The Hardware
The Nokia 9 is based on Qualcomm's Snapdragon 845 application processor (four Kryo Gold 385 cores at 2.8 GHz, four Kryo Silver cores at 1.7 GHz, Adreno 630 GPU) accompanied by 6 GB of LPDDR4X memory as well as 128 GB of NAND flash storage (for full specs, please check the table below). The choice of the previous-gen high-end platform may look a bit odd, but keep in mind that Nokia had to ensure that all of its custom imaging capabilities/algorithms work well with a particular SoC, which required a lot of time to work correctly.
When it comes to wireless connectivity the Nokia 9 PureView offers everything that its SoC does: 802.11ac Wi-Fi, Bluetooth 5.0, 4G/LTE Cat 16 with 4x4 MIMO, GPS/AGPS+GLONASS+BDS, NFC, ANT+. On the wired side of things, the phone has a USB Type-C connector for data and charging.
The Nokia 9 PureView comes with an integrated 3320 mAh battery and supports Qi wireless charging, just like the majority of today's high-end smartphones.
The Looks
The Nokia 9 PureView comes in a chassis featuring an aluminum frame and Corning Gorilla Glass on both sides. The frame is rounded with chamfered edges which look rather exquisite, enough to compete for the style-minded crowd addressed by the Nokia 8 Sirocco, HMD's former flagship. The handset will be available in deep — almost black — blue color, which is to emphasize positioning of the device while still being different from black and grey flagships from other companies.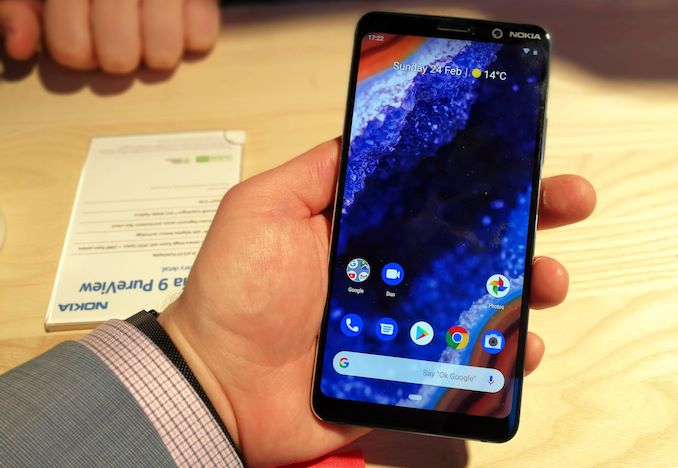 Style has always been an important feature of higher-end Nokia phones, so this one is clearly not an exception. Meanwhile, the handset is IP67 water and dust resistant.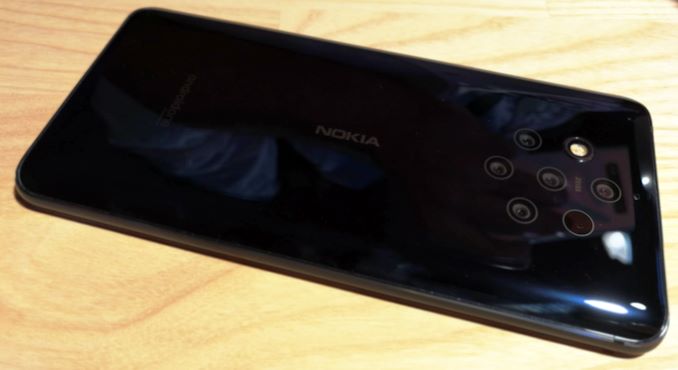 Price & Availability
The Nokia 9 PureView will be available starting later March at a price of $699, which does not look too expensive for a unique flagship smartphone with very advanced imaging capabilities.
The Nokia 9 PureView
Specifications
Display
pOLED
5.99"
2880x1440
Corning Gorilla Glass 5
HDR10
SoC
Qualcomm Snapdragon 845
Four Kryo Gold 385 cores at 2.8 GHz
Four Kryo Silver cores at 1.7 GHz
Adreno 630 GPU
RAM
6 GB LPDDR4X
Storage
128 of NAND flash
Local Connectivity
Wi-Fi
802.11ac Wi-Fi
Bluetooth
Bluetooth 5.0
Data/Charging
USB 3.0 Type-C
Audio
No 3.5 mm jack
NFC
Yes
LTE
X16 Modem
Navigation
GPS/AGPS+GLONASS+BDS, ANT+
Rear Camera
2 × 12 MP RGB sensor with Zeiss optics, f/1.8, 1/2.9", 1.25µm
3 × 12 MP RGB sensor with Zeiss optics, f/1.8, 1/2.9", 1.25µm
1 × TOF depth sensor
1 × dual-LED/dual-tone flash
Front Camera
20 MP, 1.0µm
Battery
Capacity
3320 mAh
Expected Life
?
SIM Size
Nano SIM
Sensors
accelerometer, gyro, proximity, compass
Biometric Security
Fingerprint
In-screen sensor
Facial Recognition
-
Dimensions
Height
155 mm | 6.2 inches
Width
75 mm | 2.95 inches
Thickness
8 mm | 0.31 inches
Weight
172 grams | 6.07 ounces
Colors
Midnight Blue
Protection
Drop
Protected
Water, Dust
IP67
OS
Google Android 9.0
Launch Countries
EMEA, APAC, USA
Price
€620, $699
Related Reading:
Source: Nokia