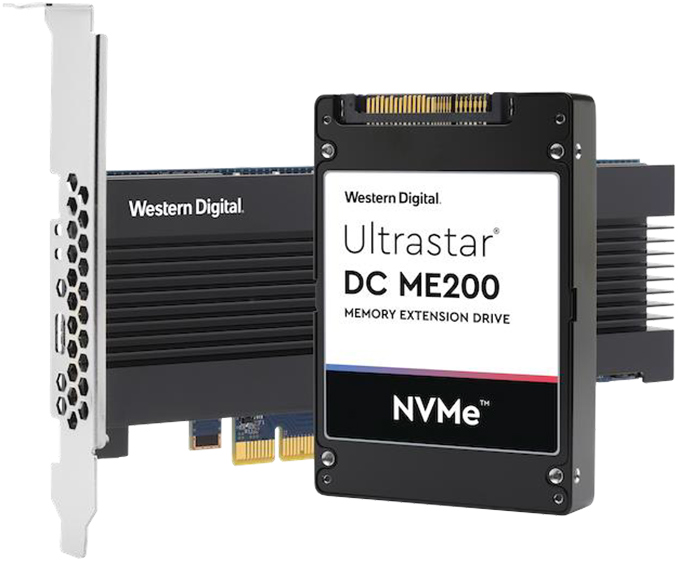 Western Digital on Monday introduced its new special-purpose SSD designed to speed up in-memory processing applications. The new Ultrastar DC ME200 Memory Extension Drive uses proven hardware and comes with special software that creates virtualized memory pools.
From hardware standpoint, the Ultrastar DC ME200 belongs to the Ultrastar SN200 family launched about two years ago. The drive is based on a proprietary controller and paired with Western Digital's 128 Gb planar MLC NAND memory. The drive comes in U.2 and PCIe 3.0 x8 HHHL card form-factors, making it drop-in compatible with most existing x86 servers. WD is offering 1 TB, 2 TB, and 4 TB versions of its Ultrastar DC ME200 drives, all rated for up to 17 drive writes per day over a three-year period.
Meanwhile when it comes to speed, the special-purpose SSD should perform in line with the SN200-series. But the key thing about performance of the Ultrastar DC ME200 are not sequential reads or writes, but ability to speed up select applications that use in-memory processing.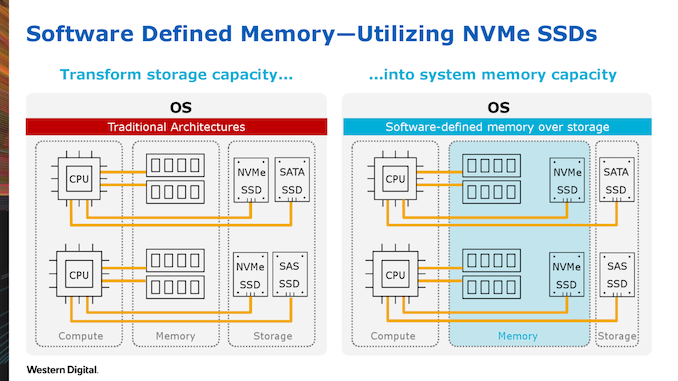 As noted above, the Ultrastar DC ME200 comes with software that allows the NAND flash to be "seen" as system memory by the operating system. The software supports advanced prefetch algorithms that the company claims enables near-DRAM performance in applications that use in-memory processing (e.g., Redis, Memcached, SGEMM, MySQL, etc.). Western Digital recommends to install one Ultrastar DC ME200 per socket, essentially extending system memory capacity upwards of eight-fold.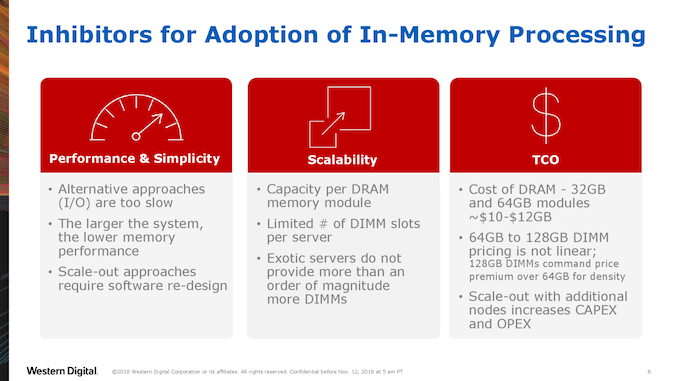 By using the Ultrastar DC ME200 owners of datacenters can potentially reduce their spending on DRAM while still ensuring high performance for their large databases that require a lot of system memory. For example, a server featuring 256 GB of DDR4 and a 2 TB memory extension drive costs 25% less than a system with 1.5TB of DDR4.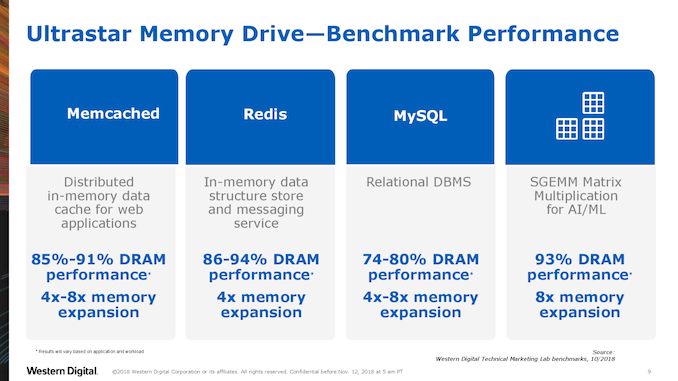 Western Digital's Ultrastar DC ME200 memory extension drive are sampling with select customers. Pricing has not been announced because it depends on volumes and other factors.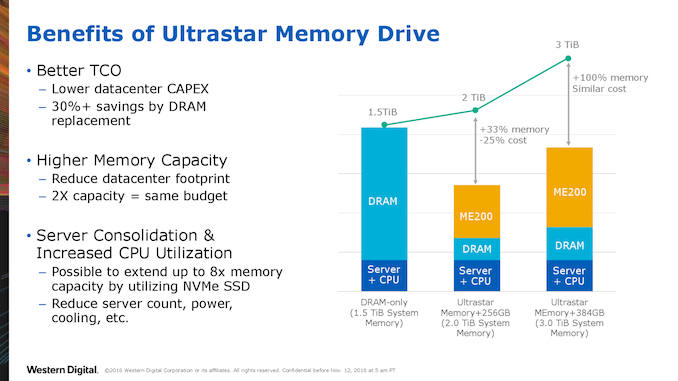 Western Digital Ultrastar DC ME200 Specifications
Ultrastar DC ME200
Capacities
1 TB
2 TB
4 TB
1 TB
2 TB
4 TB
Form Factors
HHHL add-in card
2.5-inch U.2
Interface
PCIe 3.0 x8 (NVMe 1.2)
PCIe 3.0 x4 (NVMe 1.2)
Controller
Proprietary
NAND
128 Gb MLC made using 15 nm process technology (?)
Write Latency 512 B
20 ms
Power
Idle
9 W
Operating
25 W
Endurance
17 DWPD
Supported Processors
Intel Xeon E5-x6xx v3 or later, E7-x8xx v3 or later Intel Xeon Bronze, Silver, Gold, or Platinum
Supported Operating Systems
Linux 64-bit OS
RHEL 6.5, 6.6, 6.7, 6.8, 6.9, 7.0, 7.1, 7.2, 7.3, 7.4 SLES 11-SP4, 12, 12-SP1, 12-SP2
Fedora Core ver. 4 to 27; Open SuSe ver. 10 to 11 Ubuntu Server ver. 16.04 to 17.10; Debian 9.5.0
MTBF
?
Warranty
Three years
Related Reading: