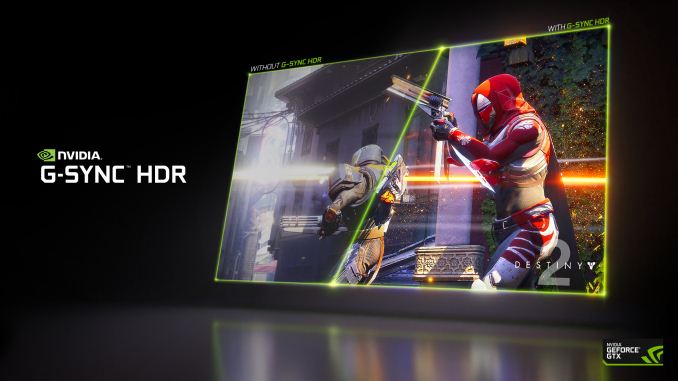 While NVIDIA's upcoming ultra-premium G-Sync HDR monitors have been in the public eye for some time now, the schedule slips have become something of a sticking point, prompting the company in March to state that 27" 4K 144 Hz models would be shipping and on the market in April. Needless to say, those displays are yet to launch, though preorders for the Acer Predator X27 and ASUS ROG Swift PG27UQ were listed in Europe in mid-April.
Putting some amount of speculation to rest, NVIDIA has indicated the end of May for shipping and e-tail availability of the Acer Predator X27 and ASUS ROG Swift PG27UQ, though ultimately this decision is in the hands of Acer and ASUS. On that note, Acer stated that they had no updates on availability at this time. Both models were first showcased as reference prototypes during CES 2017, and as part of the larger G-Sync HDR lineup, the Predator X27 and PG27UQ will be the first monitors on the market.
NVIDIA G-SYNC HDR 2018 Monitor Lineup
Acer
Predator X27
ASUS
ROG Swift PG27UQ
Acer
Predator X35
ASUS
ROG Swift PG35VQ
Acer
Predator BFGD
ASUS
ROG Swift PG65
HP
OMEN X 65 BFGD
Panel
27" IPS-type (AHVA)
35" VA
1800R curve
65" VA?
Resolution
3840 × 2160
3440 × 1440 (21:9)
3840 × 2160
Pixel Density
163 PPI
103 PPI
68 PPI
Max Refresh Rates
OC
Mode
144Hz
(4:2:2 chroma subsampling)
200Hz
120Hz
Standard

120Hz
(4:2:2 chroma subsampling)

98Hz
(4:4:4 chroma subsampling)
Unknown
Unknown
Over
HDMI
60Hz
60Hz
60Hz
Variable Refresh
NVIDIA G-Sync HDR Scaler/Module
NVIDIA G-Sync HDR Scaler/Module
NVIDIA G-Sync HDR Scaler/Module
Response Time
4 ms
4 ms?
Unknown
Brightness
1000 cd/m²
1000 cd/m²
1000 cd/m²
Contrast
Unknown
Unknown
Unknown
Backlighting
FALD (384 zones)
FALD (512 zones)
FALD
Quantum Dot
Yes
Yes
Yes
HDR Standard
HDR10 Support
HDR10 Support
HDR10 Support
Color Gamut
DCI-P3
DCI-P3
DCI-P3
Inputs
2 × DisplayPort 1.4
1 × HDMI 2.0
DisplayPort 1.4
HDMI 2.0
DisplayPort 1.4
HDMI 2.0
Ethernet
Price
TBA
TBA
TBA
Availability
May/June 2018
Q4 2018?
Summer 2018?
Fall 2018
NVIDIA did not mention the comparable 27" and 35" AOC models (AGON AG273UG, AGON AG353UCG) were not mentioned but are presumably operating on a similar release timeline. There was also no mention of Acer's Predator XB272-HDR.
While the 27" 4K 144 Hz models were originally slated for a late 2017 launch, Acer and ASUS made a surprising announcement last August on delaying their G-Sync HDR flagships to Q1 2018. Even with NVIDIA's current end-of-May assessment, ASUS remarked offhand that a June launch was more likely, as firmware and other development work was still ongoing. Not that those were the only G-Sync HDR displays announced – at Computex 2017, Acer and ASUS unveiled 35" curved ultrawide 200 Hz G-Sync HDR displays originally for a Q4 2017 release. Meanwhile, at CES 2018 NVIDIA had already pushed forward with revealing 65-inch smart TV esque G-Sync HDR monitors with integrated SHIELDs, dubbing them "Big Format Gaming Displays" (BFGDs). No update was provided on the schedule for the 35" and BFGDs, only that they were due to come later this year.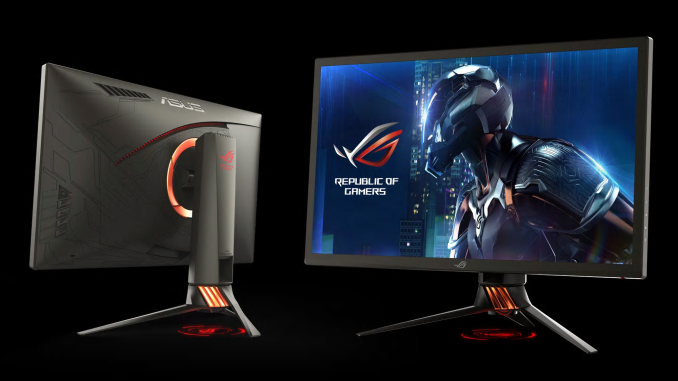 Despite the launch on the horizon, full specifications and pricing have yet to be published. The features and specifications remain the same as we have known earlier: utilizing AU Optronics' M270QAN02.2 AHVA panel, the 27" G-Sync HDR monitors bring 3840×2160 resolutions with up to 144 Hz refresh rate (at half chroma) and quantum dot film, and offering DCI-P3 color gamut and HDR10 support, a peak brightness of 1000 nits brightness, and full array local dimming (FALD) functionality with a 384 zone direct LED backlighting system. On top of that, Acer and ASUS include their own monitor features and OSDs; for the actively cooled ROG Swift PG27UQ, this includes Tobii eye-tracking and ultra-low motion blur (ULMB).
For the few refresh rate asterisks, the amount of bandwidth needed for HDR at 10-bit 4Kp144 with 4:4:4 chroma subsampling exceeds DisplayPort 1.4's capability, and so setting the refresh rate above 98 Hz will have the monitor drop to 4:2:2 chroma and use dithering with 8bit and frame rate control (FRC). Though this bandwidth bottleneck is largely out of ASUS/Acer and NVIDIA's hands, with DisplayPort 1.5 and even HDMI 2.1 very much too new to be incorporated in these models.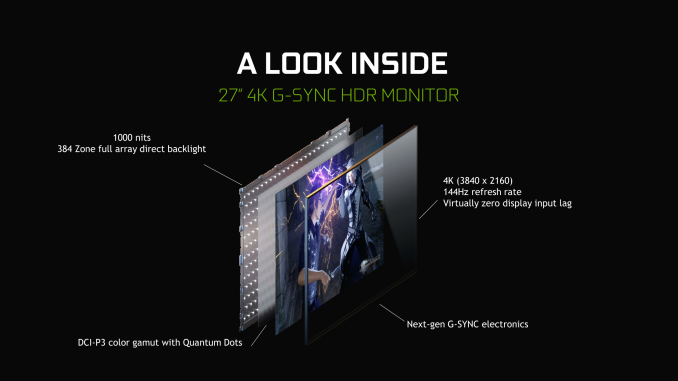 That being said, a straight conversion of European preorder prices sans VAT puts the price range at $2500 to $3000, though this does not directly implicate US pricing. As G-Sync HDR flagship gaming monitors, they have essentially every feature of ultra-high-end consumer/gaming monitors. But additionally, the AU Optronics AHVA panel is pricier as it is only purchased as combined LCD and backlight unit, and with the cost of the upgraded G-Sync HDR scaler and module, adds a cost premium that is passed onto consumers.
Ultimately, the HDR situation itself is also a little murky. Outside of HDR10 support, NVIDIA's G-Sync HDR certification mandates and requirements are kept between them and the manufacturers, and so the specific dynamic range of G-Sync HDR isn't clear. Presumably there are quantized public guidelines with minimum peak brightness, localized dimming capability, minimum percentage coverage of DCI-P3 gamut, and the like. In other words, much like VESA's open DisplayHDR 400, 600, and 1000 standards that are both directly linked to numerical performance metrics but also can be independently verified by consumers themselves with VESA's open test tools and test benchmarks.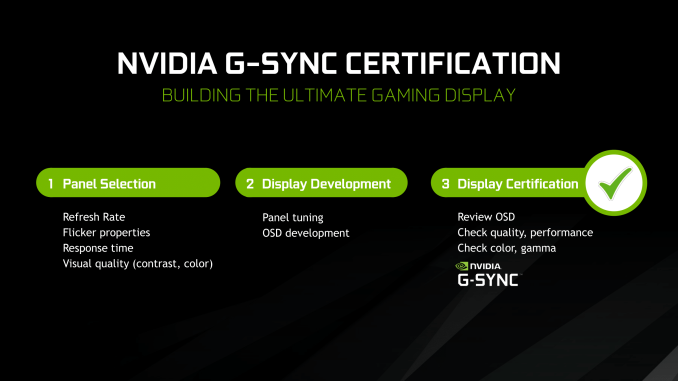 At the time, NVIDIA did not express any standardized HDR specifications outside of their G-Sync HDR certification process, reiterating that G-Sync HDR represented a premium gaming experience and expecting OEMs and monitor manufacturers to list any HDR specs relevant to their models. In any case, these 27" monitors adhere and thus carry the UHD Alliance's Ultra HD Premium logo, which is 4K specific. For the publicly-announced G-Sync HDR displays, it appears that only three types of AU Optronics panels are involved, and so capabilities and featuresets will naturally align closely. NVIDIA also stated that G-Sync HDR had no particular focus on Windows HDR support.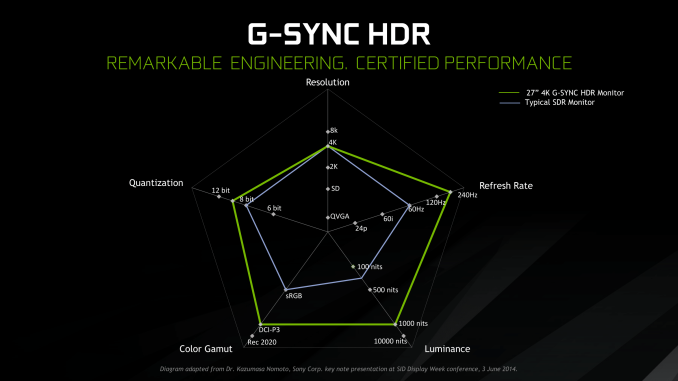 As HDR monitors are a burgeoning market segment, NVIDIA brought up the need for consumer education on the wide spectrum of HDR performance. For consumers looking for a high-end variable refresh rate monitor with HDR, an HDR brand not strictly attached to performance parameters isn't quite as elucidating as "4K", "IPS", "144 Hz refresh rate", or "4ms response time". As new panel technologies are developed and mature, it will be interesting to see how these changes would be conveyed through the "G-Sync HDR" brand.
Source: NVIDIA