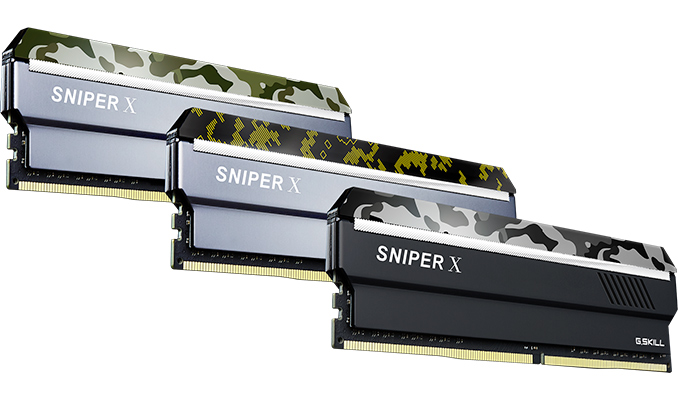 G.Skill has introduced a new lineup of memory modules primarily aimed at modders rather than enthusiasts. The new Sniper X DIMMs come with three different military-themed heat spreaders. This is technically a relaunch of a brand - G.Skill had the Sniper brand several years ago, with weapon themed heatsinks. This time around, we get an X and something a bit easier to recognize.
The G.Skill Sniper X family of products will feature memory kits aimed at different classes of PCs. The product range will initially consist of 8 GB and 16 GB memory modules rated to run at DDR4-2400 to DDR4-3600. The Sniper X kit configurations will vary depending on module performance, but are expected to offer kits up to 128 GB of memory and are, at a minimum, aiming HEDTs and workstations. The Sniper X products are designed primarily for Intel-based systems, so the modules will feature XMP 2.0 SPD profiles for easier setup. Given the transfer rates of the new modules, we expect them to be compatible with all up-to-date Intel CPUs, including Kaby Lake, Kaby Lake-X, Skylake-X and Coffee Lake processors.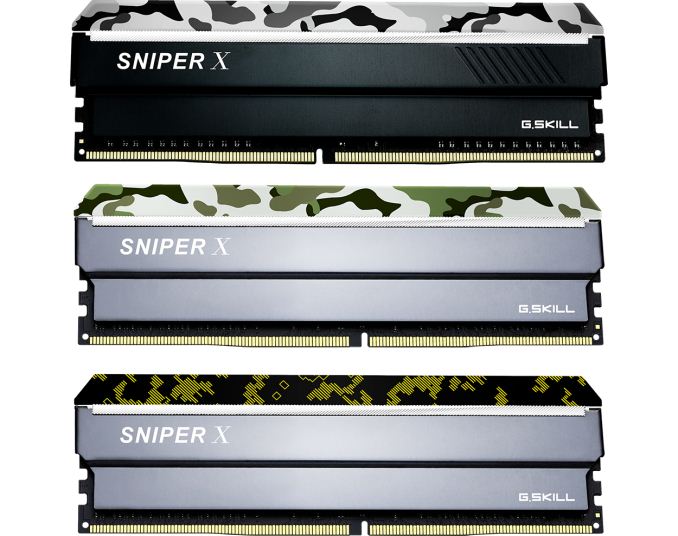 The listed selling point of G.Skill's Sniper X family is the design of top bars on their heat spreaders. Three distinct patterns will be offered: jungle green Classic Camo, black and grey Urban Camo, and modern green and yellow Digital Camo. G.Skill says that the Urban Camo matches MSI's Titanium motherboards, whereas the Digital Camo matches ASUS's TUF motherboards. The heat spreaders themselves are made of aluminum and therefore should perform just like G.Skill's other coolers for DIMMs.
G.Skill is still finalizing exact specs of the Sniper X product family, which is why the company does not announce all the details at this time and which is a reason why we cannot make even assumptions about the pricing of the new DDR4 memory kits.
Related Reading
Source: G.Skill