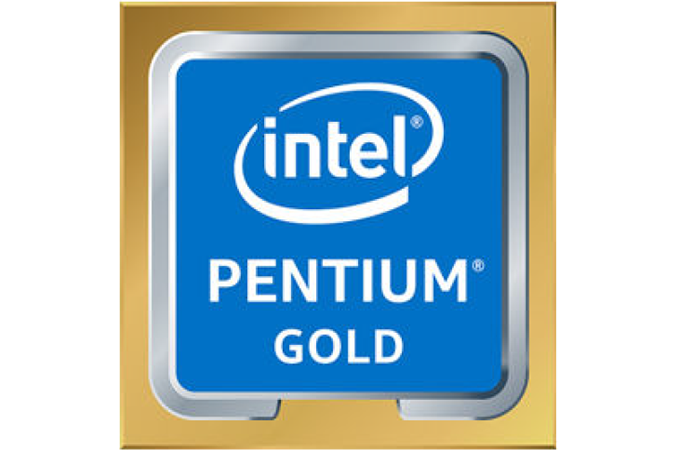 Intel has announced plans to rebrand its current generation Pentium processors, and future generations, to 'Pentium Gold' chips. The rebranding reflects Intel's intention to position the latest Pentium CPUs above the previous generation parts.
Starting from November 2nd, Intel's boxed Pentium G4560, G4600, and G4620 processors will carry the Pentium Gold brand. These parts were launched in Q1 2017, and are dual-core CPUs with Hyper-Threading technology and an improved integrated GPU.
General Specifications of Intel's Pentium G-Series Processors
Kaby Lake
Skylake
Cores
Freq.
L3
iGPU
TDP
Cores
Freq.
L3
iGPU
TDP
Gold G4620
2/4
3.7GHz
3MB
i630
51W
G4520
2/2
3.6GHz
3MB
i530
51W
Gold G4600
3.6GHz
G4500
3.5GHz
Gold G4560
3.5GHz
i610
54W
G4400
3.3GHz
i510
54W
G4600T
3.0GHz
i630
35W
G4500T
3.0GHz
i530
35W
G4560T
2.9GHz
i610
G4400T
2.9GHz
i510
HD Graphics 610: 12 EUs at 900 - 1100 MHz
HD Graphics 630: 24 EUs at 1000 - 1150 MHz
HD Graphics 510: 12 EUs at 950 MHz
HD Graphics 530: 24 EUs at 1150 MHz
With the name changes also comes a slight branding and retail packaging update. The first is with their "Piggyback label" (included sticker attached to the instructions), which changes from the 'PCB' die map as a background to gold. Instead of saying Pentium inside, it now says Pentium Gold with the Intel name above it.
The outside of the retail packaging carton some changes are made as well. Where it used to simply say "Desktop Processor" now says "Intel Pentium Gold Desktop Processor."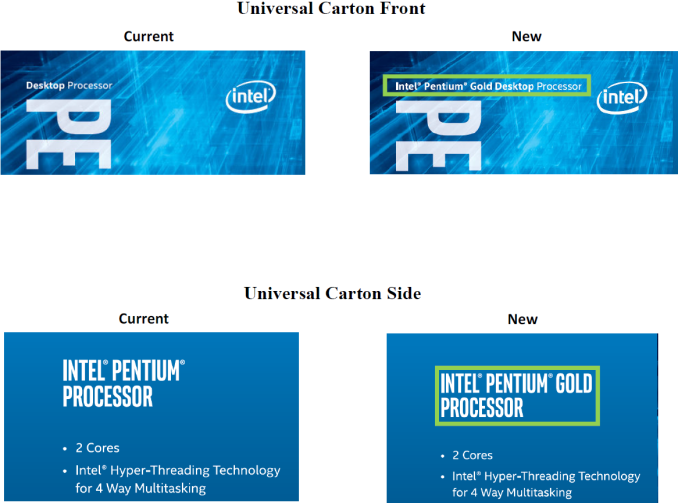 There are unofficial reports claiming that Intel is also preparing Pentium Silver products, thus splitting the desktop Pentium lineup into two groups. The Pentium Gold family evidently consists of the mainstream desktop (MSDT) processors based on the high-performance Core-branded microarchitecture. According to some reports, the Pentium Silver lineup will use the ultra-low power (ULP) codenamed Gemini Lake microarchitecture, but we cannot confirm this independently.
Source: Intel