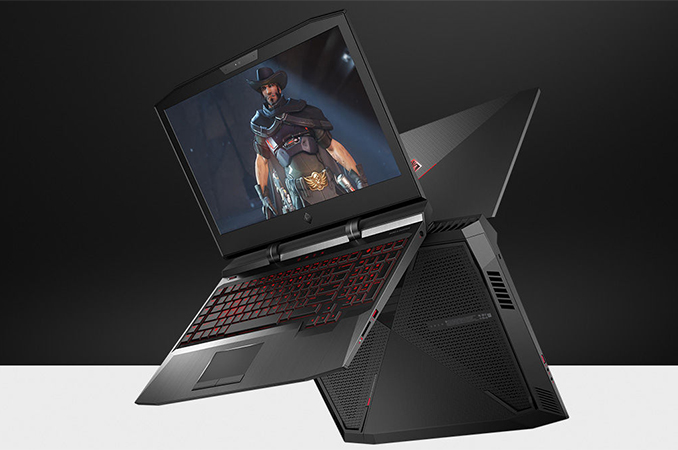 HP has announced its first Omen X gaming notebook targeting the most demanding segment of the market — customers seeking for maximum performance and not afraid of overclocking. The new systems will feature ultra-high-end mobile components, such as Intel's unlocked Core i7 mobile CPUs, NVIDIA's GeForce GTX 1070/1080 GPUs, high-end DIMMs, advanced SSDs, and will be user-upgradeable, just like the existing Omen X desktops. The Omen X laptops will be available later this year in multiple configurations.
Unlike some of its rivals on the market of gaming PCs in general, HP has not addressed the ultra-high-end of the gaming market either with desktops (the company does not offer any HEDT-based machines) or with laptops for quite some time. HP's Omen gaming notebooks available today are rather powerful and up-to-date, but they don't offer overclocking and voltage tweaking capabilities to those who want to push their PCs to the limits. With the new Omen X laptop, HP is changing its approach and getting to a new segment of the market, which can hardly boast to be high volume, but promises to be lucrative.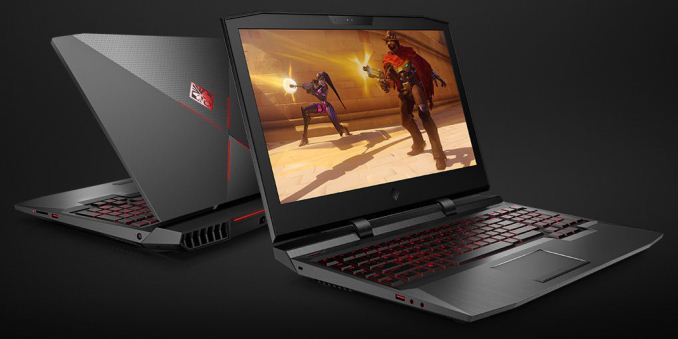 Like many other enthusiast-class systems, the HP Omen X laptop will be all about customization and choice. The PC will feature a 17.3" display and HP will offer to selection of two panels: a 4Kp60 panel and a FHD panel with a 120 Hz refresh rate. Such a choice makes a lot of sense since some may consider 3840×2160 resolution too high for a 17.3" screen, but find a 1920×1080@120 Hz especially suitable for gaming. Both panels are expected to support NVIDIA's G-Sync adaptive refresh rate technology.
HP does not want to disclose all the specifications of the Omen X just now, but it says that select models will be come with unlocked/overclockable processors, which means Intel's Core i7-7820HK CPU — the only overclocking-friendly mobile Kaby Lake processor in Intel's arsenal (at present). The CPU will be paired with DDR4 memory operating at up to 2800 MT/s (i.e., overclocked). As for graphics, HP will use NVIDIA's GeForce GTX 1070 and 1080 notebook GPUs, which will be overclockable and/or factory-overclocked. HP says that select Omen X configurations will be equipped with a cooling system featuring a vapor chamber and four 3.5-mm heat pipes that transfer heat to four radiators.
As for storage sub-system, HP says that the Omen X laptop will be able to accommodate two SSDs in RAID 0 as well as a 2.5" HDD with 7200 RPM spindle speed for bulk storage, wedding performance and capacity. HP promises that memory and storage upgrades of the Omen X notebook will be easy because all components will be accessible by opening up a single bay.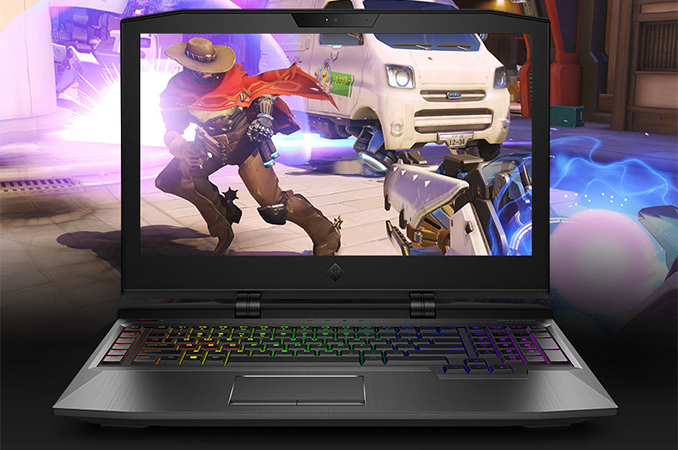 Connectivity capabilities of the Omen X laptop will be rather rich: it will feature a 802.11ac Wi-Fi and Bluetooth module (with software that prioritizes packets from gaming applications), an Ethernet port, two Thunderbolt 3 (USB-C) headers, one HDMI 2.0a output, one Mini DisplayPort, three USB 3.0 Type-A connectors, an SD card reader as well as 3.5-mm audio connectors for headphones (supporting DTS Headphone:X enhancements) and a microphone. Speaking of audio, the PC will also feature an audio sub-system co-developed with Bang & Olufsen.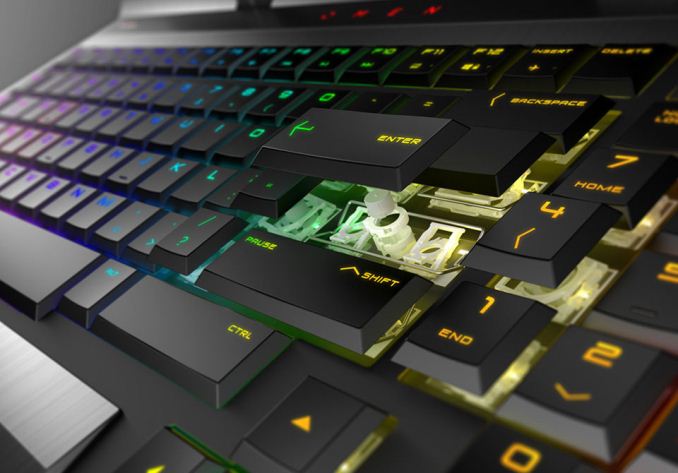 To top things off, the HP Omen X will come with a mechanical RGB LED-backlit keyboard with programmable keys and N-key rollover support. RGB lights will also be present on the backside of the display lid and across the chassis (eight zones in total). All RGB lights will be customozable using the Omen Command Center Software.
HP Omen X Laptop
1080p144 Model
4Kp60 Model
Display
Diagonal
17.3"
Resolution

1920×1080

3840×2160

Refresh

120 Hz, NVIDIA G-Sync

60 Hz, NVIDIA G-Sync

CPU
Core i7-7820K (4C/8T, 8 MB, 2.9/3.9GHz) in select models
Graphics

NVIDIA GeForce GTX 1080 or




NVIDIA GeForce GTX 1070

RAM
DDR4-2800 (upgradeable, presumably to 32 GB)
Storage
SSD
Up to two SSDs (presumably M.2 with PCIe 3.0 x4 interface) in RAID 0
HDD

Up to one 2.5" HDD with 7200 RPM spindle speed

Wi-Fi
802.11ac Wi-Fi
Bluetooth
Bluetooth 4.x
Ethernet
1 GbE controller
USB
3

× USB 3.0 Type-A


2

× USB 3.1 Type-C (via TB3 connectors)

Thunderbolt
2

× USB Type-C Thunderbolt 3 connectors

Display Outputs
1

× Mini DisplayPort 1.2


1

× HDMI 2.0a

Keyboard
LED RGB-backlit keyboard
Other I/O
Microphone, stereo speakers, audio jacks, webcam
Battery
Integrated
Dimensions
Large
Weight
4.9 kilograms/10.8 lbs
Price
Starting at $2,299
The HP Omen X laptop will hit the market sometimes in Q4. An entry-level configuration featuring NVIDIA's GeForce GTX 1070 will cost $2,299, but the remaining specs are yet to be confirmed. One of the things that we can be sure about is that HP's rather massive Omen X will not be easily transportable because of its 4.9 kilograms (10.8 lbs) weight.
Related Reading:
Source: HP