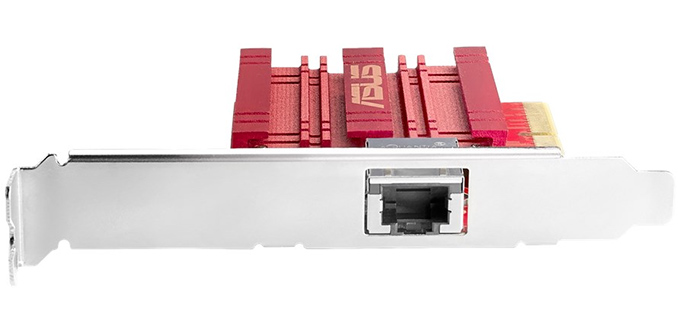 ASUS this week released the first inexpensive vendor-based consumer-grade 10 GbE / 10GBase-T card powered by an Aquantia silicon. The card can be installed in any modern PC with a PCIe 3.0 x4 slot free (either CPU or chipset), and supports 10 Gbps, 5 Gbps, 2.5 Gbps, 1 Gbps and 100 Mbps networking standards over RJ45 connectors using Cat5e/Cat6 cabling. What is important is that the board costs less than $100, at a lower price than Aquantia quoted in the initial announcement ($127).
The ASUS XG-C100C is a single port card based on the Aquantia AQtion AQC107 controller that supports five networking standards (100M, 1G, 2.5G, 5G and 10G) and uses a PCIe 3.0 x4 interface. The card is equipped with LEDs that track network activity and connection speed to make it easier for consumers to set up their networks. As for compatibility, the board is compatible with any modern PC running Microsoft Windows 7 and higher, as well as various Linux operating systems.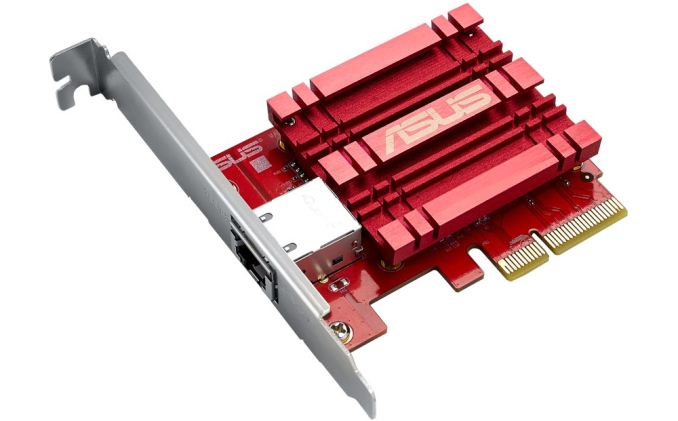 The XG-C100C board uses a small red PCB as well as a red aluminum cooler to emphasize that it is aimed at higher-end gaming desktops rather than at workstations or servers. It is noteworthy earlier this year ASUS launched its ROG Areion 10G card that is based on the same AQtion AQC107 chip for around $200 $129. That card uses a black PCB with a larger cooling system. The warranty of the ROG NIC is expected to be longer, but warranty and the design is the only differences between the XG-C100C and the ROG Areion 10G.
ASUS 10GBase-T Cards Based for Consumers
XG-C100C
ROG Areion 10G
Controller
Aquantia AQC-107
100BASE-T
Yes
1000BASE-T
Yes
2.5GBASE-T
Yes
5GBASE-T
Yes
10GBASE-T
Yes (over Cat6 cables)
Ports
1
Dimensions (L×W×H)
12 × 8.46 × 2.05 cm
13.5 × 6.3 × 1.9 cm
Price
$99
$200 $129
Release Date
June, 2017
April, 2017
Additional Information
Link
Link
The ASUS XG-C100C is available now from various retailers in North America and carries a $99 price tag. It is interesting to note that Aquantia itself sells its AQC107-based cards for about $130. For some reason, ASUS decided to drop the price to a sub-$100 level, possibly, to boost demand. Considering the fact that the Intel X540 and Intel X550-powered cards are sold for $250 to $380, the $99 price point seems very aggressive (albeit still quite high for a network card).
As reported previously, the cost of switches and access points is a major concern surrounding the transition to 2.5G/5G/10G for home and SMB. Even though Aquantia is working with its customers to bring lower-cost switches to the market, they are still not available. In the meantime, both Amazon and Newegg are offering the ASUS XG-U2008 10GBase-T network switch for $229 after rebate.
Related Reading
Update 7/5: This piece originally gave the pricing of the ROG 10G card as $200, as per several online listings from third-party retailers. After discussing with ASUS, this card should have an MSRP of ~$129. This post has been updated to reflect this.
Source: ASUS