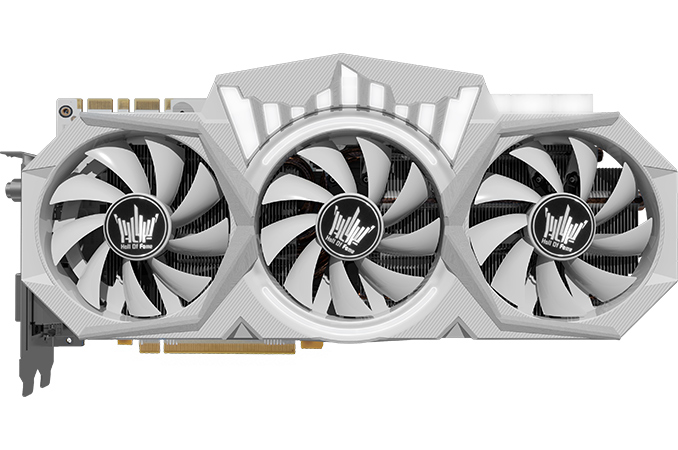 Palit Microsystems plans to release a new factory-overclocked limited edition graphics adapter based on NVIDIA's GeForce GTX 1080 Ti GPU under its GALAX and KFA2 brands. The card was developed from scratch and will be among the highest-performing video cards in the industry due to a rather extreme GPU frequency. It also comes with exclusive features that will further push it up on price.
The GeForce GTX 1080 Ti HOF Limited Edition graphics adapter from GALAX and KFA2 are based on NVIDIA's GP102 GPU, clocked at 1645/1759 MHz (base/boost) and suses a custom 12-layer PCB developed by Palit. The add-in-board (AIB) features a 12+3-phase VRM and three 8-pin PCIe power connectors in a bid to guarantee stable operation of the GPU at significantly increased clock rates (165/177 MHz higher than NVIDIA's recommendations) and enable further headroom for overclocking.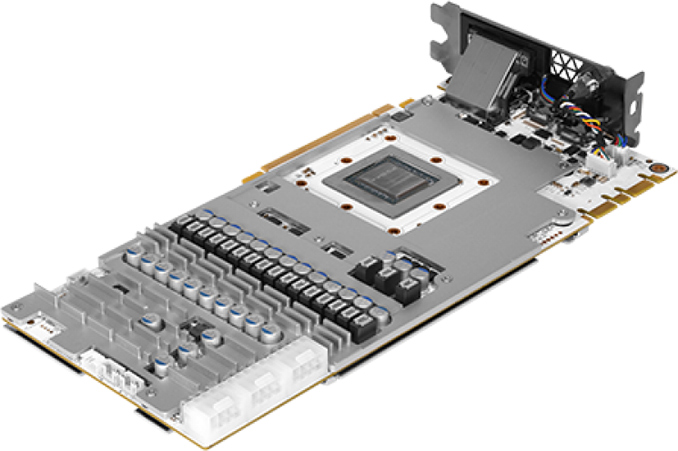 To cool down the GPU and memory, Palit uses a special cooling system that relies on a huge heatsink with five thick heatpipes as well as three fans. As an added bonus, the cooling system is equipped with an LCD screen that displays current GPU and memory frequencies, the GPU temperature, the GPU voltage and other important information. Since the cooler is very large, it takes three slots, meaning multi-GPU system builds with this card more complicated. Traditionally, large cooling solutions are equipped with a backplate and the cooler on the GeForce GTX 1080 Ti HOF Limited Edition is not an exception. As for outputs, the graphics adapter comes with three DisplayPort 1.4 headers, one HDMI 2.0b and one DVI-D.

With its factory overclocked GPU, the GeForce GTX 1080 Ti HOF Limited Edition from GALAX and KFA2 is going to be one of the highest-performing gaming graphics cards around. In fact, single precision compute performance of the AIB will be between 11.79 and 12.6 TFLOPS (depending on exact frequency), which is higher than that of NVIDIA's Titan X and Titan Xp. The latter still have advantages when it comes to ROP count and memory bandwidth, but in at least certain cases the GTX 1080 Ti HOF Limited Edition is going to be faster.
NVIDIA GPU Specification Comparison
NVIDIA Titan Xp
GALAX/KFA2
GeForce GTX 1080 Ti HOF Limited Edition
NVIDIA
GeForce
GTX 1080 Ti
NVIDIA Titan X
(Pascal)
NVIDIA GeForce GTX Titan X
(Maxwell)
CUDA Cores
3840
3584
3584
3072
Texture Units
240
224
224
192
ROPs
96
88
96
96
Core Clock
1481 MHz?
1645 MHz
1481 MHz
1417 MHz
1000 MHz
Boost Clock
1582 MHz
1759 MHz
1582 MHz
1531 MHz
1075 MHz
TFLOPs (FMA)
12.1 TFLOPs
12.6 TFLOPs
11.3 TFLOPs
11 TFLOPs
6.1 TFLOPs
Memory Clock
11.4 GT/s GDDR5X
11 GT/s
GDDR5X
10 GT/s GDDR5X
7 GT/s GDDR5
Memory Bus Width
384-bit
352-bit
384-bit
384-bit
RAM
12 GB
11 GB
12 GB
12 GB
RAM Bandwidth
547.2 GB/s
484 GB/s
480 GB/s
336 GB/s
FP64
1/32
FP16 (Native)
1/64
N/A
INT8
4:1
N/A
TDP
250W
250W++
250W
250W
250W
GPU
GP102
GM200
Transistor Count
12B
8B
Die Size
471mm2
601mm2
Manufacturing Process
TSMC 16nm
TSMC 28nm
Launch Date
04/06/2017
~05/2017
03/10/2017
08/02/2016
03/17/2015
Launch Price
$1200
~$1200
$699
$1200
$999
Meanwhile, pricing of the GALAX/KFA2 GeForce GTX 1080 Ti HOF Limited Edition will match pricing of the two aforementioned cards that are sold exclusively by NVIDIA for $1200. Overclockers UK offers to pre-order the card from KFA2 for £949.99 (with ETA in late May), which equals to $1227. It is noteworthy that in the UK the card will be called the KFA2 GeForce GTX 1080 Ti HOF 8 Pack Edition, after professional overclocker 8 Pack who works for Overclockers.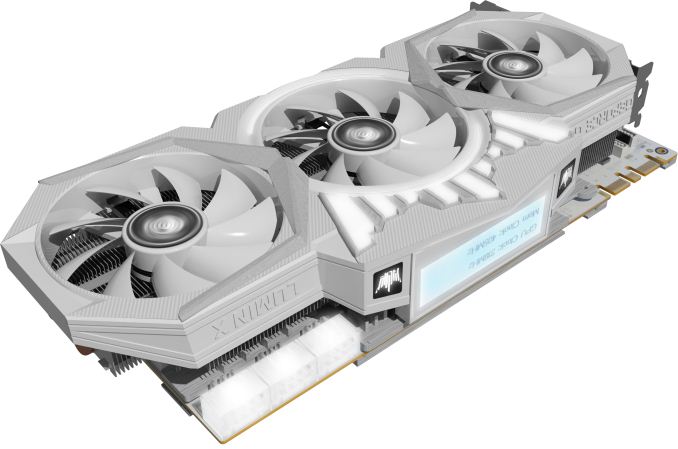 Related Reading: