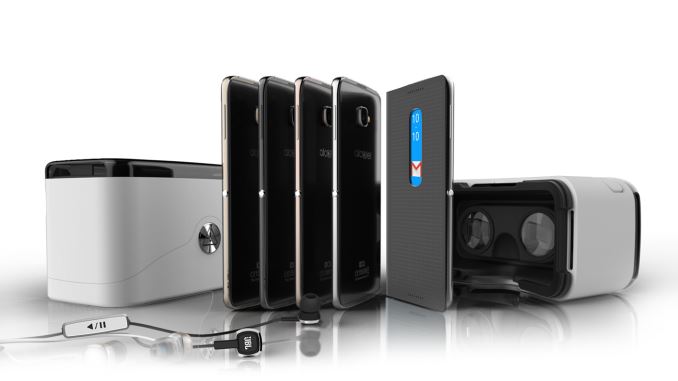 Today at MWC Alcatel unveiled the first phones in their new Idol 4 line. The Alcatel Idol 4 and 4S are successors to last year's Idol 3, and they come with some interesting new additions, including packaging that doubles as a VR headset of sorts to use with the phone. Naturally, both phones also feature some spec bumps and size changes from the 4.7" and 5.5" Idol 3 smartphones. You can see all the known specifications for the Idol 4 and 4S in the chart below.
Alcatel Idol 4

Alcatel Idol 4S

SoC
Qualcomm Snapdragon 617
8 x Cortex A53
Qualcomm Snapdragon 652
4 x 1.8GHz Cortex A72
4 x 1.4 GHz Cortex A53
GPU
Adreno 405 @ 550MHz
Adreno 510 @ 550MHz
RAM
3GB LPDDR3
NAND
16GB NAND + MicroSD
32GB NAND + MicroSD
Display
5.2" 1920x1080 IPS LCD
5.5" 2560x1440 AMOLED
Thickness / Mass
8.2mm / 142g
Camera
13MP Rear-facing
8MP Front-facing
16MP Rear-facing
8MP Front-facing
Battery
2610mAh
3000mAh
OS
Android 6.0 Marshmallow
Other Connectivity
802.11a/b/g/n/ac + BT 4.2, NFC, Micro-USB 2.0
On paper, both phones look like they'll be quite good if Alcatel is able to keep pricing within a reasonable range. If I were to make a guess, I would say that both phones are going to come in above the $250 price of the Idol 3, and the Idol 4S looks like it's really aimed at the higher mid range or even the pure high end market rather than the mid range. The Idol 4S is definitely the more interesting of the two, with Qualcomm's Snapdragon 652 SoC sporting four Cortex A72 cores in addition to four Cortex A53 cores, and being built on a 28nm HPm process rather than 28nm LP which has been used for most of Qualcomm's previous 400 and 600 series parts after the move to standard ARM cores.
Both phones have what look to be quite good displays, at least on paper. The Idol 4S is again the more interesting of the two, with a 5.5" 2560x1440 AMOLED display. It'll be interesting to see whether the display is properly calibrated like other recent AMOLED devices.
Beyond the display and SoC, both phones are very similar. The Idol 4S does take the rear camera from 13MP to 16MP, and it has a larger battery simply because it's a larger phone, but most everything else remains the same between the two. Something to note is that they're both launching with Android Marshmallow, which is greatly appreciated in a time where many phones somehow still launch with a version of Android that is around a year old.
In addition to being fairly good phones as far as specs on paper go, the Idol 4 and Idol 4S have one other interesting feature. Rather than being packaged in your standard cardboard box with some manuals and a charger, the phones come in a special case that is also a VR headset. Much like Samsung's Gear VR and Google Cardboard, you mount your phone inside and can use it for VR. The case looks to be much sturdier than something like Google Cardboard as well, and I'm definitely interested in giving it a try.
Source: Alcatel via Engadget