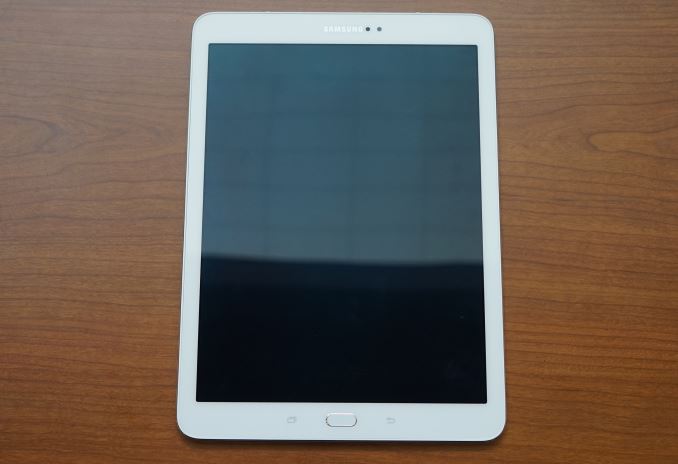 The first Android tablet I ever used was the original Galaxy Tab. It was a 7" Android tablet running Android Froyo, and it seemed a lot like a large version of my Galaxy S. In hindsight, it wasn't a very good tablet, but Samsung was one of the first Android vendors to enter the market and they were working with a version of Android that had never been designed with tablets in mind. As Android moved to Gingerbread and then to the tablet exclusive release of Android Honeycomb, Samsung was always among the group of manufacturers producing Android tablets. While some vendors like LG and HTC have left and returned to the tablet market, Samsung has continually producing new Galaxy Tab tablets, and those tablets constitute a very large portion of the Android tablets that are sold each year.
While the naming styles of Samsung's tablets have changed over the years, last year the company settled on using the same S moniker that their smartphones have used for years, and that brought us the Galaxy Tab S 10.5 and Galaxy Tab S 8.4. This year Samsung has continued with their Galaxy Tab S naming scheme and has released two new tablets under the Galaxy Tab S2 name. These new tablets bring serious changes to both the hardware and form factors of the original Galaxy Tab S tablets, and I'll be evaluating the larger of the two models. You can view the specs for both tablets and how they compare to their predecessors in the chart below.
Samsung Galaxy Tab S Series
Model
Samsung Galaxy Tab S 10.5"
Samsung Galaxy Tab S 8.4"
Samsung Galaxy Tab S2 9.7"
Samsung Galaxy Tab S2 8.0"
SoC
Samsung Exynos 5420
4x Cortex A15 @ 1.9GHz
4x Cortex A7 @ 1.3GHz
Mali T628MP6 @ 533MHz
Samsung Exynos 5433
4x Cortex A57 @ 1.9GHz
4x Cortex A53 @ 1.3GHz
Mali T760MP6 @ 700MHz
RAM
3GB LPDDR3
NAND
16/32GB NAND + microSDXC
32/64GB NAND + microSDXC
Display
10.5" 2560x1600 SAMOLED
8.4" 2560x1600 SAMOLED
9.7" 2048x1536 SAMOLED
8.0" 2048x1536 SAMOLED
Dimensions
247.3 x 177.3 x 6.6mm
212.8 x 125.6 x 6.6mm
169 x 237.3 x 5.6mm, 389g
134.8 x 198.6 x 5.6mm, 265g
Camera
8MP Rear Facing. 2.1MP Front Facing
Battery
7900mAh
(30Wh)
4900mAh
(18.6Wh)
5870mAh (22.3Wh)
4000mAh
(15.2Wh)
OS
Android 4.4.2 KitKat
Android 5.0 Lollipop
Connectivity
2x2 802.11a/b/g/n/ac + BT 4, GNSS, microUSB 2.0
Launch Price
$499
$399
$499
$399
As far as specs go, we're looking at some serious upgrades, and some changes that may be seen as sidegrades or even downgrades. First and foremost, the SoC receives an enormous bump from Exynos 5420 to Exynos 5433. Unfortunately, like the Galaxy Note 4 Exynos, the Galaxy Tab S2 still has a 32bit kernel and runs in AArch32 mode. Fortunately this doesn't really have any significant performance implications, but I thought it was worth noting for anyone that may be interested.
Moving beyond the SoC, you may notice that the resolutions and sizes of the displays change substantially. Samsung, like many other vendors, is finally moving away from the 16:10 aspect ratio and adopting a 4:3 display ratio which is very close to the 8.5x11" paper used in North America, although not as close to the A series paper used in most other countries. Samsung has settled on 8.0" and 9.7", the latter of which surprises me as it's the exact same size as the standard iPad despite Samsung being able to make displays of whatever size they wish.
What's interesting is that in moving to a new aspect ratio and smaller sizes, both displays lose almost a million pixels of resolution. The drop in PPI on the larger model is fairly significant too, from 288ppi on the Tab S 10.5" to 264ppi on the Tab S2 9.7" In practice I really don't think this matters that much on the 9.7" Tab S2, as I never felt like any elements of the UI or text looked heavily aliased or fuzzy. That being said, with Samsung making their own OLED displays it would have been perfectly possible to maintain their existing pixel density and just make panels of different sizes.
With the new display sizes come new form factors, and both tablets are substantially thinner and lighter than their predecessors. This also results in a drop in battery capacity as there's only so much room to fit batteries inside the chassis, and how this impacts battery life will be investigated later in the review.
Design
When Samsung announced the Galaxy S6 and S6 Edge I uttered a well-deserved "finally" with regards to the design of the phones. The aluminum and glass construction was a long overdue and greatly appreciated improvement to Samsung's existing industrial design, and I still think the Galaxy S6 is a pretty great looking and feeling device. However, upon seeing that the design really only used a metal frame and a sheet of glass overtop of a plastic back, I immediately knew that there was no way the design would scale up to tablets. There's simply too much fragility in that type of design, especially as you scale it larger. Since I suspected that Samsung still wasn't at the point where they would be producing aluminum unibody tablets, I wasn't surprised by the design of the Tab S2 tablets when they were announced.
Both versions of the Tab S2 have the same thickness, just 5.6mm. The larger model of the two that I am reviewing has a mass of 389 grams. The thickness and mass are enabled by the Tab S2's construction, which consists of a metal frame around the edges of the device but a plastic back cover. This is obviously a trade off, and I'll start with what's good before discussing what negatives come from it. The most obvious advantage is the low mass. When you pick up the Tab S2 you will be amazed that you're holding a full size tablet. You can't really notice a difference between its 5.6mm thickness and the 6.1mm thickness of the iPad Air 2, but the difference made by the lower mass is enormous. This is the first full size tablet I've used where I can honestly say I don't feel fatigued after holding it for a long period, and that's something you can't really accomplish with an aluminum unibody chassis. In that regard, the Tab S2 definitely has an advantage over every other full size tablet that I've used, and it encourages you to use it more and take it with you in situations where you may decide to leave a heavier tablet at home.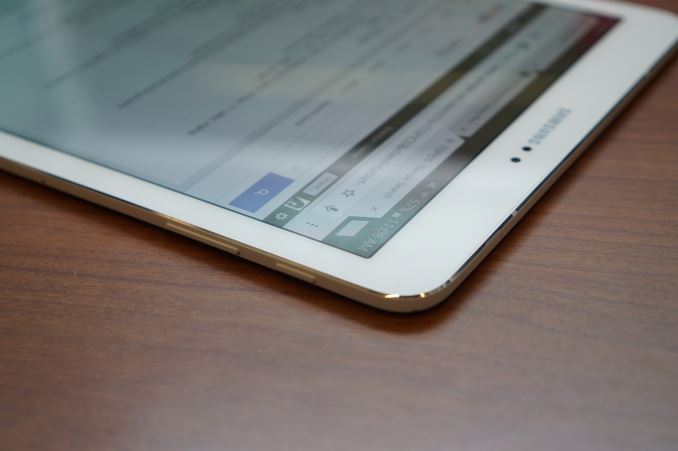 Of course, the obvious negative impact is the feel of the device. The metal frame honestly does nothing to improve the feeling of the Tab S2, especially on this white model which has a coating applied to the frame. The coating also doesn't seem very durable, and there were already chips in it by the time the tablet got to me. Overall it just doesn't feel as nice or well-built when you hold it as an aluminum unibody tablet does. What also disappointed me is that even though it's 5.6mm thick, there's still a small degree of flex to the back cover, particularly near the bottom. The materials used in a tablet can also have an impact on thermal performance which could limit performance in sustained workloads.
Making a device ends up really being a balance of trade offs. I love how light the Tab S2 is, but I'm not a huge fan of the materials used. Every consumer will have their own priorities, and I'm sure many people will find that the low mass and small thickness is worth the compromise in materials. It's also worth noting that this year's design is still miles ahead of the terrible dimples and faux leather plastic of the original Tab S, even if it's not at the level of the Venue 8 7840 or the iPad.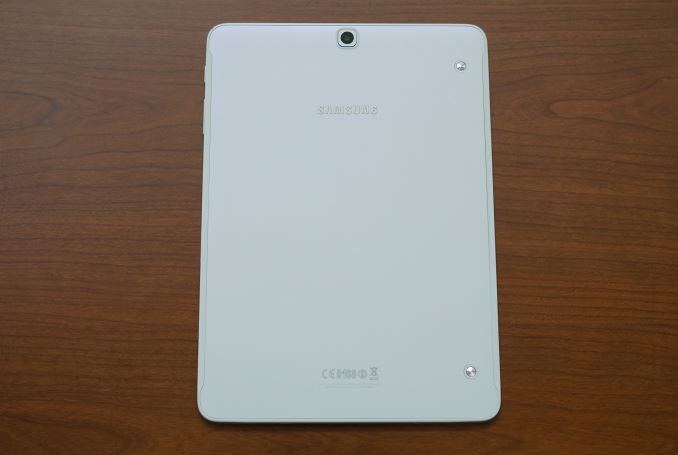 While I'm still on the topic of the materials and the back cover, you'll notice above that the back cover has two metal circles on the back. These are used for attaching Samsung's keyboard cover. I actually wasn't able to get the keyboard cover and I haven't seen it on sale anywhere at this point, but the existence of a first party keyboard case is something worth noting. As for the rest of the back cover, it's pretty much just an unbroken piece of plastic apart from the slightly extruding camera stack and the Samsung logo in the middle.
As far as primarily plastic tablets go, the Tab S2 is a pretty good device. I love how light it is, but at the same time I don't feel like the plastic build befits a $500 flagship tablet. It also doesn't feel quite as sturdy as the Venue 10, but I think Samsung's goal was to make a thin and light device that wouldn't be cumbersome to hold and carry around. They definitely succeeded in doing so, and I think that while there's a group of users like myself that feel a $500 device deserves the absolute best construction and materials, there's another group that feels the $500 should go toward making a device as light and portable as possible.