It seems that the larger the panel on a display I review, the brighter the display can get. I always expect the opposite, as lighting more screen would take more and more power. So far, that has not been the case. The VUE 30 is plenty bright, but not as blindingly bright as many other large displays. When I crank the brightness to maximum I measure 277 cd/m2 of brightness on a pure white screen. Moving the brightness to minimum drops this down to 77 cd/m2, which is below the 80 cd/m2 I like the minimum to fall under. This should provide plenty of range for most users.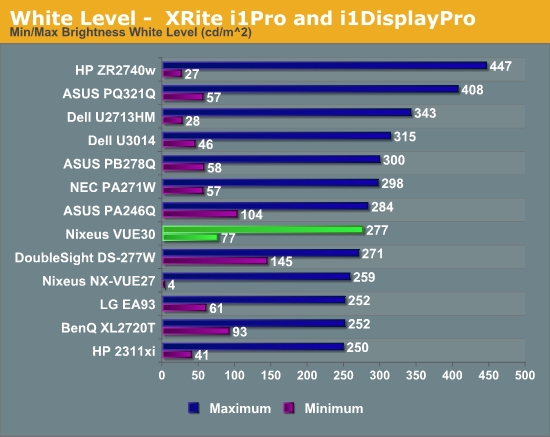 With a black screen, we see a black level of 0.126 cd/m2 with the backlight at the minimum level. With the backlight to maximum this jumps up to 0.45 cd/m2. This level is very much in line with other computer monitors. I won't fault Nixeus for this, but I'm always surprised at the level of black that is accepted with PC monitors that isn't acceptable with TVs. Modern plasma displays can produce black levels of 0.006 cd/m2 under the same test conditions, and modern LCDs can hit 0.05 cd/m2 as well. I understand why plasma isn't used for a PC display, but I'd like to see all vendors work on their black levels going forward. Basically, this panel seems similar to the 30" IPS displays we tested over five years ago; it's just half the price now.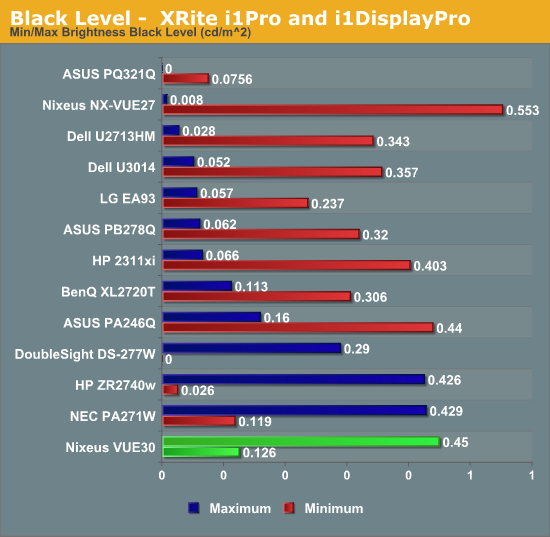 These numbers provide us with a contrast ratio of just 610:1 on average. This falls well behind the Dell U3014 and ASUS PQ321Q displays, which are the most recently reviewed 30"+ displays I have data for. Those both cost a lot more, but being close to 600:1 is a disappointment to me.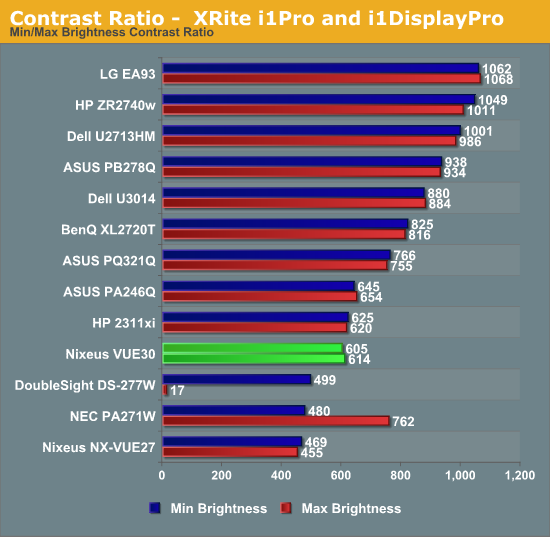 With those basic measures out of the way, it was time to see how accurate the VUE 30 is.