Introducing the SilverStone FT03
Case testing is back at AnandTech with fresher, stricter, and much more thorough testing, and we're kicking it off with a doozy. We had a chance to meet with SilverStone back at CES, and their reps generously allowed us to "call dibs" on what was easily one of the most interesting enclosure designs at the show, the FT03. Since then it's been sitting cheerfully in my living room awaiting assembly and testing while we put together our testbed and settled on proper testing methodologies, and now the wait is over. The mad scientists over at SilverStone have produced a number of unique and memorable enclosures, but the FT03 may be their craziest one yet.
It's only fitting that we kick off our new slate of case reviews with an enclosure from the same manufacturer who produced the subject of our last review. The SilverStone GD04 HTPC enclosure review was the subject of some consternation from you, the readership, as well as our rep at SilverStone. This was a case I chose for my own personal use (and continue to use to this day) based largely on its recommendation from SilentPC Review, and my primary issue with it was noise.
My conversation with Tony Ou, the SilverStone rep I met at CES, was like a high tech rendition of "who's on first." He was upset because he felt like I gave the GD04 short shrift for griping about the noise levels, citing that once a fan controller is installed the case has exceptional thermal characteristics while being remarkably quiet. I agreed, but pointed out that I felt it shouldn't need the fan controller to begin with. But we left the conversation appreciating one another's points, and I took to heart just how impressive SilverStone's engineering really is. (If you had any idea how many different fan configurations they tested in the GD04 before settling on one capable of cooling a pair of Radeon HD 4870X2s and a 140-watt AMD Phenom, blood would shoot out of your noise.)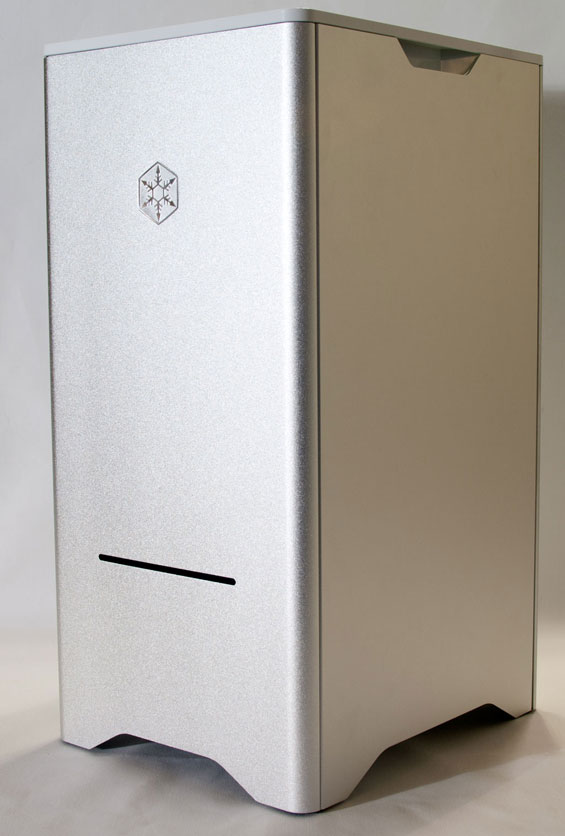 Today that conversation bears fruit. I've consistently felt that SilverStone was like the ASRock of the enclosure market, off in their own world engineering all kinds of crazy hardware, utterly unfettered by conventional design logic. The results are always exciting, and the FT03 is one of their most impressive designs yet.
SilverStone FT03 Specifications
Motherboard Form Factor
Micro ATX, Mini ITX
Drive Bays
External
1x Slimline Slot-loading Optical Bay
Internal
2x 3.5" or 2.5", 1x 2.5", 1x 3.5" hot-swappable
Cooling
Front
-
Rear
-
Top
1x 120mm exhaust fan
Side
Removable vent
Bottom
2x 120mm intake fans
Expansion Slots
5 (4 main, 1 accessory)
Front I/O Port
-
Top I/O Port
2x USB 3.0 (routing cable), headphone and mic jacks
Power Supply Size
Standard ATX
Clearance
180mm (PSU), 13.77" (Expansion Cards), 167mm (CPU HSF)
Weight
14.77 lbs.
Dimensions
11.18" x 9.25" x 19.17"
Price
$169.99
Just to give you a preview of coming attractions, I'll point out that I have a boutique build in-house that uses a Corsair H70 to cool the CPU and two GeForce GTX 580s...all in this enclosure.