Excavator
AMD's Bulldozer microarchitecture was originally designed with mainstream and high-performance applications in mind, but eventually its development took a turn to focus solely on mainstream mobile and desktop PCs. Today, processors based on AMD's Excavator architecture — the pinnacle of Bulldozer's evolution — are positioned as entry-level solutions and compete against lower-end products from Intel, including those powered by Atom-class processors that were designed from the ground up to be cheap and energy-efficient. Looking to fill a need for fully integrated motherboards for this market, Biostar has launched a Mini-ITX motherboard that is based on AMD's Bristol Ridge APU and is meant to compete against Intel's Gemini Lake-based offerings. The Biostar A10N-9630E Mini ITX Quad Core SoC motherboard is powered by the A10-9630P with two...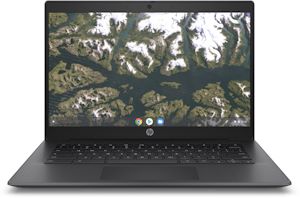 HP this week introduced its new family of Chromebooks designed for students and teachers. The laptops use low-power SoCs from AMD and Intel to ensure a long battery life...
19
by Anton Shilov on 1/23/2020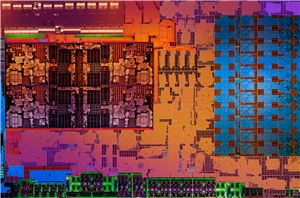 When AMD announced it was creating the new high-performance Zen core, they set a lofty goal. They wanted to produce products that offered 25x the relative efficiency (performance per...
20
by Ian Cutress on 10/26/2017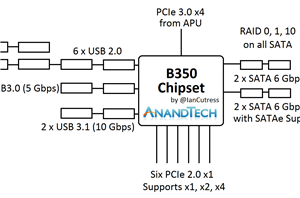 Over the last two weeks, AMD officially launched their 7th Generation Bristol Ridge processors as well as the new AM4 socket and related chipsets. The launch was somewhat muted...
125
by Ian Cutress on 9/23/2016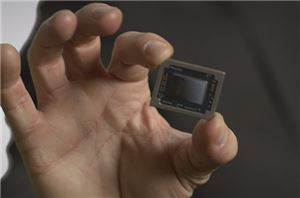 Prior to the announcement for AMD's 7th Generation of APUs, Bristol Ridge, the latest micro-architecture from AMD based on the x86 instruction set was given the codename Excavator, using...
131
by Ian Cutress on 7/14/2016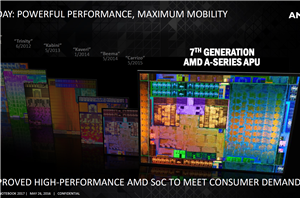 The Carrizo SoC, using Excavator cores, was touted in the press as being the biggest upgrade to the base Bulldozer design since the introduction of Bulldozer itself. This was...
69
by Ian Cutress on 5/31/2016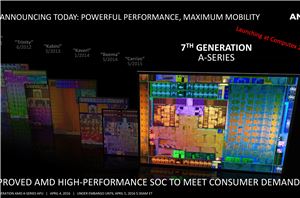 For anyone tracking AMD's family of Accelerated Processing Units (APUs), the last generation Carrizo was launched back in the middle of 2015. This was based on the fourth iteration...
38
by Ian Cutress on 4/5/2016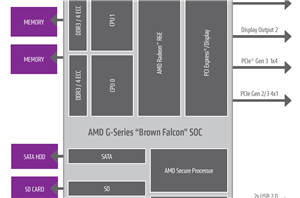 Back in October 2015, AMD's embedded business unit announced the first SoCs from AMD using DDR4, combining AMD's Excavator cores found in the Carrizo notebook platform but fully...
6
by Ian Cutress on 2/23/2016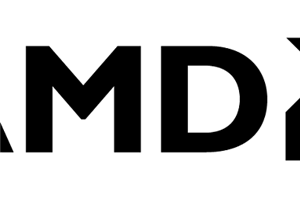 As part of today's launch AMD released two new Kaveri based APUs as part of the FM2+ platform, the A10-7860K and the A6-7470K, as well as clarifying the way...
43
by Ian Cutress on 2/2/2016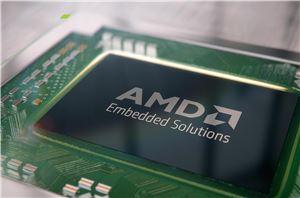 Despite the recent news surrounding AMDs reorganization and financials, today AMD is announcing the launch of its first DDR4 processors. But rather than aiming at the high end or...
34
by Ian Cutress on 10/21/2015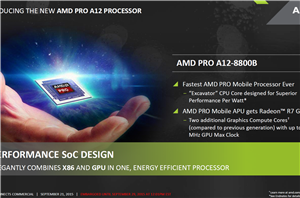 We touched upon this very briefly in our recent HP Elitebook news, but at the end of September AMD officially launched four new professional mobile APUs under the AMD...
53
by Ian Cutress on 10/2/2015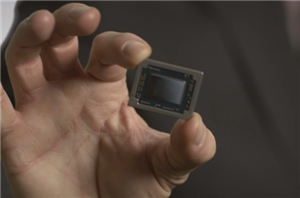 AMD is using the International Solid-State Circuits Conference this week to present a paper and announce some interesting developments regarding the next iteration of the Bulldozer architecture, codenamed 'Excavator'...
82
by Ian Cutress on 2/23/2015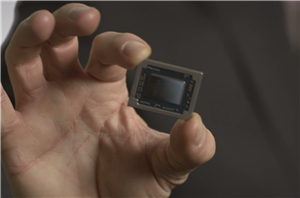 Today AMD is announcing the long anticipated upgrade to Kaveri, codenamed Carrizo. Carrizo is the natural successor to Kaveri, featuring x86 'Excavator' cores alongside a Radeon-class GPU and promising...
94
by Ian Cutress on 11/20/2014