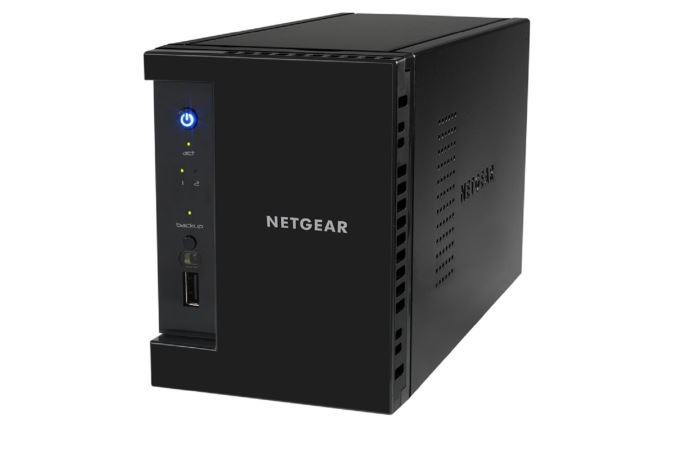 Introduction and Evaluation Methodology
NAS units with four bays present the best balance between cost and expandability for home consumers. However, with increasing hard drive sizes, two bays make the cut for many usage scenarios. The demand for high-performance, but cost-effective NAS units has been picking up, and this is where the modern ARM-based platforms come into play. Netgear's ReadyNAS 200 series was launched at the 2015 CES and sported an ARM Cortex A15-based Annapurna Labs SoC. Negear's offerings differentiates itself from the competition due to use of btrfs as the file system for the data volume. We have already looked at the Intel Atom-based RN312. In this review, we will take a look at how the ARM-based RN202 performs with the ReadyNAS OS, and see how the unit stacks up against the competitors in this space.
The specifications of the Netgear RN202 are provided in the table below
Netgear RN202 Specifications
Processor
Annapurna Labs SoC (2C/2T ARM Cortex A15 @ 1.4 GHz)
RAM
2GB
Drive Bays
2x 3.5"/2.5" SATA II / III HDD / SSD (Hot-Swappable)
Network Links
2x 1 GbE
External I/O Peripherals
3x USB 3.0, 1x eSATA
Expansion Slots
N/A
VGA / Display Out
N/A
Full Specifications Link
Netgear RN202 Specifications
Price
USD 282
The various specifications of the NAS are backed up by the data gleaned via SSH access to the unit.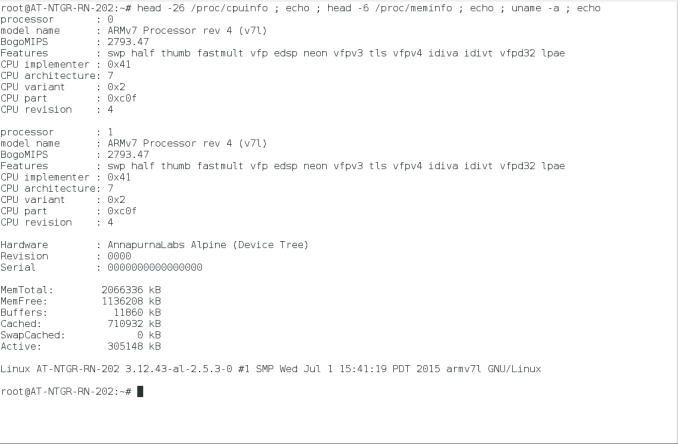 The ReadyNAS 200 series also includes a 4-bay variant. The comparison between the two units (including the hardware specifications) are reproduced from Netgear's marketing material below.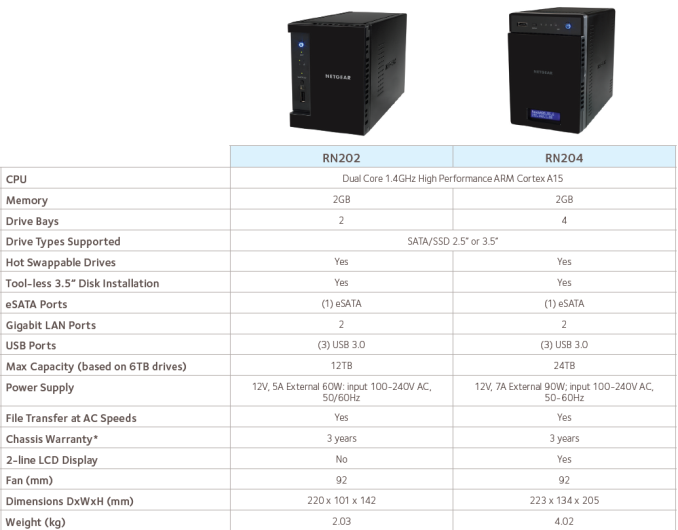 The industrial design of the unit is the same as that of the ReadyNAS RN312. In terms of user experience with the hardware, the toolless drive caddies are one of the best designs we have seen across samples from most of the players in the industry. That said, they are a bit non-intuitive for first-time users, but they get the job done while also providing a bit of vibration dampening for the 3.5" drives. 2.5" drives still need screws for securing in the same caddy.
The setup process is quite straightforward. Upon connection to the network, the RN202 receives a DHCP address even in a diskless state. The IP address can be determined either from the DHCP provider in the system or via Netgear's RAIDar utility. Accessing the IP address with the default 'admin'/'password' login enables the setup process shown in the gallery below. We started off with one disk in the unit, and it was configured as a JBOD volume with X-RAID by default. Support exists for manually defragging, scrubbing and balancing the btrfs volume. Hot-swapping of drives is possible and adding a new drive or replacing a failed drive with X-RAID enabled automatically triggers expansion / rebuild.
Similar to almost all other NAS units in the market, there is support for viewing the S.M.A.R.T attributes of the member disks. The settings section allows choice of various services to enable (SMB, AFP, NFS, FTP, SSH, ReadyDLNA, uPnP etc.). The user experience is a bit inconsistent here in terms of the interface. While clicking on the service buttons toggles the inner rectangle between green (enabled) and gray (disabled) in this section, there are other sections where similar buttons can't be clicked to toggle status. The settings page allows configuration of other aspects such as update management, backing up settings and alerts.
The logs section records the various NAS activities with timestamps and the power section enables power scheduling, disk spin-down configuration, Wake-on-LAN settings and UPS configuration.
Creating new shares allows us to configure bit-rot protection (disabled by default, results in a performance hit on ARM-based systems), compression (since btrfs provides native compression capabilities), snapshot scheduling and protocols with which it can be accessed. The web UI also features a built-in file browser for the NAS contents and includes a timeline view (based on the snapshots).
The network settings allow the interfaces to be bonded. It is possible to set up 802.3ad LACP (amongst other bonding modes). There are a number of third-party apps available (though the selection is nowhere close to what Synology and QNAP have). Some cloud management features (remote access via VPN, replication over the Internet etc.) are also available.
In the rest of the review, we will take a look at the single client performance for SMB and iSCSI, followed by a look at what enabling encryption entails. We will have three sections dealing with multi-client scenarios across a number of different client platforms as well as access protocols. Prior to all that, we will take a look at our testbed setup and testing methodology.
Testbed Setup and Testing Methodology
The Netgear RN202 can take up to 2 drives. Users can opt for either JBOD, RAID 0 or RAID 1 configurations. We expect typical usage to be with a single RAID-1 volume. To keep things consistent across different NAS units, we benchmarked a single RAID-1 volume. Two Western Digital WD4000FYYZ RE drives were used as the test disks. Our testbed configuration is outlined below.
AnandTech NAS Testbed Configuration
Motherboard
Asus Z9PE-D8 WS Dual LGA2011 SSI-EEB
CPU
2 x Intel Xeon E5-2630L
Coolers
2 x Dynatron R17
Memory
G.Skill RipjawsZ F3-12800CL10Q2-64GBZL (8x8GB) CAS 10-10-10-30
OS Drive
OCZ Technology Vertex 4 128GB
Secondary Drive
OCZ Technology Vertex 4 128GB
Tertiary Drive
OCZ Z-Drive R4 CM88 (1.6TB PCIe SSD)
Other Drives
12 x OCZ Technology Vertex 4 64GB (Offline in the Host OS)
Network Cards
6 x Intel ESA I-340 Quad-GbE Port Network Adapter
Chassis
SilverStoneTek Raven RV03
PSU
SilverStoneTek Strider Plus Gold Evolution 850W
OS
Windows Server 2008 R2
Network Switch
Netgear ProSafe GSM7352S-200
The above testbed can run up to 25 Windows 7 or CentOS VMs simultaneously, each with a dedicated 1 Gbps network interface. This simulates a real-life workload of up to 25 clients for the NAS being evaluated. All the VMs connect to the network switch to which the NAS is also connected (with link aggregation, as applicable). The VMs generate the NAS traffic for performance evaluation. However, keeping in mind the nature of this unit, we restricted ourselves to a maximum of 10 simultaneous clients.
Thank You!
We thank the following companies for helping us out with our NAS testbed: