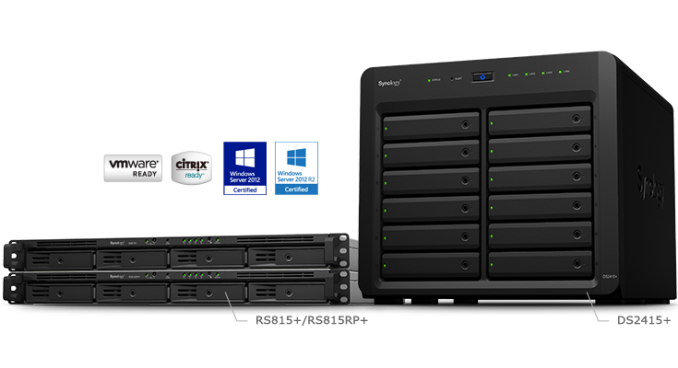 Synology announced two new NAS models today as updates to the existing RS814+ and the DS2413+ units. Both models are based on the 4C/4T Intel Atom C2538 Rangeley SoC. The RS815+ is a 1U rackmount unit with four bays (expandable to 8 with a RX415 expansion chassis). It comes with four GbE ports and 2 GB of RAM. RAM is expandable up to 6 GB if the second free slot is filled up. There is a variant of the RS815+ with redundant power supplies - the RS815RP+. The presence of AES-NI in the Rangeley SoC allows Synology to market this product for intensive business tasks (such as virtualization) requiring encryption.
The RS815+ looks to target the same market segment as the ReadyNAS 3130 that was introduced by Netgear yesterday. However, the RS815+ uses a SoC with more cores / clocked higher. On the flip side, the RS815+ doesn't come with ECC RAM, while the ReadyNAS 3130 does.
The other product that is getting introduced today is the DS2415+, a tower-form factor system with twelve native drive bays (expandable to 24 using a DX1215 expansion unit). The internal hardware platform (SoC / RAM / number of LAN ports etc.) are similar to the RS815+. The DS2415+ is ideal for applications where massive amounts of fast encrypted storage is desired.
The two new products, unfortunately, are not available for the North American market right now. The pricing is also yet to be determined in USD. However, consumers in UK can find the RS815RP+ on Amazon for £1,207 and the DS2415+ on Scan for £1111.today.