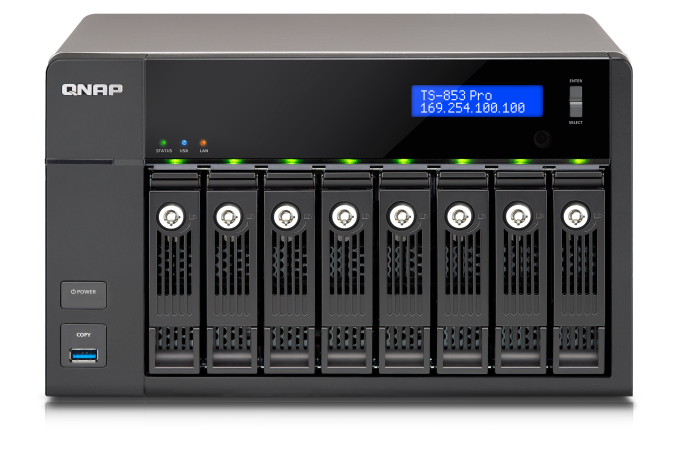 Introduction and Testbed Setup
QNAP has focused on Intel's Bay Trail platform for this generation of NAS units (compared to Synology's efforts with Intel Rangeley). While the choice made sense for the home users / prosumer-targeted TS-x51 series, we were a bit surprised to see the TS-x53 Pro series (targeting business users) also use the same Bay Trail platform. Having evaluated 8-bay solutions from Synology (the DS1815+) and Asustor (the AS7008T), we requested QNAP to send over their 8-bay solution, the TS-853 Pro-8G. Hardware-wise, the main difference between the three units lie in the host processor and the amount of RAM.
The specifications of our sample of the QNAP TS-853 Pro are provided in the table below
QNAP TS-853 Pro-8G Specifications
Processor
Intel Celeron J1900 (4C/4T Silvermont x86 @ 2.0 GHz)
RAM
8 GB
Drive Bays
8x 3.5"/2.5" SATA II / III HDD / SSD (Hot-Swappable)
Network Links
4x 1 GbE
External I/O Peripherals
3x USB 3.0, 2x USB 2.0
Expansion Slots
None
VGA / Display Out
HDMI (with HD Audio Bitstreaming)
Full Specifications Link
QNAP TS-853 Pro-8G Specifications
Price
USD 1195
Note that the $1195 price point is for the 8GB RAM version. The default 2 GB version retails for $986. The extra RAM is important if the end user wishes to take advantage of the unit as a VM host using the Virtualization Station package.
The TS-853 Pro runs Linux (kernel version 3.12.6). Other aspects of the platform can be gleaned by accessing the unit over SSH.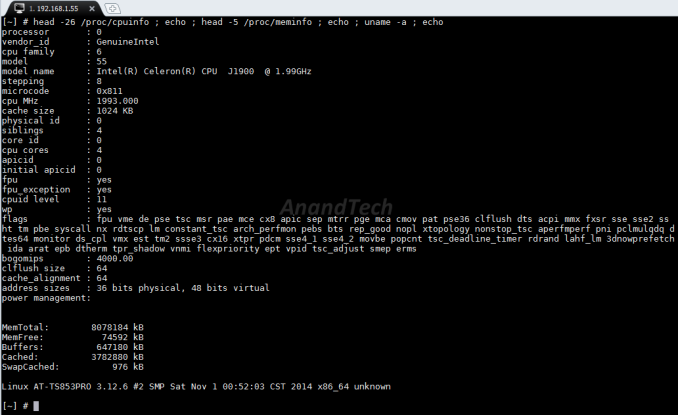 Compared to the TS-451, we find that the host CPU is now a quad-core Celeron (J1900) instead of a dual-core one (J1800). The amount of RAM is doubled. However, the platform and setup impressions are otherwise similar to the TS-451. Hence, we won't go into those details in our review.
One of the main limitations of the TS-x51 units is the fact that it can have only one virtual machine (VM) active at a time. The TS-x53 Pro relaxes that restriction and allows two simultaneous VMs. Between our review of the TS-x51 and this piece, QNAP introduced QvPC, a unique way to use the display output from the TS-x51 and TS-x53 Pro series. We will first take a look at the technology and how it shaped our evaluation strategy.
Beyond QvPC, we follow our standard NAS evaluation routine - benchmark numbers for both single and multi-client scenarios across a number of different client platforms as well as access protocols. We have a separate section devoted to the performance of the NAS with encrypted shared folders, as well as RAID operation parameters (rebuild durations and power consumption). Prior to all that, we will take a look at our testbed setup and testing methodology.
Testbed Setup and Testing Methodology
The QNAP TS-853 Pro can take up to 8 drives. Users can opt for either JBOD, RAID 0, RAID 1, RAID 5, RAID 6 or RAID 10 configurations. We expect typical usage to be with multiple volumes in a RAID-5 or RAID-6 disk group. However, to keep things consistent across different NAS units, we benchmarked a single RAID-5 volume across all disks. Eight Western Digital WD4000FYYZ RE drives were used as the test disks. Our testbed configuration is outlined below.
AnandTech NAS Testbed Configuration
Motherboard
Asus Z9PE-D8 WS Dual LGA2011 SSI-EEB
CPU
2 x Intel Xeon E5-2630L
Coolers
2 x Dynatron R17
Memory
G.Skill RipjawsZ F3-12800CL10Q2-64GBZL (8x8GB) CAS 10-10-10-30
OS Drive
OCZ Technology Vertex 4 128GB
Secondary Drive
OCZ Technology Vertex 4 128GB
Tertiary Drive
OCZ Z-Drive R4 CM88 (1.6TB PCIe SSD)
Other Drives
12 x OCZ Technology Vertex 4 64GB (Offline in the Host OS)
Network Cards
6 x Intel ESA I-340 Quad-GbE Port Network Adapter
Chassis
SilverStoneTek Raven RV03
PSU
SilverStoneTek Strider Plus Gold Evolution 850W
OS
Windows Server 2008 R2
Network Switch
Netgear ProSafe GSM7352S-200
The above testbed runs 25 Windows 7 VMs simultaneously, each with a dedicated 1 Gbps network interface. This simulates a real-life workload of up to 25 clients for the NAS being evaluated. All the VMs connect to the network switch to which the NAS is also connected (with link aggregation, as applicable). The VMs generate the NAS traffic for performance evaluation.
Thank You!
We thank the following companies for helping us out with our NAS testbed: