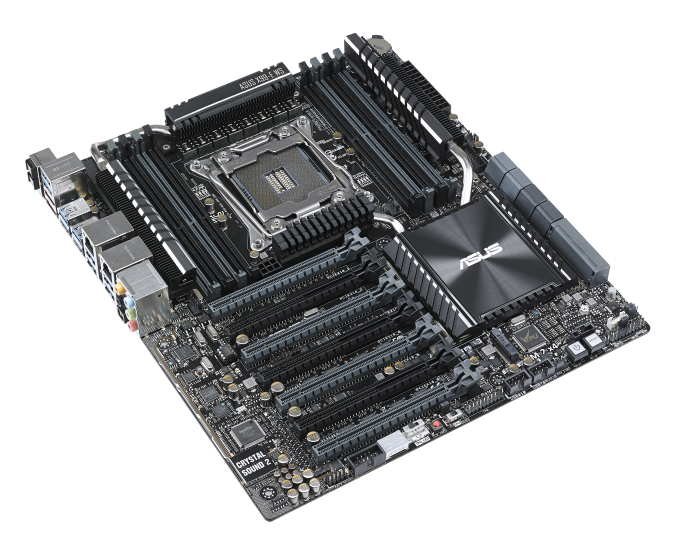 The normal route for workstation level motherboards is from the server business unit of a motherboard manufacturer, which then works its way into full systems rather than being sold separately. The other, less used alternative is for the mainstream end-user motherboard business units to develop their own and sell directly to end-users building their own workstation. While some of the motherboard manufacturers are slowly jumping on this bandwagon, ASUS has been at it for a number of generations now, with enough success to continue into their new Haswell-E designs which have just been announced.
ASUS X99-E WS
The X99-E WS follows on from the X79-E WS and the X58-E WS, and the most obvious thing to notice is the seven full-length PCIe slots. ASUS' workstation line of motherboards, as I was told during my time at their HQ, is focused at maintaining compatibility and function with as many different types of PCIe devices possible. This includes RAID cards, PCIe storage, video capture cards, PCIe co-processors, FPGAs, normal GPUs and any other form of throughput accelerant. In order to assist with bandwidth, it would seem that this motherboard uses a PLX chip to give a full PCIe 3.0 x16/x16/x16/x16 for four-way or x16/x8/x8/x8/x8/x8/x8 when all the slots are populated.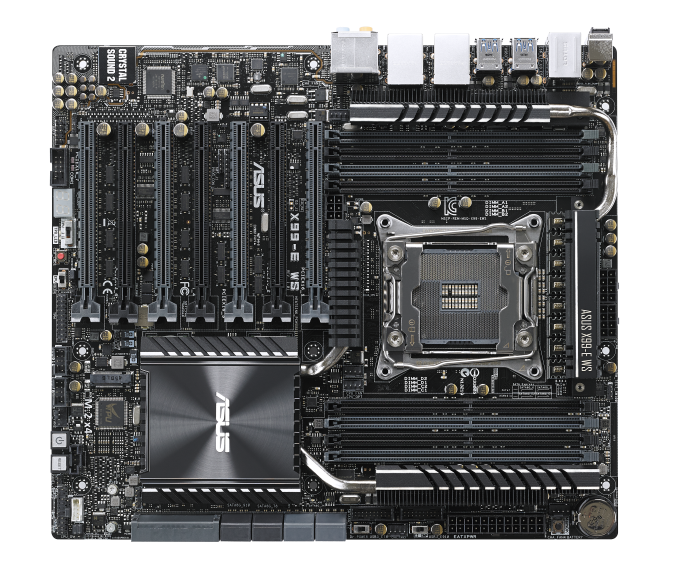 The system includes exclusive Beat Thermal Chokes (v2), 12K capacitors and enhanced power connectors. For onboard storage, M.2 x4 is supported along with dual SATA Express and ASUS' PIKE II (Proprietary I/O Kit Expansion). Thunderbolt support is also provided via the onboard header. Networking comes via a dual Intel solution (I210-AT and I218-LM) with audio from a Realtek ALC1150. ASUS' WS line of motherboards includes maintenance tools such as the Q-Code Logger and Dr. Power, the latter being for power supply monitoring.
While pricing and release date has not been released yet, we expect the X99-E WS to be in the $520 price bracket and should be available in North America in the next few weeks. Note that this motherboard acts more like an end-user product, and thus comes without AST2300/IPMI monitoring tools. This would lower the price, however the upshot is an enhanced BIOS/software package more akin to a consumer level product than a server one.
ASUS Z10PE-D8 WS
The dual processor line of motherboards is typically the mainstay for system builders alone, but over the years various manufacturers have floated the concept of an end-user model. This is shown by our recent increase 2P motherboard reviews. The main barrier here is that to take advantage of a 2P system, Xeons get promoted to the main cost. For home-users, that cost is largely prohibitive however for the prosumer or small-business IT specialist, it becomes part of the business cost instead. With Ivy Bridge-E, the Z9PE-D8 WS seemed to be well received, and thus the Z10PE-D8 WS launch seems a logical choice.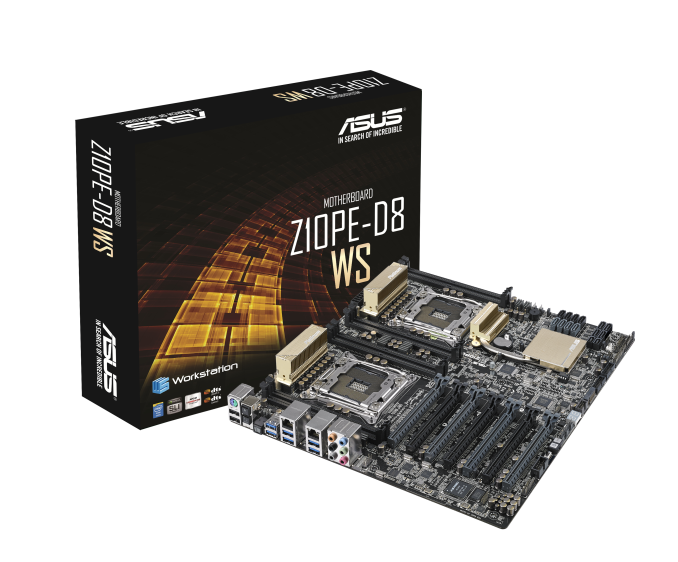 Using the SSI EEB form factor, this motherboard supports one DIMM per channel but has the full array of PCIe 3.0 x16 slots similar to the X99-E WS. It would seem that UDIMMs are not supported here, although the specification list does mention up to 512GB RDIMM/LRDIMM/NVDIMM support. The motherboard is based on the C612 chipset, which is the primary chipset for most workstation 2P motherboards. Storage comes via 12 SATA ports with two SATA Express and M.2 x4 support as well. Similar to the X99-E WS, Beat Thermal Chokes and 12K capacitors are being used here as well. This time the WS motherboard does have management via an AST2400.
One of the more interesting features from ASUS' PE line of WS motherboards has always been the ability to overclock using the BCLK, to which extent ASUS is promoting a potential 10% improvement in performance using their OC Tuner and Xeon Turbo Charger platform. We've tried testing some Xeons in house in a 1P environment and only achieved 4-7%, so it would be interesting to see this in action and observe what else is adjusted.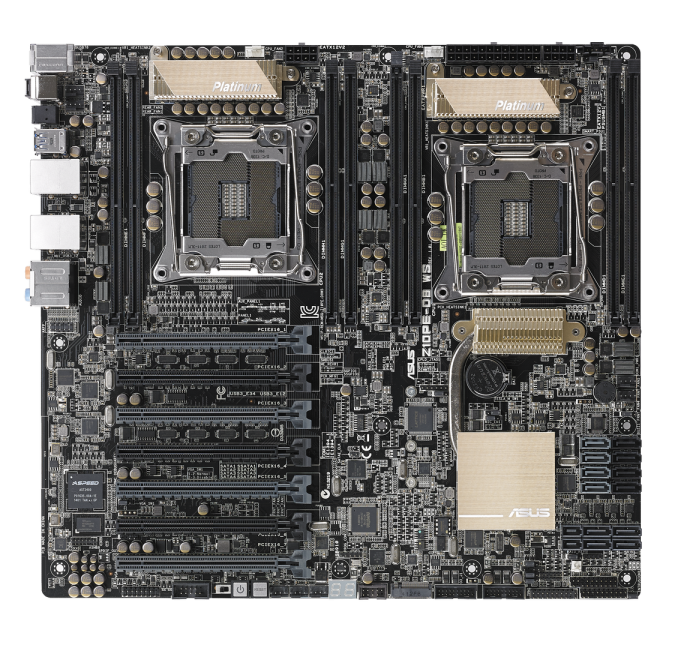 The Z10PE-D8 WS will be priced at $599 and will be available soon.