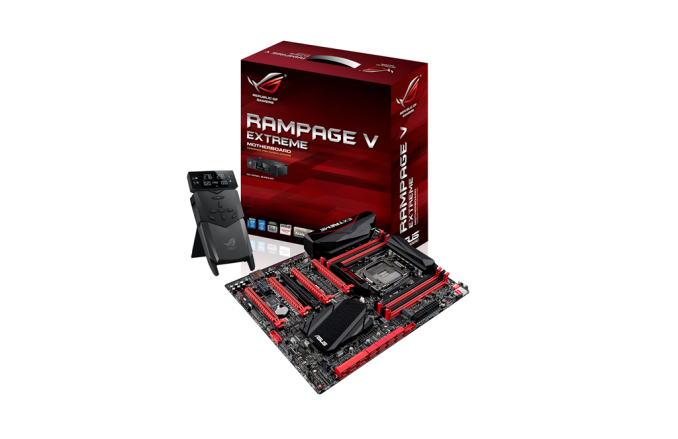 The launch today is one of the biggest in the last few years, with DRAM, CPU and Chipset all getting a refresh. Understandably ASUS is getting in on the action, and they sent over their PRs detailing what they have in store. The primary mainstream model is the X99-Deluxe, which we have in for our initial X99 coverage (stay tuned for that), but it takes a significant detour from previous ASUS color schemes. Rather than the gold or grey of recent times, here we go with a black and white livery.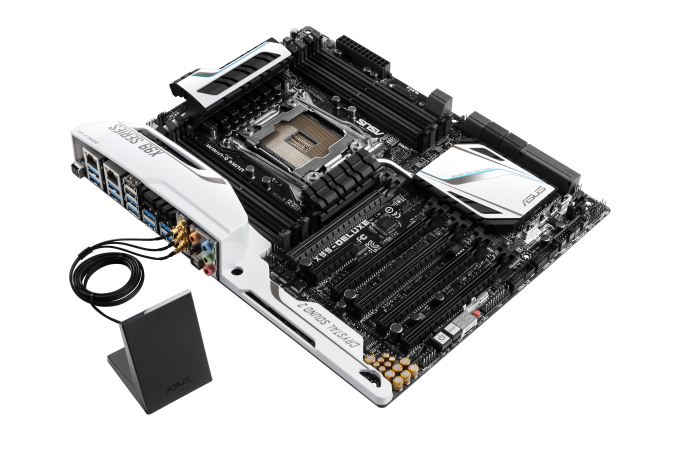 Aside from dual SATA Express, dual Intel NICs, a vertical M.2 x4 arrangement and the Crystal Sound 2 shield around the audio and rear panel we also get a tri-stream 802.11ac setup included. This makes the X99-Deluxe the first consumer motherboard to come with a 3T3R shipped, and makes sense given that the Deluxe is to be the flagship 'mainstream' X99 model.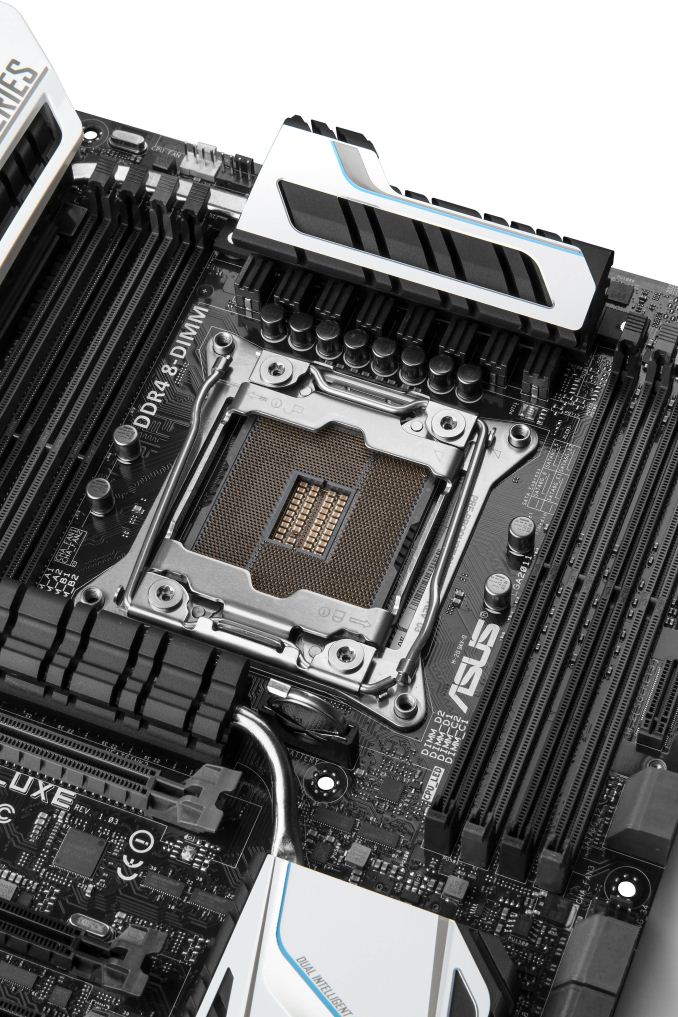 One of ASUS' new features is a patent-pending OC socket that contains extra pins to connect to normally unused pads on the Haswell-E CPUs. Via propriatery circuitry, ASUS is expecting this innovation to lead to higher memory frequencies, lower latencies and stability while overclocking.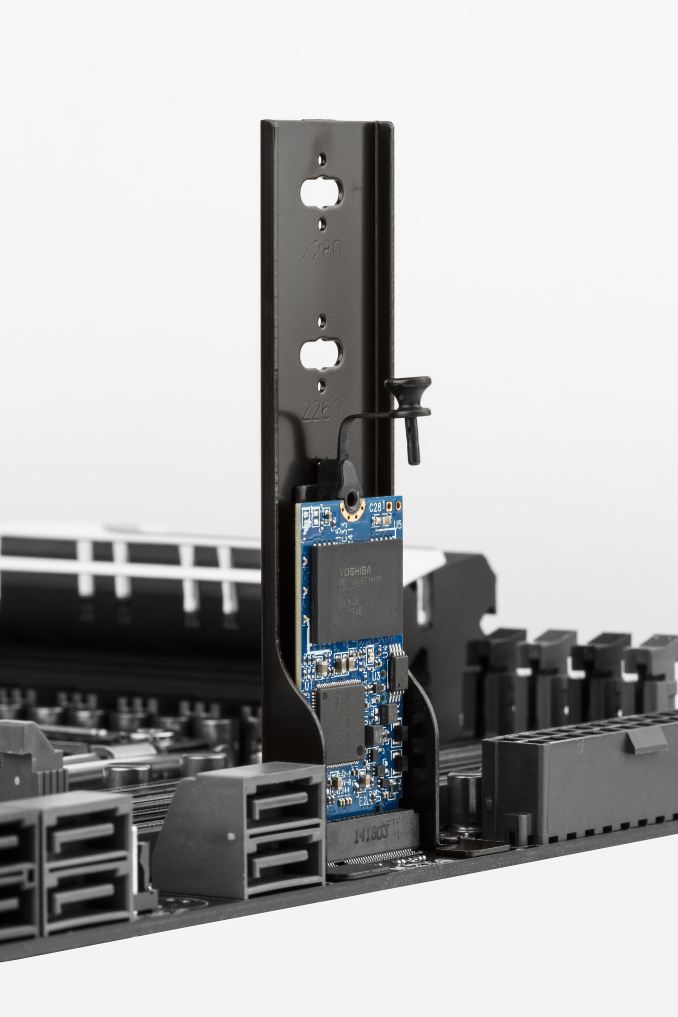 Due to the large space requirements of M.2, ASUS has decided to turn it vertical with an included bracket to support up to full length M.2 cards. For most users in a case this should not be an issue, but it is a good way to save precious PCB space for other features. The system also comes with an M.2 to PCIe converter card, allowing users to add a second M.2 card: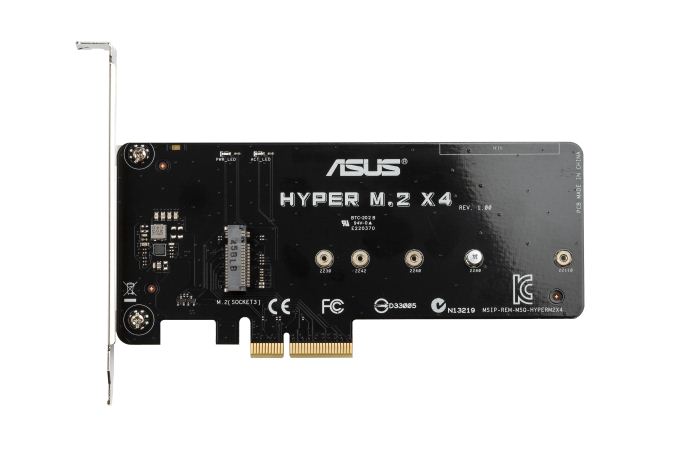 Also out on an extra daughter board are a series of fan headers on a controller card, useful for placing them where you need them in a case. These extra fan headers, like those on board, will be DC and PWM compatible.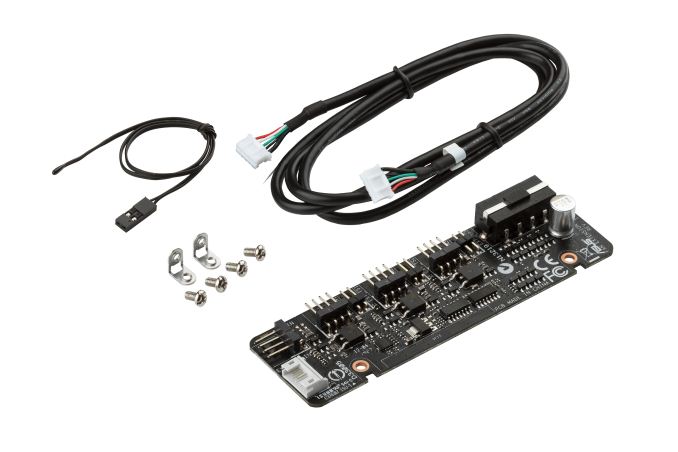 Another new feature that ASUS likes to mention is the multi-GPU switch on board. For those users who have two or three GPUs, this switch will light up an LED next to the ports you need to use. It is a simple idea that negates having to look at the manual. We have the X99-Deluxe in for review, so check that out when it gets published. The ASUS X99-Deluxe will be available from launch at an MSRP of $400.
ASUS is planning to launch their X99-A at $280 in early September, and the X99-Pro in October, price still to be determined. For both of these boards we are waiting on images to see what they will be like.
Also on the cards for launch day is the highly anticipated ASUS ROG Rampage V Extreme motherboard. Users who follow the industry will know that Z97 never received a Maximus VII Extreme model, and the Rampage V Extreme is the reason why: because ASUS sees the Extreme line as the top of the top, when a major socket release comes around it requires extra time and effort to ensure day one satisfaction.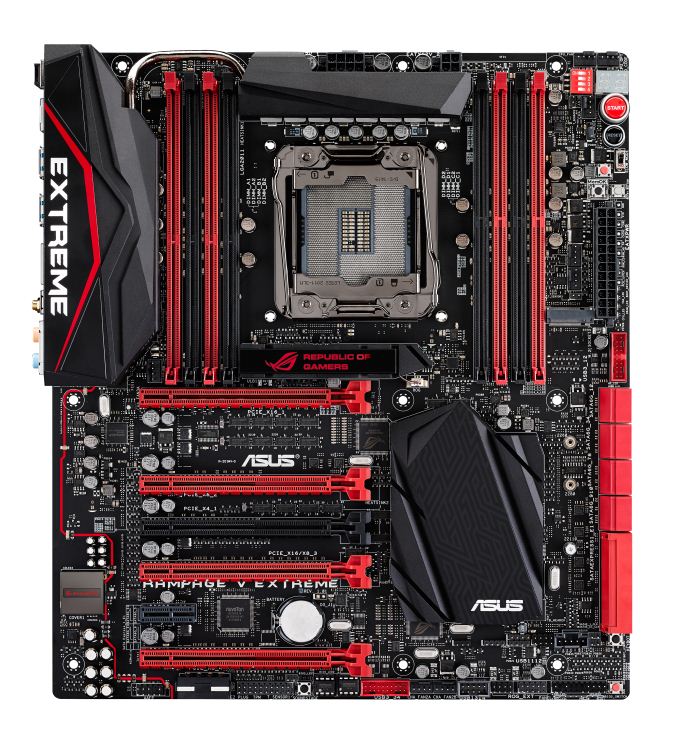 Aside from the big EXTREME on the rear panel, the red and black make the system look relatively normal. We see an eight-phase power delivery with a full assortment of DRAM slots. Next to these on the right is an M.2 slot, supporting full side 110mm drives. The SATA ports look extensive due to the dual SATA Express included.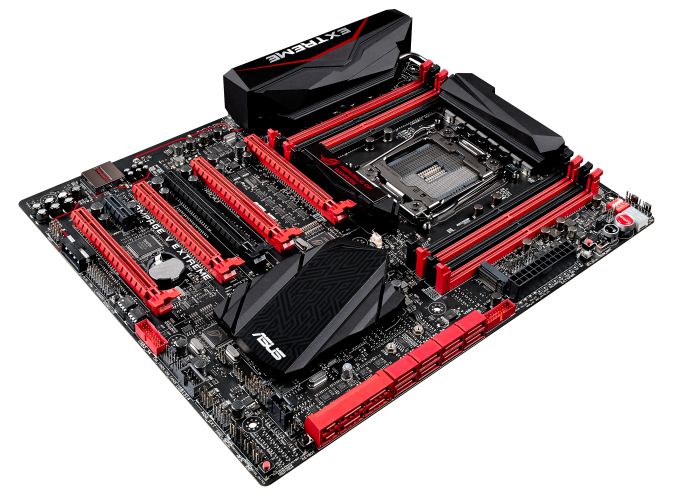 There is the header for the included ROG OC Panel on the bottom of the motherboard, as well as the Thunderbolt header and a button for ASUS' new Keybot system. At the top of the motherboard are the voltage check points, an LN2 mode header, a slow mode switch, the MemOK button, a Retry button and the usual array of power/reset buttons alongside a two-digit debug. ASUS is keen to point out that the power delivery has been upgraded to a PowIRstage IR3555 design with user-controllable VRM switching under Extreme Engine DIGI+ IV.
ASUS has equipped the motherboard with SupremeFX audio and their SoundStage functionalisty. Additional PCIe power comes via a molex connector, and the system has two extra USB 3.0 headers for good measure. The TPU and EPU custom ICs from ASUS feature on the Extreme, making good use of the 5 Way Optimization software included.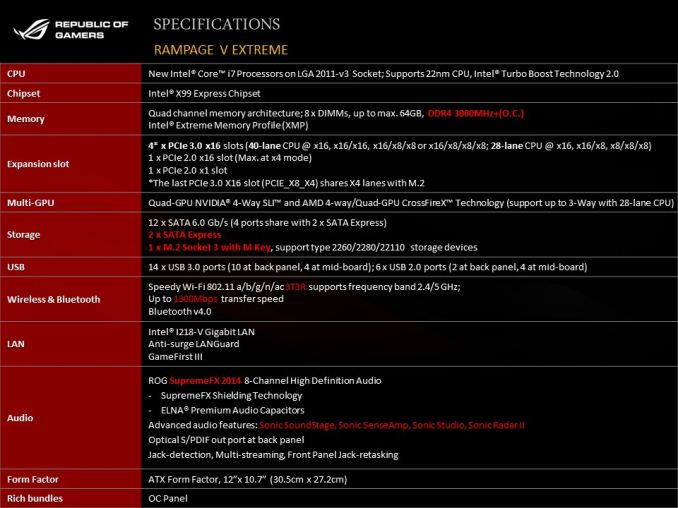 The X79 based Rampage IV Extreme was a best seller for that platform, and ASUS is hoping that the Rampage V Extreme can do similarly well. ASUS is also reaching out to aid overclockers, especially with fine-tuning the recently announced Corsair DDR3-3300 Dominator Platinum modules specifically for motherboards like the Rampage V Extreme.
The Extreme should be out today at an MSRP of $500.