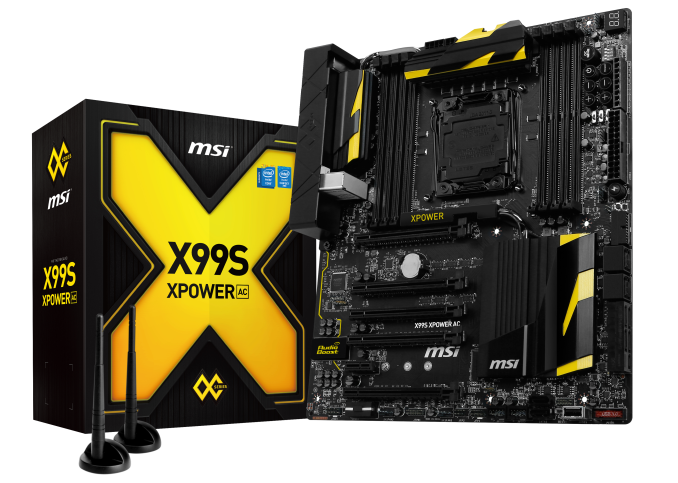 With the X99 and Haswell-E platforms being launched today, MSI is coming to market officially with four models on sale with another coming soon. We took a look at the MSI X99S SLI PLUS when it was leaked earlier this month, and I have since learned that the release price will be $230, making it a very attractive model at the lower end of the X99 pricing bracket.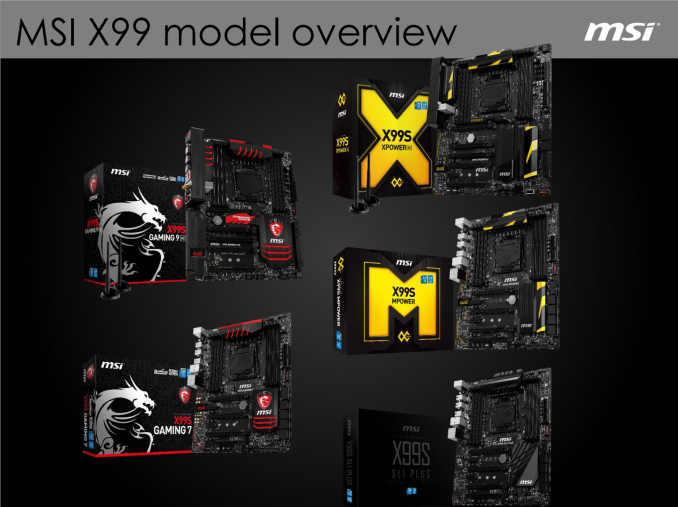 The other models from MSI are the X99S Gaming 9 AC, the X99S Gaming 7, the X99S XPower AC and the X99S MPower (the MPower being released later). You may notice that all these names start with 'X99S', which MSI says indicates the presence of SATA Express. It may be one of their defining naming characteristics going forward, but it seems that MSI is keen to support this storage technology in advance of retail drives coming to the market. MSI is also supporting 'Turbo M.2' on all its models, which means PCIe 3.0 x4 connectivity for future drives. Some motherboards will support up to 2280 sized drives, whereas others will go all the way to 22110. MSI is also keen to point out that all its motherboards will come with dual USB 3.0 headers.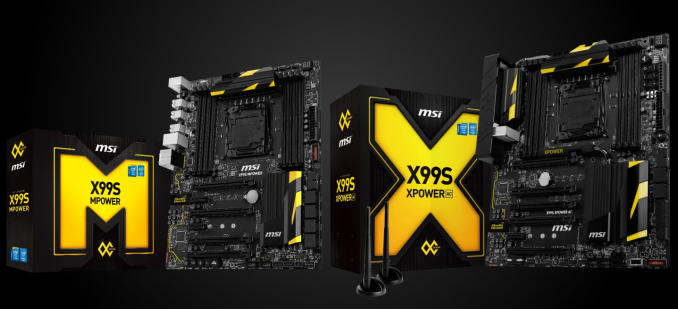 The X99S MPower and X99S XPower AC are both members of the 'overclocking certified' motherboard segment that MSI has been developing over the past 12-18 months. Features for X99 XPower AC include a modified back plate for sub-zero copper-pot overclocking, a direct USB Type-A connector on the motherboard so users do not have to reach around to the rear, a set of easy buttons for fine tuning adjustments and PCIe disable switches to reduce unwanted electronic jitter. Interestingly MSI has included its Delid Guard should anyone want to de-lid their Haswell-E CPU, though this is short sighted as de-lidding Haswell-E will usually break the processor due to the bound epoxy being used.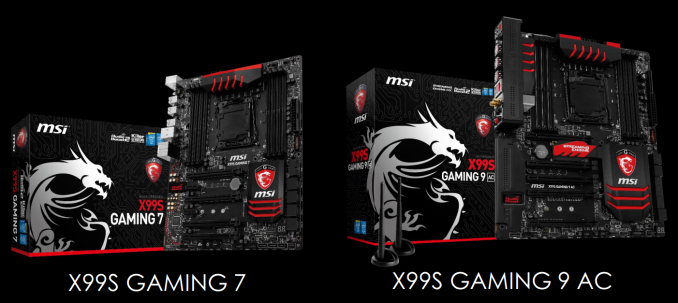 The Gaming range will start with two models, both aiming at the high end. The gaming range for MSI has boosted its sales in more ways than one, particularly because as a company they adopted a styling that appealed to the gaming community. With aesthetics in mind, these motherboards will be using a cleaner PCB look with the Gaming 9 AC using protective covers to keep the feel of the board consistent. The Gaming 9 AC is the more interesting model of the two here, with its inclusion of an AVerMedia Streaming Engine in a mini-PCIe slot. The goal of this add-in card is to provide an FPGA like device that handles streaming data conversion rather than relying on the CPU which might take away the frame rate of the game being played.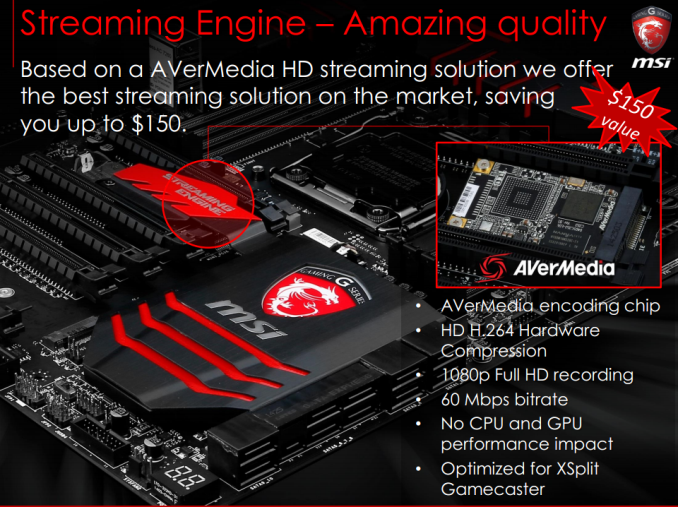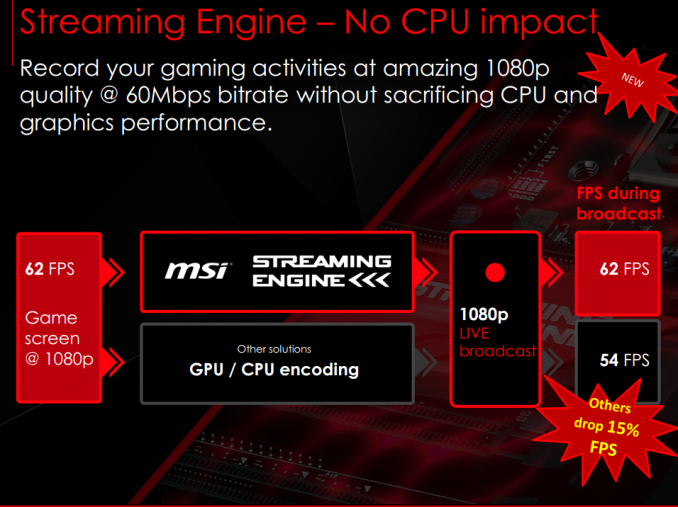 MSI is claiming that this add on has a $150 value, and it is an interesting thing to see on a motherboard straight out of the box. The Gaming 9 AC will come with a 2 year Premium Licence to XSplit, and the Gaming 7 will have a six month equivalent. The WiFi module will be a 2T2R 802.11ac implementation, alongside a Killer network port with bundled traffic shaping software.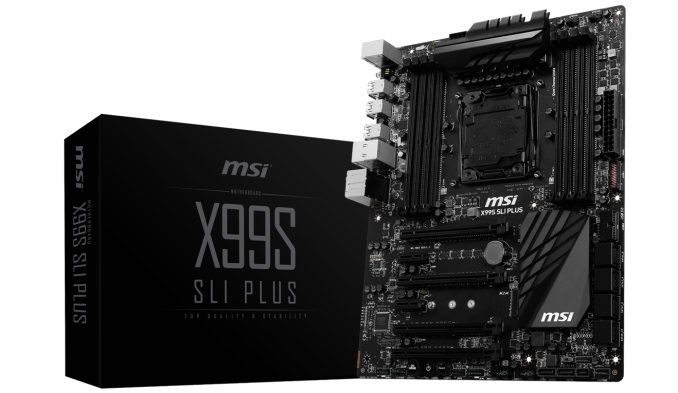 The sole member of the 'classic' range from MSI at launch will be the aforementioned X99S SLI PLUS, which will be one of the first X99 motherboards we review for the platform. MSI is keen to point out that the SLI PLUS, the MPower and XPower AC are all certified with a number of Xeon E5 v3 processors for prosumers. The SLI PLUS has also been put through its paces by extreme overclockers and hit 6253 MHz: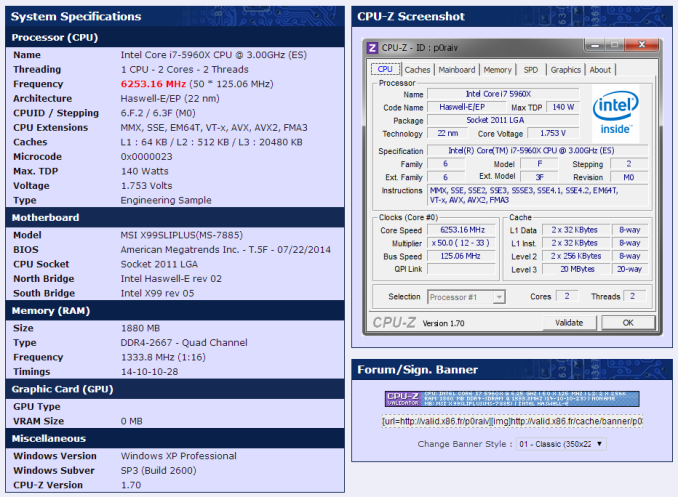 The final pricing list at launch is as follows:
MSI X99S Gaming 9 AC: $430 / £300
MSI X99S XPower AC: $400 / £280
MSI X99S Gaming 7: $290 / £200
MSI X99S SLI PLUS: $230 / £160
I kind of want MSI to come to market with a micro-ATX motherboard as well, and I have no doubt that a Gaming 3 or Gaming 5 might be on the way. It would be interesting if we saw an ECO MSI X99 board, in white or green, although power efficiency is not one of Haswell-E's strengths.
We hope to review most of these motherboards during their life cycle, particularly that Gaming 9 AC. First up will be the SLI PLUS, so stay tuned for that review.