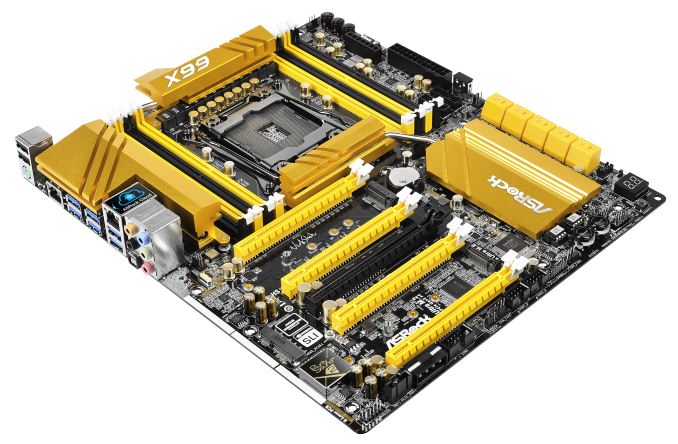 To add another element to the current whirlwind of X99 motherboard shots being released, ASRock has now lifted the lid on its high end overclocking motherboard, the X99 OC Formula. Similar to other OC Formula motherboards, this model is designed by ASRock's in-house overclocker former world #1 Nick Shih. With the yellow and black livery, ASRock is keen to promote its use of 12 power phases capable of supporting up to 1300W. While regular users will come nowhere near to 1300W, extreme overclockers have (with previous platforms) hit 500W-700W while using liquid nitrogen to push the processors. Given ASRock's recent push for overclocking records, it makes sense to design a product that can compete. Alongside this feature, ASRock still wants to have a motherboard that regular end-users can use 24/7 with high-end overclocks.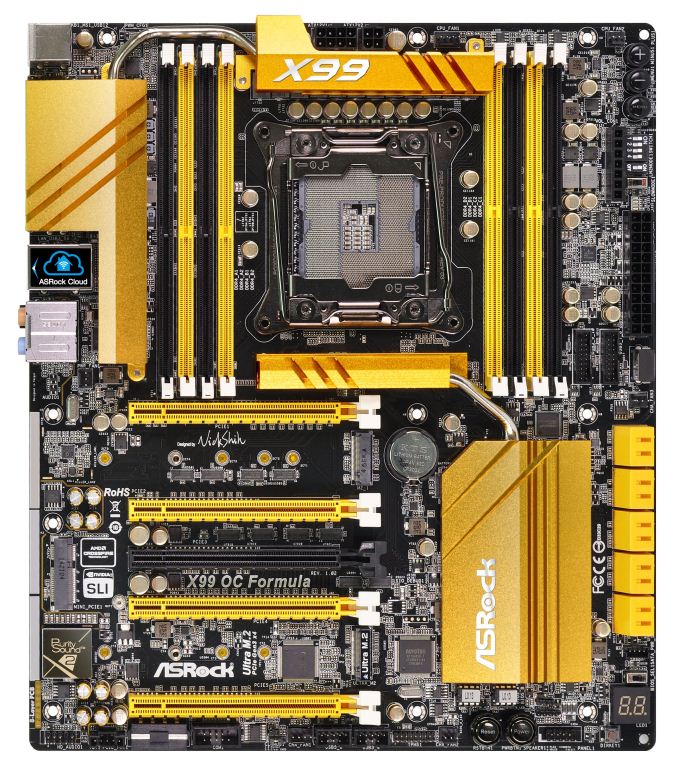 Alongside the new socket, the motherboard will offer 8 DIMM slots and 10 SATA 6 Gbps ports. Instead of SATA Express it looks like there is two M.2 slots, one PCIe 2.0 x4 (sharing lanes with the black slot) and one PCIe 3.0 x4, both supporting up to 110mm drives. Next to the Purity Sound 2 is a half-height mini-PCIe slot, suggesting that there may be a WiFi edition or users can add their own WiFi module. The PCIe slots should allow 4-way Crossfire and SLI, with a central PCIe slot (PCIe 2.0 x4?) that will allow an additional PCIe card for two-way setups.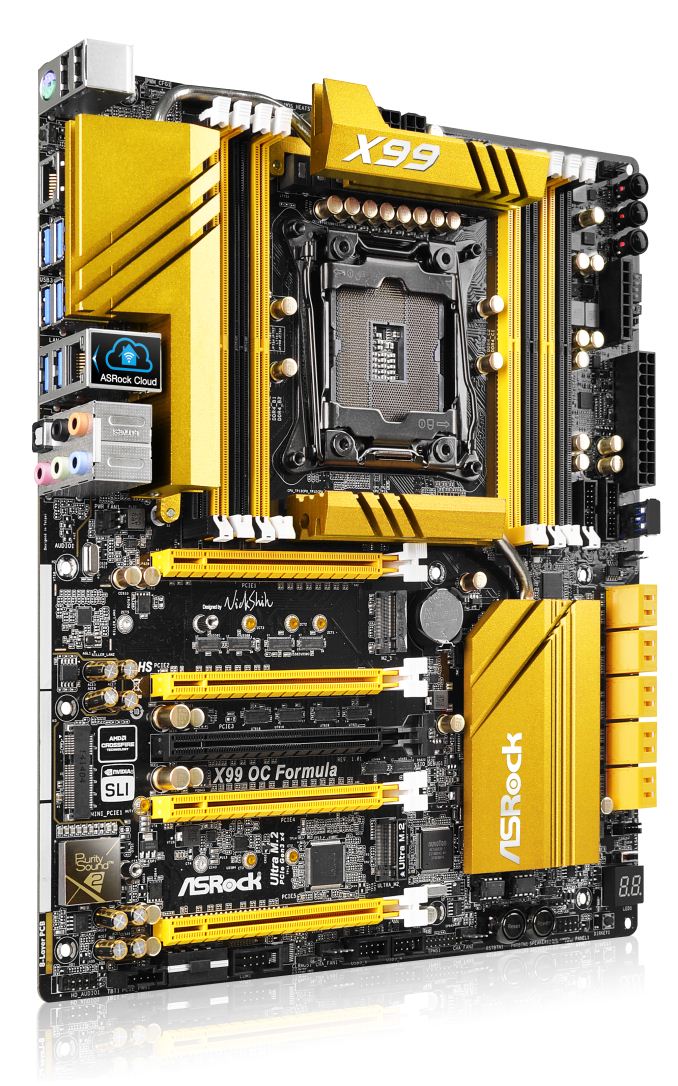 For overclockers, the X99 OC Formula will have the superhydrophobic Conformal Coating similar to previous models that protects the components on the motherboard from moisture. On the top right of the motherboard are quick frequency change buttons along with voltage check points, a PCIe disable switch, an LN2 mode switch and a slow mode switch. On the rear panel is a ClearCMOS switch, and additional PCIe power is provided by a molex connector.
For regular home users, there are six fan headers, a Thunderbolt header (requires a Thunderbolt PCIe card), a COM header, two USB 2.0 headers, a TPM header and two USB 3.0 headers. There are 10 USB 3.0 ports total including the two headers, and the rear IO shows dual network ports. The connector on the right hand side under the SATA ports is for ASRock's relatively new SATA power feature that makes use of hot-plug functionality to hide drives not in use. I would imagine that the ASRock BIOS and Software are also receiving iterative updates, and the in-the-box contents for OC Formula models in the past have always been interesting. With X99 being an expensive platform by comparison to Z97, I hope that there can be something in there to tantalize everyone.

With all the X99 press shots floating around the media, along with DDR4 pricing going live for pre-orders, things are getting more and more exciting. No word if the ASRock X99 OC Formula will be available at launch, or the release pricing, but I am sure we will know in due course.