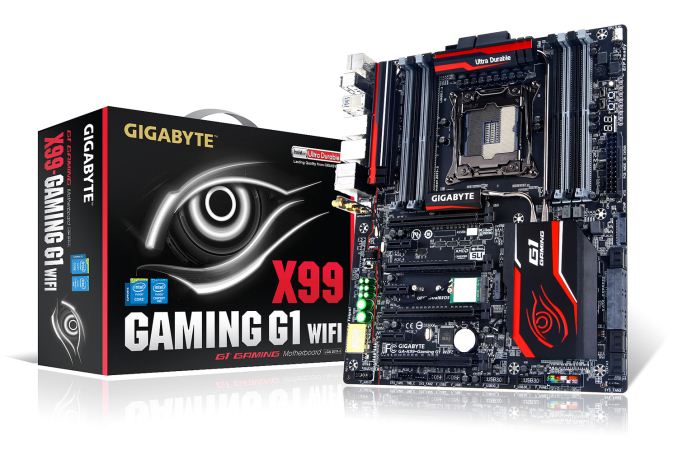 The summer months are usually some of the quietest in the tech world, however motherboard manufacturers seem to be keen to release preview images of the upcoming X99 platform. Next in line is GIGABYTE with its X99 Gaming G1 WIFI. As GIGABYTE's new gaming line is still gaining a foothold, synchronizing the GPU and Motherboard gaming ranges, the color scheme is a combination of red, black, white, grey and some green for audio.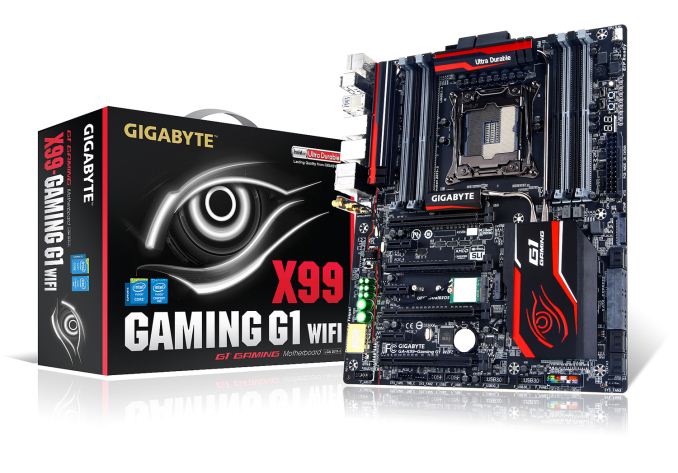 The X99 Gaming G1 WIFI looks like it comes in at the top end of the range, featuring a full 4-way PCIe layout with 8 DIMM slots. We see 10 SATA 6 Gbps ports, two of the SATA with SATA Express which is complemented by the M.2 slot in the middle of the PCIe slots. The M.2 area also houses a mini-PCIe slot which contains the WiFi module, with the antenna connected via the rear panel next to the rear audio. It looks like that the M.2 and WiFi modules can be used at the same time along with GPUs however we might test if we get the motherboard in. The heatsinks are all connected via heat-pipes low to the motherboard to avoid conflict with other devices.
While we cannot see the rear IO, the bottom of the motherboard contains two USB 3.0 headers, two USB 2.0 headers and a thunderbolt header. The audio looks like a Sound Core 3D combined with filter caps, PCB separation, an EMI shield on the codec, an audio gain switch and a switchable op-amp. The top right of the motherboard houses several buttons and switches for dual BIOS/selectable BIOS functionality, along with voltage read points, a power switch and a two-digit debug. The extra power for the PCIe slots is provided by SATA power next to the SATA ports.
I would imagine the Gaming G1 WIFI to be nearer the top of GIGABYTE's X99 launch range, but we will have to wait until launch day to see some full specifications and pricing.
Source: GIGABYTE Tech Daily