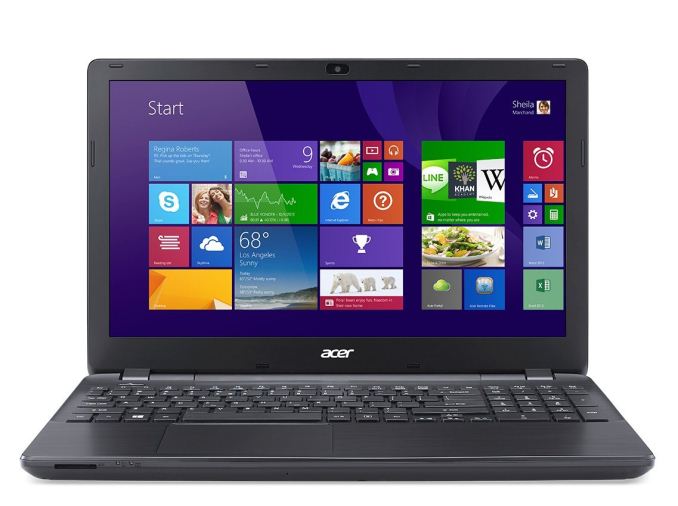 While AMD's Kaveri APUs initially launched on the desktop at the beginning of the year, for many the APUs looked like a better fit for laptops and notebooks. In early June, we were able to preview the performance of the first mobile Kaveri APUs in the form of a prototype laptop running the FX-7600P. Nearly two months later, laptops with Kaveri are starting to show up online. Interestingly, several of the first laptops to use Kaveri aren't consumer devices but instead target business users and in most cases opt for the PRO series of Kaveri APUs.
If you missed our coverage, the PRO series of APUs is essentially the same as the consumer models, only they're guaranteed to be available for a longer period of time so that businesses in particular don't have to worry about validating new processors or platforms. There are three PRO APUs, the PRO A6-7050B, the PRO A8-7150B, and the PRO A10-7350B. Note that all three parts are Ultra-Low Voltage models (17W for the A6 and 19W for the A8 and A10), and their intended competition is Intel's Core i3 and i5 ULV parts. Along with the PRO APUs, the first consumer laptops are showing up as well. All of the Kaveri laptops at present are using ULV APUs, which we haven't had a chance to test yet, but the improved Boost clocks should make them fairly competitive, and if you happen to use software that can leverage the GPU portion of the APU then Kaveri could prove a compelling option.
For those mostly looking at Kaveri as a decent budget laptop, let's start with the consumer models as prices are quite a bit lower. I couldn't find anything with the entry-level A6-7000, but there are a few options with the A8-7300. HP's ProBook 455 G2 (covered in more detail below) is priced at $572 with 4GB RAM, 500GB HDD, 1366x768 LCD. Acer has a 15.6" E5-551-89TN with 6GB RAM and a 1TB HDD starting at $480, which is the best price for a Kaveri laptop so far, though Amazon has a 4GB RAM/500GB HDD version listed for pre-order at $399. A10-7300 laptops include the Lenovo Z50, a 15.6-inch model with 1366x768 LCD, 8GB RAM, and 1TB HDD starting at $570, while Amazon has two more Acer models available for preorder: the E5-551-T5SV starts at $500 (4GB RAM and 500GB HDD with 1366x768 LCD) and the E5-551G-T0JN has 8GB RAM, a 1TB HDD, and Dual Graphics with a Radeon R7 M265 for only $600. That last one is certainly going to be the highest performing option, and the inclusion of a discrete GPU means even better gaming potential.
Sadly, while there are quite a few budget laptops with Kaveri now shipping (or shipping in the very near future), at present I have not been able to find any models with the new FX APUs. The 35W standard voltage (SV) Kaveri APUs are also missing right now, which is interesting as in the past it was often the SV parts that launched first with the ULV parts following a few months later. Both AMD and Intel seem to now be focusing more on ULV parts, which isn't a bad thing. That said, none of the laptops listed above appear to be going after long battery life; most are claiming five hours of battery life, but they're also doing that with 3- and 4-cell batteries. It would be good to see a few models with 6-cell batteries and 8+ hours of battery life, so hopefully someone will provide an appropriate model in the future.
As for the laptops that are shipping with the PRO APUs, let's quickly run through the current options. At present there are four offerings from HP using two of the PRO APUs. At the low-end of the pricing spectrum is the HP ProBook 455 G2, equipped with the PRO A6-7050B, 2GB RAM, 500GB HDD, and a 15.6" 1366x768 display with a price of $476. The one clear concession to the business class of laptops is the presence of a fingerprint scanner on all of these laptops (it's optional, but most of the models for sale at Newegg appear to include the fingerprint scanner). The price isn't too bad, but obviously the lack of RAM and the relatively large display mean this one isn't going to win any performance or portability competitions. The next step up in terms of price is the EliteBook 755 G2 with the same A6-7050B APU but sporting 4GB of RAM and running Windows 7 Professional, priced at $737.
Moving on to the HP models with the A10-7350B, there are three options: the same EliteBook 755 G2 is available with either 4GB RAM and a 1366x768 LCD for $843, or if you want a 1080p touchscreen and 8GB RAM the price jumps to $1091. A 14-inch version is the next option, with the EliteBook 745 G2 listed in three varieties (all with the A10-7350B): 4GB RAM and 1366x768 display priced at $820, 8GB RAM and 1600x900 display will set you back $906, or there's a third model listed at $1090, but some specs are missing so it's not clear why it costs so much more (it likely has an SSD, and a 1080p touchscreen is also a possibility). Last is the 12.5-inch EliteBook 725 G2, again in three variants: 4GB RAM and 1366x768 for $898, ditch the 500GB HDD for a 180GB SSD for $1100, or add a 1080p touchscreen for $1196. Pricing on all of these laptops is obviously quite a bit higher than what consumers would consider reasonable for the hardware, but for businesses the laptops might make sense.
Of the currently shipping Kaveri laptops, if you're itching to get your hands on one I'd say the Lenovo Z50 looks to be the best of the bunch. I like the styling more than some of the other offerings, and while I really would prefer an SSD, at least you do get 8GB of RAM and a large 1TB hard drive at a reasonable price of $570. If you're not in a rush, however, holding out for one of the Acer Kaveri-based laptop will get you a lower price. For those that don't really need a faster GPU, the $400 A8-7100 E5-551-86R8 will certainly suffice, while the A10-7300 mostly improves the GPU performance by increasing the number of GPU cores from 256 to 384 (with a slight boost in GPU clock speed as well). Spending $100 more to go from an A8-7100 to the A10-7300 is a bit much, and if you need more GPU performance at that point you might want to just go for the $600 Acer E5-551G instead. Regardless, it's good to see quite a few Kaveri laptops now shipping, and keeping the prices of the A8 and A10 models well under $600 will certainly help with sales.