Netgear announced the launch of ReadyRECOVER appliances today to simplify data backup and recovery tasks for SMBs and enterprises. ReadyRECOVER appliances, at the hardware level, are the same as ReadyDATA units (Netgear's high-end ZFS-based NAS / SAN systems targeting large SMBs and enterprises). The additional features have been introduced in partnership with StorageCraft, a company specializing in disaster recovery solutions.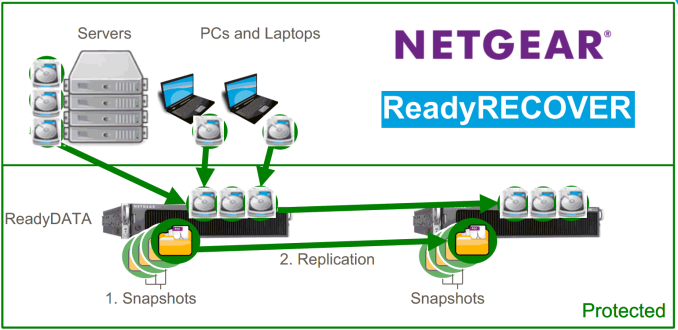 The ReadyRECOVER scheme involves servers and PCs being backed up to the ReadyDATA device using StorageCraft's ShadowProtect software. Netgear claims that ReadyDATA's ZFS features (deduplication), as well as ShadowProtect's block-level diff-based backup strategy help in achieving full system backups every 15 minutes. The block-level diff strategy results in maximum efficiency with minimal impact on storage resources. It also allows for more frequent backups to offsite disaster recovery nodes.
ReadyRECOVER also verifies backups (block-level change reports) against the original source data before committing them. Every backup is a full restore point (obviously, the first one is a complete backup of the system). These aspects provide ReadyRECOVER with a host of advantages over traditional backup solutions (lesser time for backup processing as well as restore, more frequent full backups etc.)
The purchase process involves selection of software licenses (depending on the number and types of clients being backed up), a ReadyDATA appliance (ReadyDATA 5200 rackmount or ReadyDATA 516 desktop form factor), storage media (SATA / SAS / NL-SAS / SSD) and hardware support contracts. Netgear claims that they are much more cost-effective compared to competing solutions with similar features from Symantec and Unitrends.