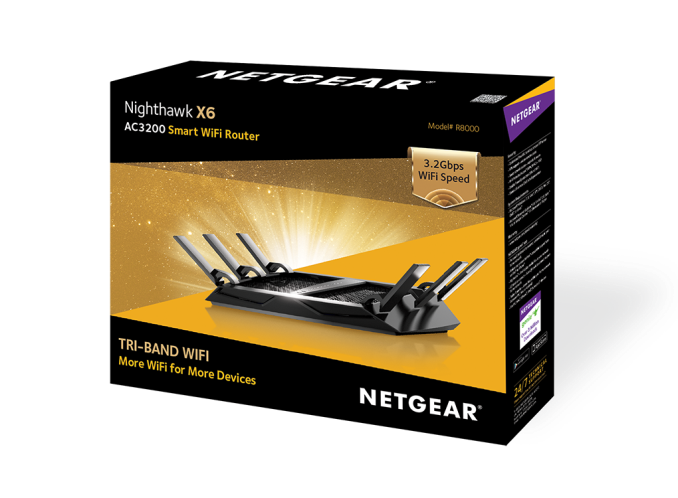 Netgear's AC1900 router, the R7000 Nighthawk, has been well-received by the market. Since that launch, the 802.11ac market has seen a number of announcements from chipset vendors. While Qualcomm Atheros and Quantenna were busy launching 802.11ac Wave 2 silicon, Broadcom seemed to be lagging behind. In April, they launched 5G Wi-Fi XStream a six stream 802.11ac MIMO platform, which was essentially two discrete 3x3 802.11ac radios. SemiAccurate saw through the marketing talk and called it out for what it really was. Despite seeing Asus demonstrate a model at Computex, I assumed that devices based on the platform would appear in the market in late Q3 or Q4.
Netgear is springing a nice surprise by launching the Nighthawk X6 (R8000) with Broadcom's 5G WiFi XStream platform today.
The R8000 is being marketed as a Tri-band router theoretically capable of delivering up to 3.2 Gbps of network throughput (600 Mbps in the 3x3 802.11n 2.4 GHz band, 1300 Mbps in the first 3x3 802.11ac 5 GHz band and another 1300 Mbps in the second 3x3 802.11ac 5 GHz band). The unit includes 6 antennae. Internally, the platform has the same host SoC as that of the R7000, the BCM4709 which sports a dual core Cortex-A9 processor running at 1 GHz. However, the radios have been updated to offload some of the workload, freeing up CPU cycles for other aspects. Netgear claims they are now able to get around 60 - 70 MBps over USB 3.0 (compared to 30 MBps in the R7000). The VPN client is also being talked up by Netgear in the R8000, signifying that it is going to perform substantially better than in the R7000. Like the R7000, the R8000 also comes with four GbE ports (in addition to the WAN port) and two USB ports (1x USB 3.0, 1x USB 2.0).
Netgear's value adds on top of the 5G WiFi XStream platform include 'Smart Connect' - a feature through which client devices are allotted to a particular Wi-Fi channel depending on its characteristics and location - and load balancing - where newer clients are allotted a less busy channel if 'Smart Connect' decisions happen to overload one of the channels. Other aspects of Netgear's firmware include a comprehensive network storage feature set (with DLNA & AirPlay support, along with backup to a shared USB drive). Netgear also seems to have brought in a variant of the snapshotting feature of the ReadyNAS lineup into this router as the 'ReadySHARE VAULT' backup solution for devices running Windows.
The product is available for pre-order today, and will ship in early July. It is priced at $300. Consumers with a large number of Wi-Fi devices might be tempted to upgrade to the R8000, particularly if they are yet to hop on to the 802.11ac bandwagon. On the other hand, users who already have a 802.11ac router (and paid the premium to buy into a first / second generation product) might find it hard to justify a $300 upgrade - particularly when the platform doesn't have any of the important Wave 2 features such as MU-MIMO or 160 MHz usage with a single radio. Make no mistake, the R8000 does appear to solve problems arising from a large number of wireless clients in a practical manner. More importantly, it is available today (compared to Wave2 routers based on silicon from other vendors which are yet to hit the market). Is it worth the premium? That is for the market to decide. Readers, feel free to sound off in the comments section.