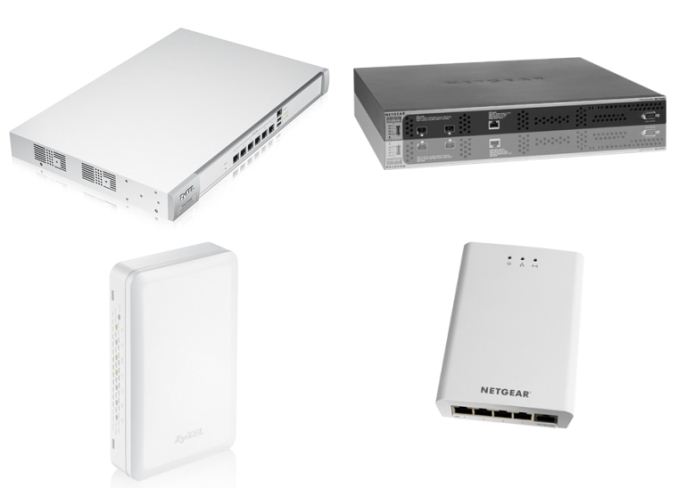 The enterprise Wi-Fi market is a hotly contested one with expensive offerings from companies such as Aruba Networks and Ruckus Wireless being the preferred choice of many IT administrators. Primary requirements for products in this market are the ability to support high client device densities and the provision of a robust and flexible management interface. Traditional consumer Wi-Fi vendors have also started expanding their offerings in this growing market segment. Last week, Netgear and ZyXEL introduced a few WLAN solutions targeting the enterprise space.
Netgear's ProSAFE lineup is quite popular in the SMB space, and the new wireless controller as well as the wall-mount access point are being marketed under this brand name. The newly introduced products include the ProSAFE WC600 wireless controller (with support for centralized management of all of Netgear's business-grade managed access points - single / dual-band and 2x2/3x3 solutions) and the ProSAFE WN370 wall mount access point with Power over Ethernet (PoE) capabilities.
The WC7600 can support up to 150 access points and licensing can be purchased in sets of 10 access points. The WN370 is a single-band 802.11n access point designed for in-room wired and wireless access. In addition to the wireless capabilities, the unit has a 1 Gbps uplink, 4x 100 Mbps Ethernet data ports and an additional voice port for VoIP digital phones. RF and power tuning, as well as wireless security, are handled by the WC7600 wireless controller. Netgear also has other dual-band standalone APs such as the WNDAP620 and WNDAP660 which can now be managed with the new wireless controller. Pricing for the WC7600 comes in at $3079 for 2 access point licenses. A license for 10 access points comes in at $1056. The WN370 access point will sell for $219.
ZyXEL is targeting the same market with the NCX5500 WLAN controller and the NWA5301-NJ PoE access point. The NCX5500 is priced a bit higher at $3399, but it also supports more access points (512, compared to 150 in the Netgear WC7600). While the NCX5500 has 6 GbE ports, the WC7600 has two 1/10G SFP+ ports for data uplink and a 1G RJ-45 port for management. ZyXEL implements specialized algorithms to maximize Wi-Fi availability as well as ensure spectrum utilization efficiency. The NWA5301-NJ is a single-band 2x2 802.11n access point priced at $139. It has a 100 Mbps uplink and three 100 Mbps downlink ports (one of which is PoE-capable and can be used for VoIP phones).