I have been making it a point to visit all the dedicated NAS manufacturers at CES over the last four shows. Invariably, their presence was on the show floor, with space and other constraints preventing us from sitting down and talking about the various offerings in detail. QNAP decided to book a suite this time around, and we managed to spend quite a bit of time analyzing their introductions at the show.
QNAP had already sent out a detailed invitation last month, and I had already formed some opinions about the products prior to the show. The one that I was most wrong about was the fanless NAS, HS-210. So, we are going to discuss that first.
HS-210 Audiophile NAS
The HS-210 is a standard 2-bay Marvell SoC-based NAS marketed as being completely silent and fanless. This NAS is not going to win any performance records (only one GbE port, a 1.6 GHz ARM SoC etc.), but the market it is targeting doesn't need high performance. Personally, I would never have a NAS in full view in my entertainment center for two reasons - they don't blend well with the existing equipment and the noise from the installed hard drives would be a distraction in certain scenarios.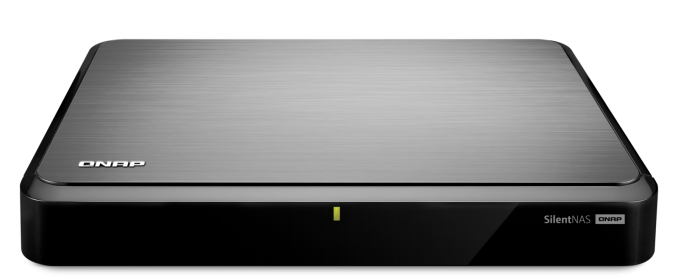 QNAP has taken care of both of these issues. They have moved away from the traditional NAS industrial design and prepared a box similar to any high-end media player. The design is not very fancy like the Lenovo BEACON. The unit is sold diskless, but QNAP says it is in talks with SanDisk to prepare units with SSDs pre-installed. The cost for such a unit might be pretty high, but audiophiles who can't bear the HDD noise, but also want a nice-looking storage unit in their entertainment center would probably swallow the premium.
TS-EC2480U-RP
The TS-EC2480U-RP is a 24-bay 4U NAS based on the Intel Xeon E3-1245 v3 (belonging to the Haswell family). The standout feature of the system is the four mSATA slots which can be used for SSD caching. Products such as these will continue to serve mSATA well even as the consumer focused products turn to M.2 and PCIe-based solutions. QNAP also stressed the fact that the SATA ports are not fed through cables, but have the connectors wired directly on the PCB. Of course, with support for 24-bays, a 'cable-management' solution on this scale had to be implemented.
The unit comes with four 1 GbE ports directly from the board, and there are two PCIe expansion slots available for adding up to four extra 10GbE ports. The mSATA SSD caching feature frees up the main bays for participation in the storage pool.
TVS-x70
The TVS-x70 class of products is the first that I have seen in this NAS market segment with an in-built hypervisor. This allows end-users to run virtual machines on their Turbo NAS units. QNAP had convincing demonstrations, running Windows 8, Ubuntu and other operating systems on top of their Turbo NAS unit. Essentially, it provides all functionality of a VM host. This feature is available for free with a QTS upgrade. However, QNAP is marketing specific units with the TVS tag for this purpose. These units have more RAM than usual to accommodate the memory requirements of the virtual machines.
This feature allows users to utilize their Turbo NAS unit as a server for storage as well as virtual machines. Another advantage of running VMs on top of the NAS is the fact that storage requests are routed internally, and don't clog up the external network bandwidth. This type of feature could turn out to be very effective and useful in certain usage scenarios.
Integration with Control4
QNAP also had a demonstration of their integration with the Control4 home automation system. A NAS is an essential aspect of the home automation scene, and QNAP claims that they are the only NAS vendor to be officially certified by / integrated with the Control4 system. The demonstration involved using the Control4 hub to access and navigate the NAS contents.
In summary, QNAP seems to be making great progress on the home as well as business consumers front. QTS 4.x, which we have already covered before, resolves many outstanding bugs from the previous releases and adds storage pool features to prepare onslaught into the higher-end storage manufacturers' domains. Hypervisor features only tend to add to the attractiveness. That said, there are still a few UX issues (responsiveness, in particular) that I faced with QTS when using it early last month. QNAP assured us that it was being looked into. All said, QNAP was presenting its best foot forward at CES 2014 and we hope the NAS market will continue to benefit from their strong showing.