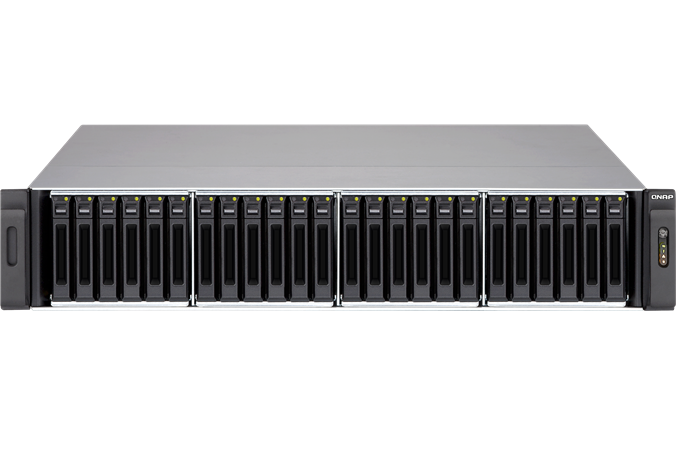 QNAP is on a roll lately, with the launch of five new business-class Turbo NAS models supporting both SAS and SATA drives. These models are all rackmounts. While the TS-EC1679U-RP and TS-EC1279U-RP support both 2.5" and 3.5" SAS / SATA 6 Gbps drives, three (SS-EC2479U-SAS-RP, SS-EC1879U-RP and
SS-EC1279U-SAS-RP) are 2.5"-only high-density models with 24, 18 and 12 bays respectively.
All the new models are equipped with quad-core Xeon processors running at 3.4 GHz (the Xeon E3-1275, in all probability), 8GB of DDR3 ECC RAM and are 10 GbE-ready. SSD caching support is also available for improved IOPS in virtualization and data-center deployments. Scalability up to 400 TB is also advertised with support for the QNAP RAID expansion enclosures (REXP-1600U-RP and REXP-1200U-RP). The solutions carry certifications from all major virtualization solutions. Hop on to the source link for detailed specifications of the new models.
In other QNAP news, the QTS 4.0 Turbo NAS operating system was also updated recently to include support for business class models (the previous QTS 4.0 version indicated compatibility with the home-class models only). Some of the interesting features in QTS 4.0 include flexible volume management (the concept of a straoge pool that allows for aggregation of multiple RAID groups of different levels), proactive data protection (in terms of error recovery schemes), updated hypervisor offload features for improved virtualization experience, SSD caching support and SMB 2.0 support. It must be noted that the
SSD caching function is not available for the TS-x69 series.
Source: QNAP Newsletter