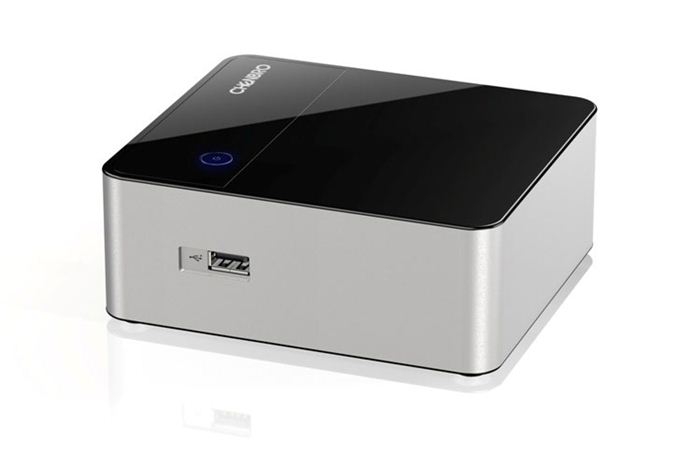 As the demand for increased CPU performance has largely plateaued during the past five or so year, Intel has looked to expand into other markets to continue supporting the development of new technologies. Mobile has seen a large upswing in importance, and that looks set to continue, but for those that don't need a mobile system but might like the power and small form factors associated with mobile devices, Intel created the NUC – the Next Unit of Computing. The idea is to provide all the performance of a mobile platform with the same typical feature set – USB 3.0, USB 2.0, mini-PCIe, and iGPU – without the keyboard, touchpad, display, and speakers that comprise the typical laptop. The target markets include thin clients, point of sales locations, kiosks, digital signage, surveillance, and vending machines (and anything else where you might want a tiny computer box).
Chenbro is showing off their latest NUC box at IDF 2013, the Cubicom 200. Currently supported NUC boards included the Ivy Bridge D53427RKE (Core i5-3427U) and D33217GKE (Core i3-3317U), along with a Sandy Bridge DCP847SKE (Celeron 847). All of the boards have the CPU soldered down, so that aspect is non-upgradeable, but support for two SO-DIMM slots means 16GB is possible on the DCP847SKE, and the D53427RKE even lists up to 32GB of RAM support (with currently difficult/impossible to find 16GB SO-DIMMs). Intel hasn't formally announced their Haswell NUC boards, but Chenbro says they "will be supporting the new Intel NUC based on 4th generation Intel Core processors".
Key features for the Cubicom 200 include an interchangeable rear I/O plate, customizable logo and color (presumably for manufacturers of NUC systems as opposed to end users), and the ability to support one 2.5" SSD/HDD. It also has a VESA mount so that it can attach to the back of many displays, an active fan and heatsink, and an external power brick. The Cubicom 200 has a volume of 0.83L and measures 131mm x 116mm x 55mm (5.2" x 4.6" x 2.2"), that's a little over an inch longer and slightly less than an inch wider than the AppleTV, and over twice as thick, but we're also talking about significantly more performance and the ability to run a full copy of Windows.
Chenbro didn't disclose pricing or availability of their enclosure yet, but I found at least one place that allows you to order the bare chassis for $34 – with the note "call for availability". The D33217GKE board typically runs $300 right now and the D53427RKE is over $400, while the DCP847SKE tends to be closer to $150 (albeit with far less performance). Add memory (2x4GB for around $65) and storage (120GB SSD for $90) and you're looking at $350 to $500 for a complete NUC system. Of course you can also find complete laptops with similar hardware (i3-3227U, 6GB RAM, 500GB HDD) for as little as $378, though they're also bulkier if you're just looking for something to connect to a display, keyboard, and mouse. Perhaps that's why the NUC is primarily targeting businesses that are interested in purchasing many devices as opposed to end users.
Source: Chenbro PR