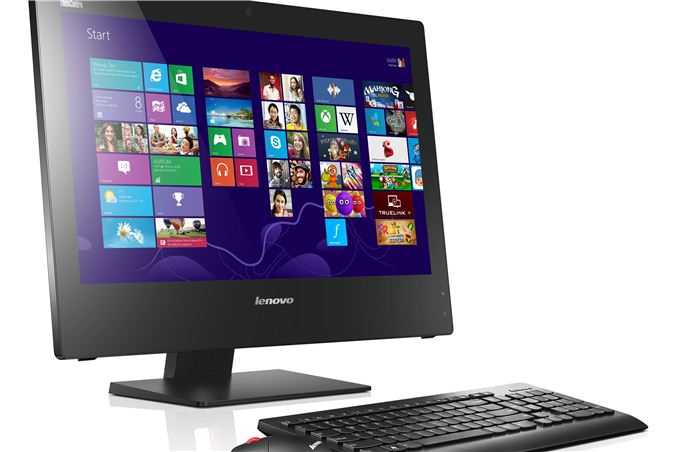 Lenovo sent out word today that they've updated their ThinkCentre offerings, with four new models. The new models feature optional multi-touch screens, improved cable management, and new mounting options courtesy of the ThinkCentre UltraFlex Stand. There are also a couple new desktop models announced today. All of the new models feature Intel's latest 4th Generation Core processors, with optional discrete graphics and solid state hybrid drives (SSHD). Lenovo continues to see healthy growth in the AIO business sector, with 25% year-to-year growth of the market and 4.3 million units shipped during the past year; Lenovo accounts for 30% of the AIO market, and the new ThinkCentre models look to continue that trend. Let's go through the offerings.
The E93z is a 21.5" AIO with a 1080p touchscreen that measures 48mm thick, with support for the optional UltraFlex Stand. It supports up to Core i7 quad-core processors, with NVIDIA GeForce 720 graphics on some models. The 720 is likely an OEM-only product, and unfortunately we don't have any detailed specifications for it, but it's going to be on the low end of the performance spectrum as this is a business system. Other features include optional SSHD, HDMI In and Out, WiDi, Energy Star 5.2 compliance, and a built-in physical webcam blocker (for those companies worried about unauthorized recordings). Availability is in September, with pricing starting at $699 on the base model.
The ThinkCentre E73z and M73z are quite similar, and both are 20" AIOs with support for up to Core i7 Haswell CPUs, optional SSHDs, and high performance WiFi and WiDi. The main difference is that the M73z includes a TPM Security Chip, hardware password management, and an optional OPAL SSC self-encrypting hard drive. Both models also feature HD webcams and array microphones with noise cancelation, and built-in speakers designed to target VoIP and video conferencing users. The E73z will be available late September starting at $599 while the M73z will be available in October, again starting at $599.
Wrapping up, the ThinkCentre M73 desktop is available in standard, SFF, and Tiny sizes. The Tiny size is a one liter chassis that can mount to the back of supported display stands, while the larger options allow for higher performance and more expansion opportunities. Pricing on the M73 starts at $439 with availability scheduled for October.
Additional Lenovo products will be launching next week at IFA, so stay tuned.
Source: Lenovo PR