The Last of the 700 Series & The Test
In something of an unusual move, along with announcing the GTX 760, NVIDIA also laid out their desktop video card plans for the next several months, leading through the fall. Typically NVIDIA doesn't announce the non-existence of something, but then again since they apparently have nothing left to hide, there's little reason not to.
In any case, the GeForce GTX 760 will be the last desktop 700 series card for the next several months. NVIDIA will not be introducing any further desktop cards according to the schedule they've provided us, so their lineup will be stable from here on. The 700 series allowed NVIDIA to introduce GK110 based cards and refresh their GK104 based cards, while GK107 and GK106 based products will not be changing. This means that rather than introducing a GTX 750 for example for GK106, NVIDIA will simply keep the top GK106 as the GTX 660.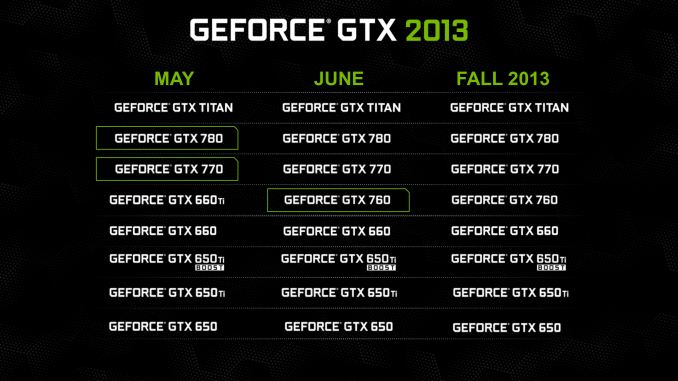 This move is admittedly a bit weird for how NVIDIA normally does things, as with Fermi they updated their lineups top-to-bottom. Whether this means NVIDIA is planning a late update based on new chips – ala the GeForce GT 200 series, NVIDIA's 40nm pipe cleaner – or if they simply don't see a need to roll out new product numbers remains to be seen. But since NVIDIA has added GK106 parts as recently as March, and their top GK106 part doesn't leave them much room for growth, there's also a lack of technical opportunity to refresh the rest of their lineup like there was for their GK104 parts. Then again, AMD hasn't bumped up the series number of their competing retail parts, so there's little incentive (for once) to play number games in retail.
In any case the current lineup is most likely what we'll be looking at through the rest of the year, until Maxwell sometime in 2014. This will leave the GTX 760 as NVIDIA's top 1080p card, while the GK106 based GTX 660 will remain as NVIDIA's more budget oriented 1080p card.
The Test
The press drivers for the GTX 760 are 320.39, a further bug fix of the existing R319 series drivers that also add support for the GTX 760. On the AMD side we're using a mix of Catalyst 13.5 (7970) and Catalyst 13.6 (7950, 7870).
For comparison purposes we've also dug up a few older cards. Naming aside, NVIDIA's GTX 560 Ti was their last $250 card and the class of card most 2 year cycle buyers will be coming from. Meanwhile we're also including AMD's Radeon HD 6870 and NVIDIA's GTX 460 1GB. Finally, we're going to include both the Radeon HD 7950 and 7950 Boost in our charts. The Boost edition has largely supplanted the original in retail, but frustratingly there are still some non-Boost (or otherwise sub-850MHz) cards on the market, so this covers both scenarios.
CPU:
Intel Core i7-3960X @ 4.3GHz
Motherboard:
EVGA X79 SLI
Power Supply:
Antec True Power Quattro 1200
Hard Disk:
Samsung 470 (256GB)
Memory:
G.Skill Ripjaws DDR3-1867 4 x 4GB (8-10-9-26)
Case:
Thermaltake Spedo Advance
Monitor:
Samsung 305T
Video Cards:
AMD Radeon HD 7970
AMD Radeon HD 7950 Boost
AMD Radeon HD 7950
AMD Radeon HD 7870
AMD Radeon HD 6870
NVIDIA GeForce GTX 770
NVIDIA GeForce GTX 760
NVIDIA GeForce GTX 670
NVIDIA GeForce GTX 660 Ti
NVIDIA GeForce GTX 660
NVIIDA GeForce GTX 560 Ti
NVIDIA GeForce GTX 460 1GB
Video Drivers:
NVIDIA ForceWare 320.18
NVIDIA ForceWare 320.39
AMD Catalyst 13.5 Beta 2
AMD Catalyst 13.6 Beta 2
OS:
Windows 8 Pro