QNAP had a number of interesting announcements at Computex, and one that grabbed my attention right away was the new TS-x70 Pro series. Available in 4-bay, 6-bay and 8-bay models, this series marks the arrival of the new QTS 4.0 OS on x86. Instead of going for an Intel Atom-based platform, QNAP has decided to base this NAS series on a Ivy Bridge Core i3-3220. The i3-3220 doesn't have AES-NI and hence, no hardware acceleration for encrypted volumes. However, QNAP claims that the performance of the CPU is good enough to not have a very negative impact on encrypted volume performance (when compared to the Atom-based NAS units).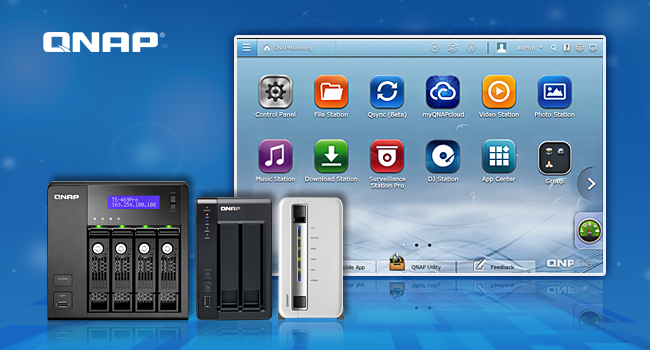 Other interesting features include integrated QSync (Dropbox-like feature), XBMC v12 (Frodo) in the HD Station and support for 4K media playback over HDMI (to a 1080p HDMI sink). On the business side, the NAS units also support optional 10 GbE card (there is a PCIe expansion slot).
We have already covered QTS 4.0 before. At Computex, QNAP showed it in action, with particular emphasis on the app-centric design and multi-window user interface. QNAP also introduced the REXP-1200U-RP and REXP-1600U-RP expanders which allow the TS-x79U series to scale up to 400 TB. The availability of VMware VAAI, vSphere client plug-in, Microsoft SCVMM/ODX and other features necessary for a virtualization-aware solution were touted. The VioStor NVR firmware is also getting a revamp with a new UI, cross-browser support and a 64-channel live monitoring display mode / 16-channel playback display mode.
Availability and pricing of the announced products wasn't available at the time of posting. We have reached out to QNAP and will update this piece after their response.
Source: QNAP